The Chef Making Southern Food Healthy + His Favorite Desert Recipe
mbg Contributor
By Carolina Santos-Neves
mbg Contributor
Carolina Santos-Neves is a graduate of the Chef Training Program at the Natural Gourmet Institute for Health and Culinary Arts and is presently the chef of Hungry Beast, (CDMX) a kitchen & Juice Bar that focuses on flavors from all over the world with a focus on using organic and local products.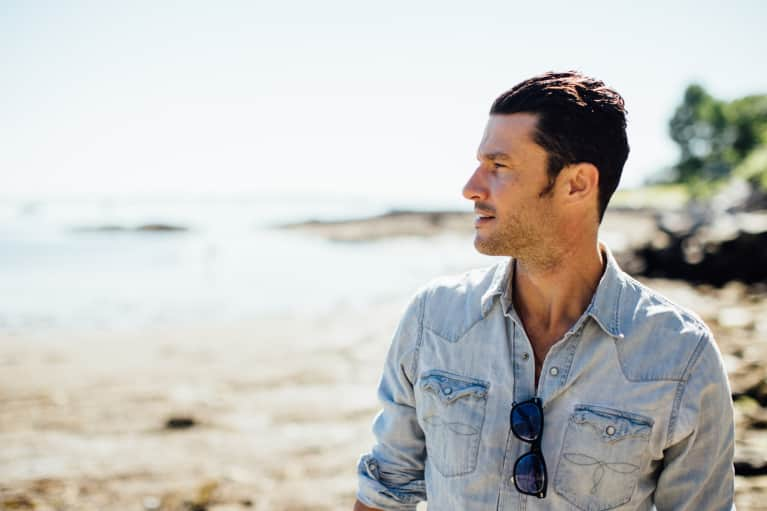 Our editors have independently chosen the products listed on this page. If you purchase something mentioned in this article, we may
earn a small commission
.
When you think of healthy fats, natural sweeteners, and gluten-free flours, you don't think of Southern food. It's a cuisine built on bleached flour and butter. "Pretty Southern is the exact opposite of that," says Chef Sam Talbot about his new Brooklyn restaurant opening this month. Talbot's Pretty Southern will play with the flavors of the South, re-imagining them in innovative, healthful new ways. Talbot has been in the food and restaurant scene for quite some time now. After appearing on Bravo's Top Chef, he went on to open Montauk, New York's cultish Surf Lodge and Pig + Poet in Camden, Maine. A diabetic since age 12, Talbot recounted his experiences with the condition with his book, The Sweet Life: Diabetes Without Boundaries. We caught up with the chef to learn more about his new restaurant. Be sure to whip up his vegan and gluten-free chocolate and blueberry cookies.
mbg: How do you start your morning when you know you have a long shift ahead of time?
Sam Talbot: I meditate, walk my dogs, drink green juice and ginger, and I'm out the door. I skate to work, which is almost therapeutic. Skating is like surfing in some ways. When you are cruising, your mind is free. Before the storm...
mbg: What are your favorite ingredients?
ST: Chili vinegar, cinnamon, chilies in all forms, vinegar, and honey.
mbg: What is your advice for overcoming stressful times when in the kitchen?
ST: Take deep breaths and enjoy the ride; this is the time of your life!
mbg: And how did you come up with the menu for Pretty Southern? What should people expect?
ST: Southern food usually comes with connotations of being extra fatty, extra salty, extra dairy, extra this, and extra that. We do have delicious fried chicken and buttermilk biscuits, of course. But we also offer them gluten-free as well. We have fried-free chicken, which is our version of rotisserie chicken, vegan desserts, all of the celebrated Southern food you know and love done organically, sustainably, and deliciously. Our Champagne and rose cocktails are the perfect pairing to wash it all down.
mbg: What's your favorite dish to make for friends?
ST: I just love cooking for them in general. But when I do my fried chicken everybody gets all excited so let's go with that.
Chocolate and Blueberry Cookies
2 cups organic gluten-free all-purpose flour
1½ teaspoons baking powder
1 teaspoon baking soda
1 teaspoon pink Himalayan salt
1¾ cups coconut sugar
¼ cup date sugar
½ cup plus 2 tablespoons coconut oil
¼ cup apple cider
1 cup dried organic blueberries
1 cup dark chocolate chips
Maldon sea salt
Preheat the oven to 350°F.
Line 2 baking sheets with parchment paper.
Whisk together the flour, baking powder, baking soda, and pink sea salt in a bowl
Combine the coconut and date sugars, coconut oil, and ¼ cup apple cider in another bowl.
Beat with an electric mixer on medium-high speed until pretty blended. Gradually add the flour mixture, beating at low speed until blended.
Add the dark chocolate and dried blueberries
Place the dough onto the baking sheets about 2 inches apart.
Make it rain some Maldon sea salt on the cookie dough.
Bake in the oven, until the edges are set, 10 or so minutes.
Set aside and serve warm with some freshly made almond milk spiked with Tahitian vanilla and a cinnamon stick.