5 Natural Stress Busters for Your Home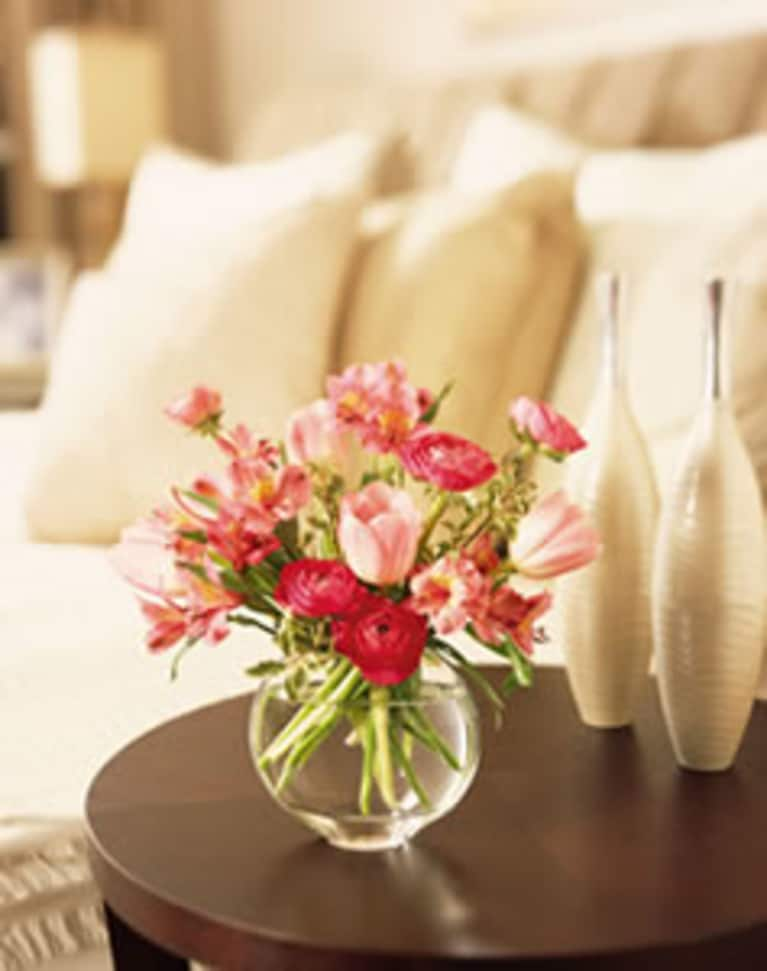 Nature breathes life force into our being and is the best tonic for frazzled nerves and a hectic home life. A deep breath by the sea, a daydream on sunny day, a rest under an oak tree or a walk along a whispering brook soothes your soul. Nature expands your energy field and sends waves of tranquility into your body, mind and spirit.
From a feng shui perspective, bringing nature into your living environment boosts energy, productivity and can elevate your mood. Every natural element, whether it's a stone, plant or water feature, contains life force energy from the sun, earth, water or air, which provides healing and vitality. In addition, plants and flowing water emit negative ions which boost the mood chemical "serotonin" in the brain. Serotonin helps to reduce stress, alleviate depression, and increase our energy.
To remove stressful energy and create harmony, bring the flow of nature inside your environment with these five elements.
1. Natural Light – The sun is the ultimate life-giver and the more we are exposed to natural light, the better we feel physically, emotionally, mentally and spiritually. Studies have proven that people who are not exposed to enough natural light can have problems with depression, sleep and general health causing stress. Humans are like plants; we need sunlight to flourish. You can bring in more sunlight by cutting back shrubs, exposing and cleaning your windows, adding skylights and installing garden windows.
2. Thriving Plants - Lush plants are one of the best stress busters. They create a harmonious indoor haven. Plants breathe out oxygen, encouraging vitality in your body and home. According to feng shui, spiky plants create negative energy, so choose plants with rounded leaves that look vibrant, not droopy. It's a good idea to remove decorative displays of dried flowers and potpourri from your house, since they are no longer living. Arrange plants in the corners of your rooms to encourage harmony and energy flow. Simply viewing photos of plants and trees relax us.
3. Colorful Flowers – Placing colorful blooms in your rooms is a wonderful way to ease the stress of everyday life and refocus our emotions more constructively. Flowers soothe our spirits helping us feel happy and harmonious by disconnecting from the hectic pace of the world outside, In fact, research from America's leading universities has cemented the connection that flowers have both scientific and emotional powers. As early as 2000, Rutgers University found that flowers create instant delight and happiness, and increase enjoyment and life satisfaction. You can create your own beautiful bouquets by using flowers from your garden or choosing your favorites at a local market. (Click here to watch the video of my bouquets for the energy of wellness, inspiration and gratitude.)
4. Flowing Water - Water is the essence of life. It nourishes, purifies, restores and heals our body. The moving water of a fountain creates a pleasing sound, encourages energy circulation and gives off negative ions, which makes us feel better. The movement and rhythm of the water can connect you with the energy of water that makes up much of the earth. Additionally, in feng shui, water represents money, and when it's flowing, it means your finances are bubbling over. Placing a water fountain in your home brings serenity, energy and prosperity into your life. Adding rocks, seashells or polished stones gives it a personal touch and adds the grounding energy of the earth.
5. Natural Sounds - Sounds of nature slows your heart rate, deepen breathing, and calm frazzled nerves. Playing a CD of natural sounds, such as splashing waves, birds chirping or a gentle breeze can help create a sense of serenity. A water fountain or aquarium offer pleasing sounds, and connects you with the flow of life. Pets, too, can provide joyful sounds.