This Curried Sweet Potato And Peanut Stew Will Carry You Through Winter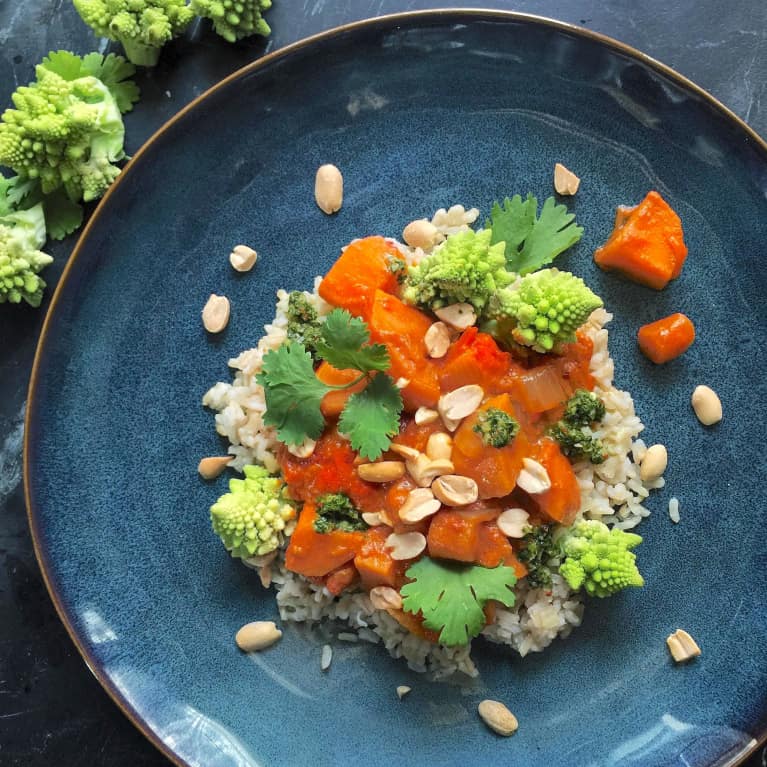 The holiday season places a great emphasis on all things meat. From turkeys to hams to roasts that'll feed an army, November and December are rich with the offerings of your local butcher. Even the vegetable-based side dishes are inevitably dotted and laced with everything from smokey bacon to savory sausage. So, if you're seeking respite from the carnivorous staples of the holiday table, it's not necessarily found in their plant-based accoutrements. (Seriously, when did bacon become the "salt, pepper, and olive oil" of the holiday season?) Enter: a stew rich with spice, toothsome produce, and buttery peanuts that even the most enthusiastic carnivore will savor. Packed full of flavor and texture, this stew will have even those staunchly tied to the idea that a meal is not a meal without a meat, a starch, and a veg, feeling utterly satiated. So this holiday season, make room in your routine for a big pot of sweet potatoes, carrots, and parsnips, spiced with mellow curry and made silken and smooth by a generous spoonful of earthy, creamy peanut butter. Meat eaters won't miss a thing.
A Curried Sweet Potato and Peanut Stew
2 tablespoons coconut oil
1½ tablespoons curry powder
1 large onion, diced
1 1-inch piece of fresh ginger, peeled and minced
2 garlic cloves, minced
1 tablespoon cilantro stems, chopped
1½ pounds sweet potatoes, peeled and diced in ½-inch dice
2 medium carrots, peeled and diced in ½-inch dice
2 medium parsnips, peeled and diced in ½-inch dice
1 28-ounce can of whole, peeled tomatoes
2 to 3 cups vegetable broth
½ cup coconut milk
⅓ cup peanut butter, creamy
¼ teaspoon red pepper flakes
Salt and pepper to taste
For garnish: I like it with chopped, roasted peanuts, chopped cilantro, and chimichurri sauce.
Add the coconut oil to a large pot set over medium heat. Add the curry powder and onion to the oil and sauté until the onions are soft and translucent, about 10 minutes. Add the garlic, cilantro stems, and ginger, and sauté for a further minute.
Add the sweet potatoes, carrots, and parsnips to the pot and stir to coat them with oil, about 1 minute. Then, add the vegetable stock, tomatoes, coconut milk, and pepper flakes. If the vegetables are covered with 2 cups of stock, then that's plenty. If not, add the remaining cup.
Cook the stew for about 25 minutes until the vegetables are cooked through and soft, and the sauce has thickened.
Stir in the peanut butter, and cook for a further 5 minutes. Season the stew to taste, with salt and pepper.
I like this baby served up over brown rice with some steamed or sautéed cauliflower on the side, just for good measure. It's rich enough to make you feel like you're indulging, without as much as a slab of bacon in sight. Shocking, I know!