Uplifting Integrative Health Studies That Prove 2016 Wasn't All Bad
mbg Health Contributor
By Gretchen Lidicker, M.S.
mbg Health Contributor
Gretchen Lidicker earned her master's degree in physiology with a focus on alternative medicine from Georgetown University. She is the author of "CBD Oil Everyday Secrets" and "Magnesium Everyday Secrets."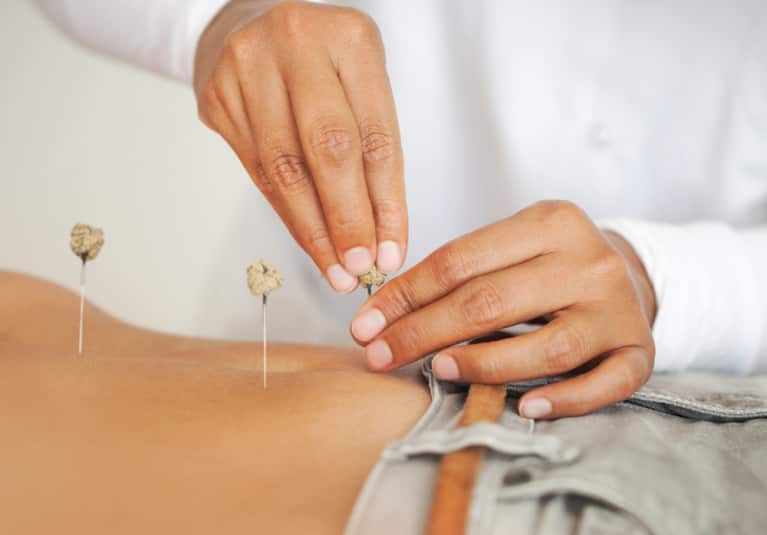 I think we can all agree that 2016 was action-packed and full of emotion and intensity, good and bad, for everyone. As we approach the last few days of a long year, it's a good practice to reflect on some of the changes that have occurred and the progress we've made—especially in the field of integrative and functional medicine.
Sometimes it's just nice to remember that there are scientists, researchers, doctors, and graduate students working tirelessly to substantiate the value of the alternative therapies that have changed so many of our lives. Other times we reflect because we need a reminder of just how essential it is to invest our time and money in good research so that one day we can create a truly holistic approach to health care—one that doesn't need labels like "conventional," "alternative," or "functional" at all.
So take a minute and imagine a world in which acupuncture and aromatherapy are offered to hospital patients, a plant-based diet is a prescription for heart disease, and meditation classes are covered by our health insurance plans. I know, sometimes that world can seem far away. But that's why it's extra-important to reflect on the progress we've made, stay on our toes, and re-motivate ourselves to keep up the good fight in the year to come.
In the spirit of positive progression, here are thirteen studies and advances in the science of holistic health that we think warrant a special mention.
1. Acupuncture can significantly improve menopause symptoms.
In a study published in the journal Menopause, over 200 participants receiving acupuncture treatments kept a daily diary on the frequency of their menopause symptoms. Results showed that compared with usual care, acupuncture reduced vasomotor symptoms by as much as 36 percent and also had a positive impact on sleep quality, anxiety, memory symptoms, and hot flashes. The best part? These improvements remained for at least six months after the end of treatment.
2. Your shower routine might influence your professional life.
Published in September of 2016, this study showed that routine hot to cold showering led to a 29 percent reduction in self-reported sick leave from work. Even better, the combination of hot to cold showering and regular physical activity resulted in a 54 percent reduction of sickness absence.
3. Distance running requires a certain kind of brain power.
A recent study showed that the brains of competitive runners have different functional brain connectivity than sedentary (but still healthy) people. Apparently, endurance running activates pathways in the brain associated with working memory and executive function. And this increase in activity can encourage lifelong healthy brain function. Excuse us while we head out for a run...
4. More than half of Americans have a chronic health condition.
In case we needed another reminder that chronic disease is on the rise, a 2016 study showed that more than 50 percent of Americans suffer from at least one chronic health condition, mental disorder, or substance-use issue. With a large number suffering from more than one, treatment becomes increasingly complicated.
5. Yogic breathing can help fight major depression.
New research from the University of Pennsylvania School of Medicine suggests that a breathing-based meditation practice works well as an adjunct treatment for patients with severe depression who did not respond to antidepressants. This is big news, considering more than half of Americans with depression do not fully respond to medication.
6. Suffer from asthma? Your vitamin D levels might be something to consider.
A recent meta-analysis of double-blind, randomized, placebo-controlled trials of vitamin D for the management of asthma showed that administration of vitamin D reduced the rate of asthma exacerbations requiring steroid medications and decreased the risk of having at least one exacerbation requiring an emergency room visit or hospitalization.
7. Americans spend billions of dollars on alternative medicine each year.
Research from the National Center for Complementary and Integrative Health (NCCIH) and the Centers for Disease Control (CDC) found that approximately 59 million Americans spend their hard-earned money on integrative or functional medicine therapies. As a country, our total spending exceeds $30 billion a year—which is about $510 per person. Luckily, signs point to wellness becoming more affordable and accessible in the near future.
8. Zinc supplementation may help prevent childhood pneumonia.
9. Have a migraine? Book an acupuncture appointment.
Evidence on acupuncture as a treatment for migraine headaches suggests that a course of at least six treatment sessions can be a valuable treatment option. Acupuncture can reduce the frequency of headaches, and the available studies suggest that it may be at least similarly effective as other treatment options.
10. Music shows promise for patients with life-threatening illness.
A 2016 review from Drexel University's College of Nursing and Health Professionals showed that thinking outside of the box—by adding music therapy to cancer treatment plans—can be beneficial for patients. Analysis showed that music therapy had a positive effect on pain, fatigue, quality of life, and anxiety, and researchers also observed small reductions in heart rates, blood pressure, and respiratory rates.
11. Cutting out just one sugary drink can make the difference.
It's always motivating to hear that small, simple changes can have a positive impact on our health and wellness. A new study published in the journal Nutrients showed that replacing just one eight-ounce sugary beverage a day with eight ounces of water can reduce body weight and improve overall health.
12. A sauna a day keeps the doctor away.
A December study by researchers at the University of Eastern Finland showed that regular heat exposure from a sauna is associated with a lower risk of dementia and Alzheimer's disease. This was a dose-response relationship meaning that the more frequently a person saunas, the lower their risk of those neurological conditions becomes.
13. Mindfulness meditation reduces pain—but not like an opioid.
For years research has shown that mindfulness meditation can relieve pain, but it was unclear how this worked and if it involved the release of naturally occurring opioids. It turns out that mindfulness meditation does not rely on opioid activity to reduce pain, and how exactly it works remains a mystery.
While the amount of research is consistently growing, holistic health—and all of the tradition and ancient wisdom that comes with it—can still be enchanting. And sometimes (under a doctor's supervision of course) we just have to give it a try.