No Body Checking + 4 Other Ways To Stay Sane Through The Holidays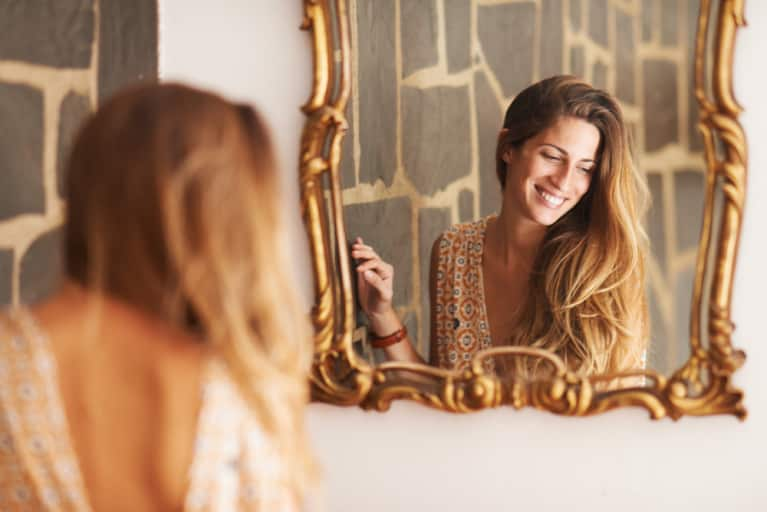 As the holidays approach, I can feel the tension start to build. This time of year is meant for celebration, time with family, and spreading love, but it can also cause anxiety for a lot of people—especially around the topic of weight gain. These worries are understandable; the holidays mean a LOT of food, and it's harder to be mindful when we are out of our normal routines.
This year, instead of letting those negative feelings in, let's try adopting some new self-care practices to help keep us sane through the end-of-the-year craziness. Here are five ways I've learned to love myself through the holidays that are guaranteed to calm any nervous energy about body image.
1. Write a daily journal entry.
Try spending 5 to 10 minutes a day writing in your journal. Writing down your fears and anxieties is a great way to acknowledge those feelings without dwelling on them. Once you feel like you have released the thoughts that no longer serve you, try writing down all the things in your life that make you feel good.
You can even turn your fears into positive loving statements, for example: "I am so nervous about gaining weight during the holidays" can turn into "I am so excited to spend time with family; I honor myself and know that I am beautiful no matter what size or shape I am." Changing your thought process by acknowledging negative feelings and then turning them into positive statements will do wonders.
2. Remember that food is love.
Instead of seeing food as bad, wrong, guilt-ridden, or unhealthy, trying seeing food through a more loving lens. Eating in a state of stress and anxiety can activate your nervous system and mess with your digestion. Eating food with loving thoughts and listening to your body's needs, especially when it's hungry and full, will keep everything functioning optimally—physically and mentally.
One of the most hurtful things you can do is "body check." This means standing in front of the mirror judging yourself and perpetuating your negative self-talk. One of the best pieces of advice I can give is to steer clear of the mirrors. It will help you avoid negative thoughts that damage you mentally and emotionally and leave room for more loving feelings. Use clothes as a barometer if you feel that you need one.
4. Try a social media detox.
This is a big one, and it means unfollowing anyone or anything that triggers negative self-talk. Do you follow a bunch of diet and fitness accounts? If so, recognize how you feel after you scroll through posts and pictures; are you left feeling like you are not worthy? If social media doesn't leave you feeling empowered and inspired, then get rid of it! Following only accounts that promote self-love and personal growth will have a big impact on the thoughts that run through your head every day.
People can be hesitant to reach out, but one of the best ways to heal is to share your thoughts and feelings. It's important to know that you are not alone. There are so many free resources out there that will create a space in which you can feel understood and safe. Remember, sometimes self-love means asking for help.
Sometimes it's easier said than done, but treating yourself with radical self-love can transform your thinking and give you the best possible holiday experience. Freeing yourself from negative thoughts and worries about your body will give you a sense of freedom and peace that everyone deserves to feel during the holiday season.
As Buddha says, "You, yourself, as much as anybody in the entire universe, deserve your love and attention."