6 Ways To Sneak Nutrition Into Your Holiday Meals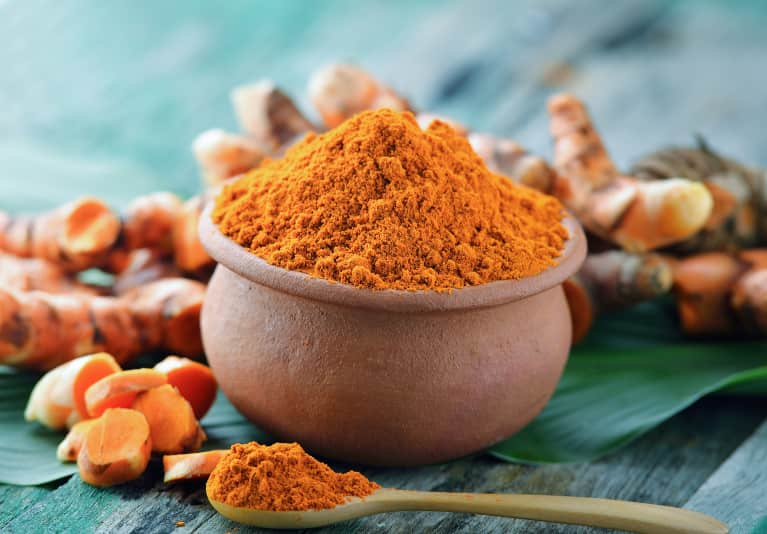 Eating a nutritious holiday meal doesn't mean you have to feast on raw kale. There are plenty of little culinary tricks you can employ to boost the nutritional value of your holiday meals without compromising on flavor. Here are some of my favorite ways to load up on nutrition this holiday season in creative ways.
I'm not kidding when I tell you that I add turmeric to everything—and I use more than a pinch. It's more like a handful!
I can't get enough of turmeric, which is extremely anti-inflammatory, and its active component, curcumin, is just as effective as anti-inflammatory drugs. Turmeric is rich in antioxidants, helps to protect the liver, has antimicrobial properties, and helps boost brain power. When the holidays roll around, we need all of the liver-protective, antioxidant-rich, and immune-boosting foods we can get!
Dried turmeric is readily available and can add extra nutritional oomph to your dishes. Add it to soups, grains, mashed yams or potatoes, stews, marinades, salad dressings, dips, and even hot chocolate. Start off with a small amount, as turmeric can be a strong flavor if you're not used to it. But no one will notice a little pinch or two. Then scale up!
Use teas instead of water or broth.
The herbs found in teas are mighty powerful and have many active compounds that support our health. Instead of using water or broth in your meals, try brewing up a pot of chamomile, ginger, fennel, or green tea. Use the brewed tea as the liquid for cooking grains, roasting or poaching meats, or in soups, gravies, or smoothies. It'll add a nice light flavor and will enhance the nutrition as well.
Explore healthier sweeteners.
The holiday season is definitely a favorite time of year for those among us with a sweet tooth. Unfortunately, refined white sugar is linked to a host of health issues, including obesity, tooth decay, diabetes, and even cancer.
Forgoing white sugar doesn't mean you can't enjoy a holiday treat. Some of my favorite natural sweeteners include:
Raw honey. It's rich in enzymes and amino acids and is antibacterial.
Maple syrup. I'm Canadian, so this can be found in abundance where I live. It contains antioxidants, calcium, and iron.
Coconut sugar and coconut syrup. These sweeteners derived from coconuts are low on the glycemic index and are rich in minerals.
Dates. These dried fruits are high in fiber, potassium, and B vitamins, which help us with energy and stress levels.
Coconut sugar is an amazing alternative to white sugar, and it lends a lovely caramel flavor. Maple syrup, coconut syrup, or honey can be swapped for less nutritious liquid sweeteners like corn syrup.
Add fresh herbs to everything.
Many people use herbs as an afterthought or a garnish, but they are one of my favorite elements to use in the kitchen to add flavor and nutritional value. Herbs are so potent, and there is such a wide array to choose from. Parsley and cilantro are two of my favorites, as they are incredibly detoxifying, but dill, thyme, sage, oregano, fresh turmeric, and ginger root are also amazing.
Visit the herb section of your local grocery store and discover the herbs that you love. Store them in a glass, like flowers in a vase, so they retain their freshness.
Chop herbs up and sprinkle a generous handful over your plate, or incorporate them into salads and side dishes. They will truly brighten up your holiday table in so many ways.
Experiment with grain-free alternatives.
Traditional holiday dishes can be packed with refined flours and starches. Instead of turning to fluffy breads and grains, choose tasty grain-free alternatives. Some of my favorites include:
Cauliflower rice. This has an incredible rice-like consistency and it's delicious! You can flavor this any way you like, and you can use it to stuff peppers, make "rice" pilaf, burgers, and more. Mash up cauliflower in place of mashed potatoes, or use mashed cauliflower as a topping for shepherd's pie.
Chickpea flatbread. Chickpea flour is rich in protein and fiber. Mix equal parts chickpea flour and water and use the mixture for an incredible flatbread. It's perfect for dipping! Chickpea flour is also amazing in pancake batters.
Almond bread or crackers. Ground almonds (or any nut or seed) are a fantastic replacement for white flour in breads, cookies, cakes, and crackers. They're not just delicious but are great sources of protein, fiber, and health-supportive fats.
Choose cooking oils wisely.
Cheap cooking oils tend to go rancid and be highly genetically modified. Avoid oils in plastic bottles and buy high-quality oils in dark bottles. My favorite oils for high-heat cooking are coconut oil, avocado oil, or ghee. For medium-heat cooking, olive oil is the way to go. And some oils shouldn't be heated at all, such as hemp or flax oil. Using oils wisely allows their healthy fats to fuel our cells, nourish our brains and nervous systems, support digestion, improve skin health, and maintain the cardiovascular system.
These culinary tips are easy to implement during the holiday season and offer you the added edge of nutritional value. And delicious food and vibrant health is an incredible gift for your loved ones!