3 Exercises That Will Make You Feel Like An Empowered Woman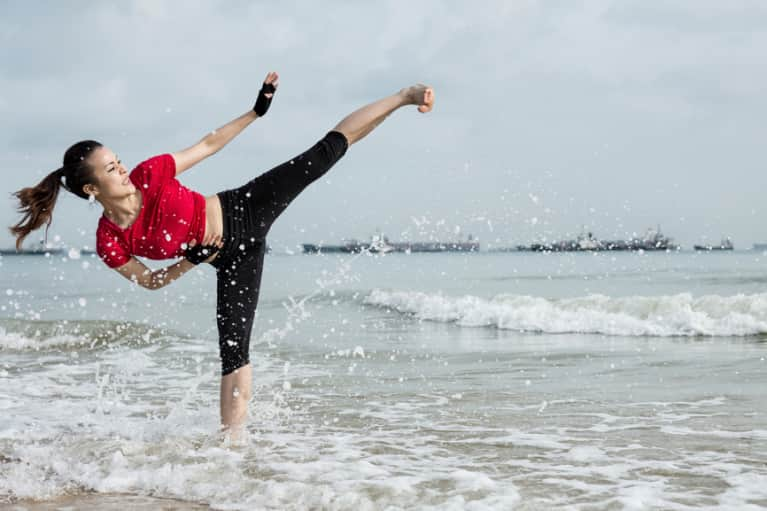 As women living in today's society, the pressure to live up to an unattainable standard of beauty has never been more intense. Our culture conditions us to strive for a fictionally perfect aesthetic, encouraging women to go on cruel diets and undertake grueling workouts, fooling us into believing our healthy, capable bodies will never be enough.
For much of my teenage life I was one of those girls whose relationship with the gym revolved around a hatred for my body. I saw it as a punishment for eating too much or doing too little, for being neither thin enough nor worthy of love. Since developing a true appreciation for my body and all that it can do, I now realize just how many other reasons I have for exercising.
Regardless of fat loss or muscle growth, I now work out for mental sanity, for the benefit of my health, and for its ability to make me feel like a strong, confident, empowered female. After all those years I spent desperate to shrink, I have finally found a way to grow from exercise instead.
Women who strive for the "perfect" body need to be shown that their dream aesthetic does not exist. They need to understand that movement is a blessing, not a curse, and that their worth is not based upon the jean size they wear. They need to find the workouts that are not only fun but that encourage them to become the most confident version of themselves.
So the next time you're trying to muster the motivation to train or you feel like your workouts are becoming a punishment for the way you look, try one of the workouts below to put the fun back into exercise and bring out your sense of female empowerment.
I promise they will have you feeling like the strong, confident, badass woman you are in no time.
Since discovering boxing earlier this year, letting loose on a punching bag has become my favorite form of cardio. It's the best form of therapy, too! The satisfaction you get from going hell to leather on that bag is like nothing else, and letting out a little bit of your crazy side is totally embraced. I love that a good class never fails to have me walking away feeling fit, fierce, and ready to take on the world. It might feel like too much fun to be a workout, but be prepared to sweat. Becoming a total badass isn't easy work!
Even in this day and age, weightlifting is still a rather male-dominated sport, and it's easy to feel intimidated by the testosterone-heavy weights area. However, there is nothing more empowering as a woman than lifting some heavy weights and proving to yourself just how strong you really are. Dead lifts, clean and jerks, and snatches are some of the most primally satisfying lifts and will push your mental and physical abilities to the max. Don't be demoralized by the strength of everyone around you; ignore the competition and focus on bettering yourself with every training session. Despite weightlifting's male stereotype, I never feel more strong, powerful, and liberated than when I have Beyoncé playing through my headphones and a loaded barbell over my head.
Using exercising for a sense of female empowerment doesn't necessarily mean pushing your body to its limits with intense workouts. Sometimes your body needs a slightly gentler approach, so give it what it deserves with a yoga class instead.
Yoga is all about strengthening your mind-body connection, so it's the perfect way to gain a better understanding of your body and all of its amazing capabilities. However, don't be fooled into thinking yoga is an easy way out, as a dynamic flow or power yoga can be a serious workout and will certainly strengthen your muscles as well as your mind.
There is so much power in learning how to listen to your body and this skill will be crucial in helping you become the healthiest, happiest, most confident version of yourself.