Julia Stiles Shares The Wellness Rituals That Keep Her Sane On Set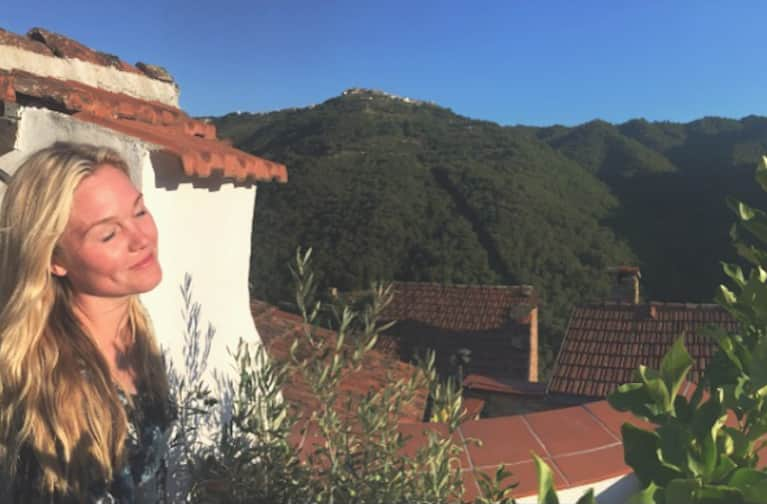 Where in the world is Julia Stiles? In the South of France, naturally, filming Riviera, a new crime series by Oscar winner Neil Jordan. For an actress whose passport is stuffed with additional, stamp-strewn pages, it can't be easy to maintain a wellness practice. But it's the busiest and most stressed among us who need that balance most. How does Stiles keep centered while morphing from one character to another and hoping on and off of international flights? She spills her wellness rituals for us.
mbg: Tell us about your morning routine.
Julia Stiles: My morning routine changes depending on whether I have to set an alarm. If I have the morning free, I love to get some exercise, after a good coffee. I love yoga, or lately—because it is great while traveling—Xtend Barre videos in my living room (it's a version of Ballet Barre). If I have an early call to work, I set the alarm, cutting it as close as possible to maximize sleep. I try to get about eight hours a night.
mbg: What are your favorite ways to prep for a movie that you know will be mentally and physically challenging?
JS: Mentally, there is only so much you can do. So much of the work happens on the spot, at work, on the day, in the moment. But I like to prep at least by wrapping my head around the world a story is set in. So most recently, on Riviera, I talked to a lot of people who work in the art world, to understand logistics and just get a sense of that life, buying and selling art. Physically, you just have to be as healthy as you can. Meaning, whatever makes you feel energized, free, comfortable in your body, and what gives you the endurance to not get sick.
mbg: What is your bedtime ritual?
JS: I take a super-hot bath. Sweating is good and preferably accompanied by music or a podcast. Makeup off and then soak.
mbg: Do you have a female icon, whether it be a writer, artist, actor, or philosopher who you think lived their life the "right" way?
JS: Oof, I have many. And it's so tricky for women because even now the women we look up to seem to have sacrificed either love and family or career and independence. But a contemporary I admire? Hands down Julie Delpy. She has a prolific career, is a passionate artist, and has directed five or more movies, all authentically in her voice.
mbg: What is your favorite healthy food?
Seasonal produce, really. Having spent the last four months in France, I've got to say, the produce is off the chain. Everything tastes robust, singular, and is only available when it is grown.
mbg: What is your favorite indulgence?
Fresh burrata and fresh pasta.