Get Ready For The Week Ahead With 3 Delicious Meals + A Short Workout
Today, we're getting you back on track and easing into a regular week post-Thanksgiving and post-cleanse. We have three recipes for healthy, filling meals packed with produce and plant-based proteins to get you the sustenance to prepare for a busy week.
We've included some diverse flavors with some Mexican- and Indian-inspired spice combos and to refresh your taste buds, too. And there might even be some leftovers to give you an easy lunch option.
Breakfast: Cherry, Spinach Smoothie Bowl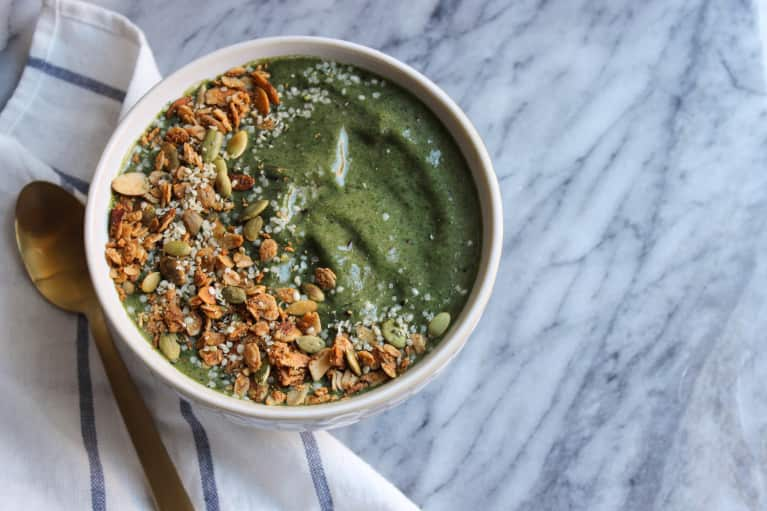 ½ cup almond or coconut milk
2 cups spinach
1 frozen banana
½ cup frozen cherries
1 tablespoon ground flax seeds
1 tablespoon almond butter
Coconut flakes, toasted
Pumpkin seeds
In a blender, place all ingredients starting with the milk and spinach and process until smooth, scraping down the sides once or twice to make sure everything is incorporated. This may take a little while, depending on your blender.
Pour into a bowl and top with coconut and pumpkin seeds.
Lunch: Quinoa Burrito Bowl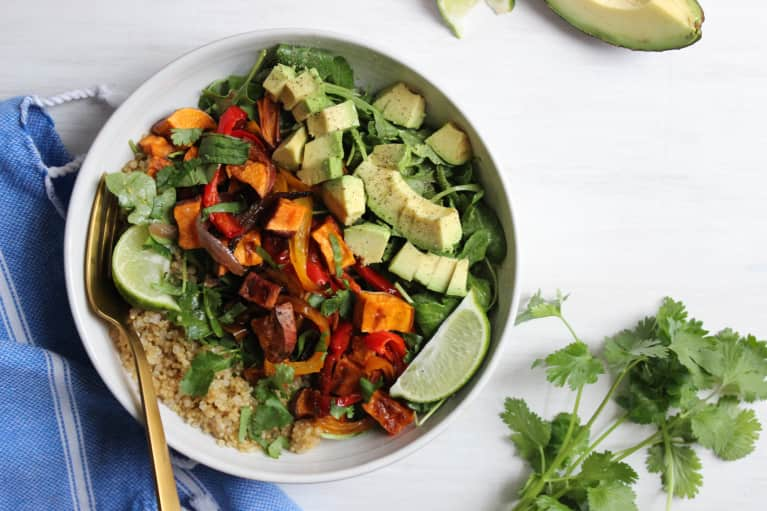 Olive oil
1 medium sweet potato or 1½ cups butternut squash, cut into small cubes
1 medium bell pepper, sliced into strips
1 small red onion, cut into wedges
Salt
1 teaspoon cumin
½ teaspoon smoked paprika
½ cup quinoa
4 handful baby arugula or kale
1 avocado, cut into cubes
Cilantro
Lime
Preheat oven to 415°F. In a large bowl, toss sweet potato, bell pepper, and red onion with 1 tablespoon of olive oil, ½ teaspoon salt, cumin, and paprika until the vegetables are well-coated. Spread out on a baking tray and bake for 25 to 30 minutes until golden and tender.
Meanwhile, place quinoa in a pot with a lid with 1 cup water and salt. Bring to a boil and cook (covered) over medium-low heat for 15 minutes until the water is absorbed. Let stand covered for another 10 minutes then fluff with a fork.
Assemble your bowls with quinoa and greens at the base. Top with the roasted sweet potato and bell pepper, avocado, cilantro, lime juice, and another drizzle of good olive oil, if desired.
Dinner: Cauliflower + Chana Masala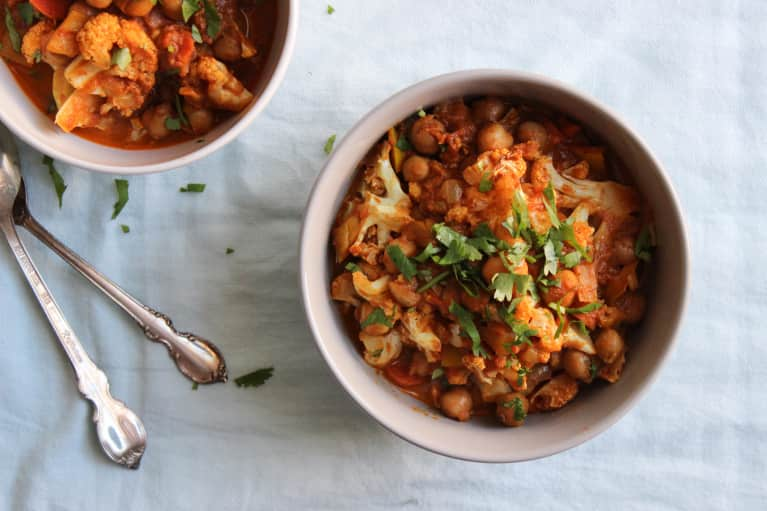 1 tablespoon coconut oil or ghee
1 medium yellow onion, finely diced
3 garlic cloves, finely chopped
1-inch piece of ginger, grated or finely chopped
2 teaspoons garam masala
1 teaspoon cumin
½ teaspoon turmeric
Pinch of cayenne (optional)
1 teaspoon salt
1 28-ounce can tomato puree or finely chopped tomatoes
1 small to medium head of cauliflower, chopped into small florets
1 (14-ounce) can of chickpeas, drained and rinsed
1 (14-ounce) can coconut milk
Fresh cilantro
Cooked brown rice
In a large pot, heat enough coconut oil or ghee to coat the bottom of the pan well and place pan over medium-high heat. Add onion and a pinch of salt, and cook, stirring occasionally, for about 10 minutes. Add garlic and cook for 1 minute. Add garam masala, cumin, turmeric, and cayenne, and cook another 30 seconds until fragrant. Stir in salt and tomatoes and simmer for 5 minutes.
Stir in cauliflower and chickpeas and bring to a boil. Reduce to a simmer and cook covered for about 15 to 20 minutes until cauliflower is tender. Stir in coconut milk and simmer for 5 minutes and remove from heat. Let stand for at least 15 minutes before serving to let the flavors mingle. Salt to taste. Serve topped with cilantro and over brown rice, or just eat as is like a soup or stew.
For your Sunday workout, we consulted Todd McCullough of TMAC fitness. Here's his advice.
So you just crushed some turkey and mashed potatoes. That's great! Now it's time to crush a workout. Here is a workout that will torch calories and help you get your energy back.
Repeat this for 20 minutes on a treadmill or outside: Sprint for 30 seconds, then jog/walk for 30 seconds.
This is a tough workout, so maybe just do 8 minutes and then walk for 2 full minutes. Once you have your breath, hop back on. Just get to 20 minutes total. You've got this.
Now, let's do a bit of sculpting. Here's what you have no your plate:
Incline push-ups (put your hands on a bench) to failure.
Lunges: 20x total
Elbow plank