How The Bacteria On Our Skin Could Help Protect It
mbg Health Contributor
By Gretchen Lidicker, M.S.
mbg Health Contributor
Gretchen Lidicker earned her master's degree in physiology with a focus on alternative medicine from Georgetown University. She is the author of "CBD Oil Everyday Secrets" and "Magnesium Everyday Secrets."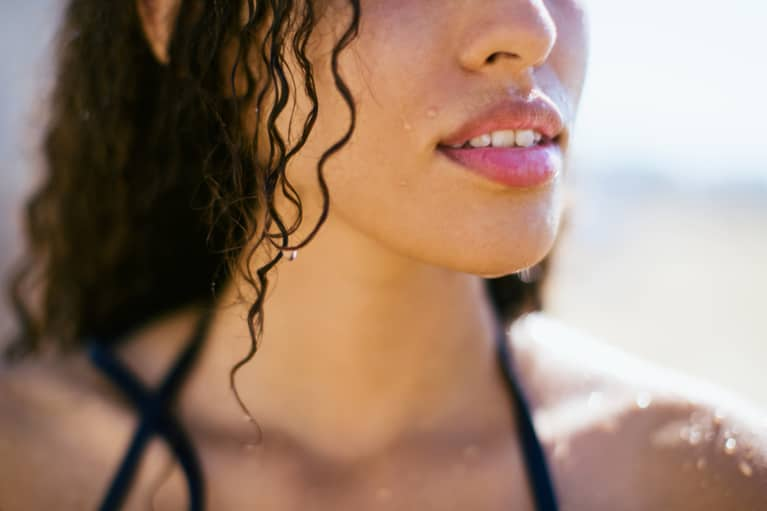 November 18, 2016 — 10:15 AM
We all know about the amazing health benefits of the bacteria in our GI tract. We load up on probiotics and prebiotics to prevent colds, help with digestion, and maintain the gut's balance between bacteria and yeast. But what about other areas of our body—do they also benefit from microbes?
A group of Swedish scientists has been studying Propionibacterium acnes—one of the most common bacteria on our skin—and what they found is blowing our minds. Turns out, this bacteria might actually prevent disease and play a critical role in the health of our skin.
Is acne caused by specific bacteria?
If you can't tell by its name, for many years Propionibacterium acnes (P. acnes) was thought to cause acne. But more recently, researchers have been questioning the link between P. acnes and acne altogether, saying that its presence on the skin of acne sufferers might just be a coincidence, since P. acnes is so abundant on human skin.
So if it's not causing problems, why is this bacteria all over our skin? It may be there to help us.
Bacteria with antioxidant properties.
Researchers found that a protein secreted by P. acnes can act as an antioxidant by protecting our skin against free radicals. Free radicals are unstable molecules produced in our bodies when we are exposed to different environmental stressors like pollution, ozone, and sun damage. Having too many free radicals can mean trouble and has been linked to almost every type of cancer. But when tested in a lab, P. acnes demonstrated antioxidant activity comparable to other common antioxidants like vitamin C, vitamin E, and glutathione—meaning this bacteria may be a very important protective mechanism for our skin.
Can P. acnes prevent skin disease?
This mystery bacteria is full of surprises; on top of its cancer-fighting properties, P. acnes might also help prevent other common skin conditions. It turns out that diseases like psoriasis and atopic dermatitis have been linked to low levels of P. acnes, suggesting that its presence on our skin may help reduce our risk of developing an inflammatory skin condition.
More information is needed, but it's possible that P. acnes could be used to treat skin ailments, like psoriasis, in the future. And due to its antioxidant activity, it could potentially be added to sunscreens to further protect our skin against UV damage and the free radicals that come with it.
Bacteria are our friends.
It continues to (pleasantly) surprise us, but we have as many bacteria living in our bodies as we have our own human cells, and more examples of the ways in which we can benefit from these microbes are constantly popping up on our newsfeed. It makes sense when you remember that as humans, we evolved with these bacteria by our side. And while some microbes can definitely be harmful, the majority are there to help keep us healthy and balanced.