7D7N: 7Days & 7Nights to a NEW YOU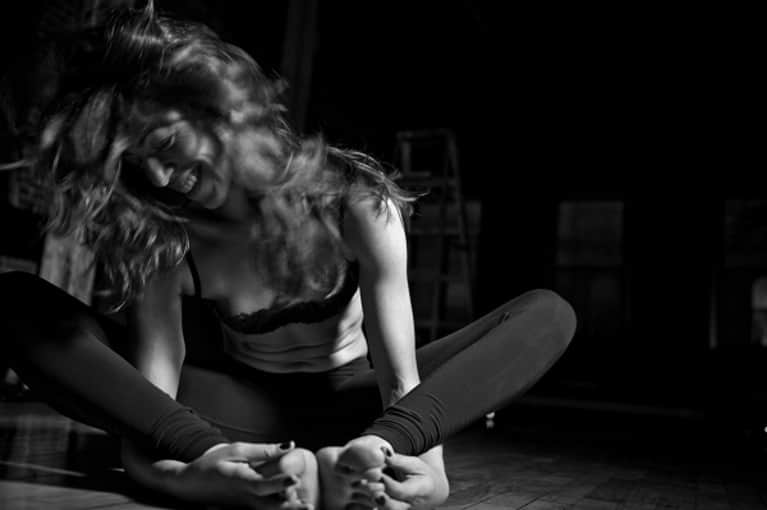 Let's face it -- it is easy to overdo it these days. Overdo it in the terms of work, food, fun, drink, leisure, you name it. My parents call it burning the candle on both ends, yogi philosophers call it taking refuge, and I.AM.YOU. calls it LIFE.
The great thing about life, though, is that it is as easy to undo an overdo as it is to create an overdo, if you are guided properly. Meaning, when you wake up that Monday morning after an intense work week, and even more intense gluttonous weekend, and you feel totally 'ughhhh,' you do not need to stay that way for long, especially with I.AM.YOU.'s latest creation, "7D7N: 7Days & 7Nights to a NEW YOU."
Try out this inaugural Nourishment based 7D7N for simple, easy way to create a new you via what you eat, with no hassle, starvation, juicing, fasting, or intense preparation. I.e. – No matter where you are or how your schedule is – you can create a NEW YOU with 7D7N! 
DAY 1: Olive Oil
Why? Being anti-fat is soooo 90s. Fat is good for you! Especially the good fat such as that found in Olive Oil. OO (not the overused EVOO) is a monounsaturated fat full omegas, which means that it actually HELPS you lose weight, lower your cholesterol, and manage blood sugar levels. It helps your digestion, which in turns increases your metabolism. And OO ensures healthy, glowing skin and hair. 
How? Any way! Use OO drizzled on raw veggies, in a salad dressing, on pastas (great for summer) and as a base for anything and everything you cook (vegetables, chicken, fish, etc). If that is impossible to you, just have a teaspoon (don't cringe -- my grandmother actually puts it on her skin!)  
DAY 2: Zucchini
Why? Summer squash is an unbelievable source of antioxidants, including lutein and cartenoid. Layman's terms, especially good for your eyes and your skin. It also helps remove excess water from your bikini & short-short clad summer bod.
How? The easiest way is to slice it into crudités and eat it raw. You can toss it into a salad, dip it in something that calls you, or cut it up however you like, and put it in a pan with a drop of olive oil.  Cover the pan, add nothing or add pepper, hot peppers, or a TINY dash of salt, and let simmer for 5-10 minutes. No mess, no hassle, and all goodness. 
DAY 3 : Garbanzos
Why? Number one reason to eat garbanzos is protein. This multi-named bean is the best substitute for the over-eaten-deli-chicken and eggs, and the easy substitute for the I'm-too lazy-to-go-to-the-store-or-make-myself a good clean protein at dinner. Get it from the G instead. Also, especially important to men and us people over 30, garbanzos are full of insoluble fiber. Insoluble fiver remains undigested until the end of the large intestine, or colon, and from there converts to a short chain fatty acid, which lines the intestinal walls, fuels intestinal cells, and has been proven to lower the risk of colon problems.
How? With your fingers as a snack. With a fork in a salad.  Mashed up or blended into hummus. Any way you want.  Simple as a good food gets.
DAY 4: Lemon
Why? Aside from the fact that lemons refresh everything and anything, they are full of vitamin C.  They have also been proven to reduce inflammation and the chances of cancer.
How? Oh what a versatile beast. Slice it and put it in water. Make lemonade. Squeeze it on fish, or chicken. Or like the Greeks on lamb. Drizzle it on sliced cucumber, or as zest over a dessert. Sky is the limit here, especially when they are in season during the summer.
DAY 5: Snap Peas.
Why? They may be green, but Snap Peas have as much vitamin C as an orange! And they have Vitamin K for strong bones and blood clot prevention. Not to mention a high water content to help you mitigate those sugar cravings.
How? Best for summer, eat Snap Peas raw as a snack or instead of pretzels and chips outdoors.  Dip them in anything. Or, throw them in a pan, again with some olive oil, and with my personal favorite, hot chili flakes.
DAY 6: Tomatoes
Why? The big Ts help maintain your heart, vision, and immune system. They are full of beta carotene, niacin and folates.  For a firmer, but still ripe, tomato, try the yellow ones. For a slightly sweeter touch, go for the classic red.
How?  Ooooo the list could go from here to Italy on this one. But since it is Summer, slice them up and sprinkle with salt, maybe even some olive oil. Snack on them alone, throw in a salad, use as a garnish, and enjoy. 
DAY 7: Lettuce
Why? Aside from adding more green into your life, lettuce has a high water and fiber content, which keeps everything going on the inside.It is an anti-inflammatory, full of vitamin K and has a laundry list of other nutrients. The darker lettuces have more nutrients (aka better for you), but the lighter lettuces are still good for you, if anything for the water. 
How? Like a rabbit! Salad or if you hate it, as a garnish. Go for Red leaf lettuce for the full dose of vitamins and minerals, romaine for something crunchy, and iceberg if you really can't stand the thought of eating lettuce and just need to start somewhere.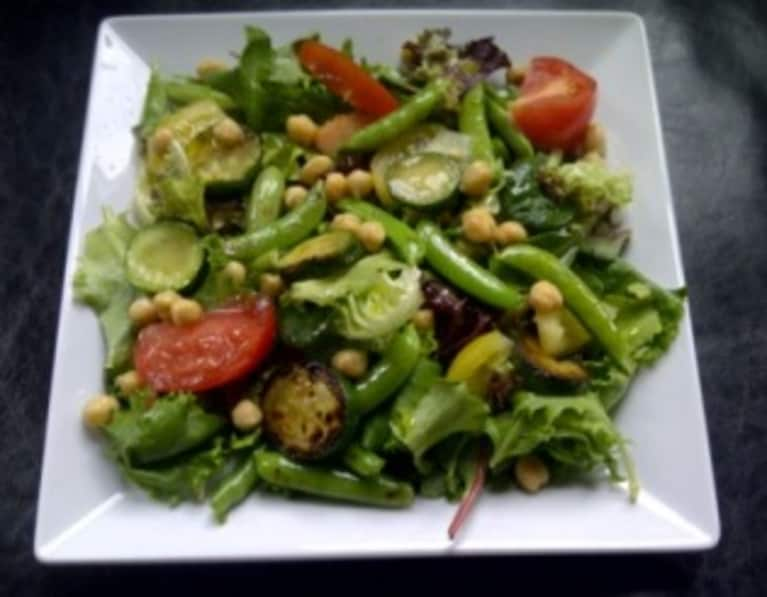 DAY 8: THE NEW YOU.
the S-Cubed: Sensational Summer Salad
-Get out a large bowl and all the ingredients
-Toss your desired lettuce into the bowl
-Chop 1-2 tomatoes and throw onto the lettuce
-Add ½ a cup of garbanzo beans to the mixture
-Use left over Zucchini & Snap peas from DAY 2 and DAY 5, or remake in whichever way you liked best. I would suggest the Zucchini lightly cooked, and plain, and the Snap Peas flash-cooked or raw, maybe with a dash of pepper
-In a small bowl squeeze the juice of 1 lemon.
-Add to the lemon juice it 1/4 -1/3 Cup of Olive Oil depending on its strength. This depends on what you bought and your personal tastebuds.
-Ground fresh ground pepper into the bowl, and a half pinch of salt
-Whisk the dressing with a fork
-Pour the fresh dressing over the contents of the larger bowl evenly
-Toss the Salad
-Place a plate and garnish with fresh ground pepper to taste.
How can it get simpler than that? Max three things to wash, maybe less, and your new body will be thanking you for eating this once a week, let alone a couple times a week. 
So try it out, day by day, and let us know how it goes!! For more nutrition tips and recipes check out www.iamyoustudio.com/blog  every Thursday for something fabulous and realistic from I.AM.YOU. Nourishment.