How To Ask Your Waiter For Substitutions Without Feeling Like A Jerk: A Chef Explains
mbg Contributor
By Carolina Santos-Neves
mbg Contributor
Carolina Santos-Neves is a graduate of the Chef Training Program at the Natural Gourmet Institute for Health and Culinary Arts and is presently the chef of Hungry Beast, (CDMX) a kitchen & Juice Bar that focuses on flavors from all over the world with a focus on using organic and local products.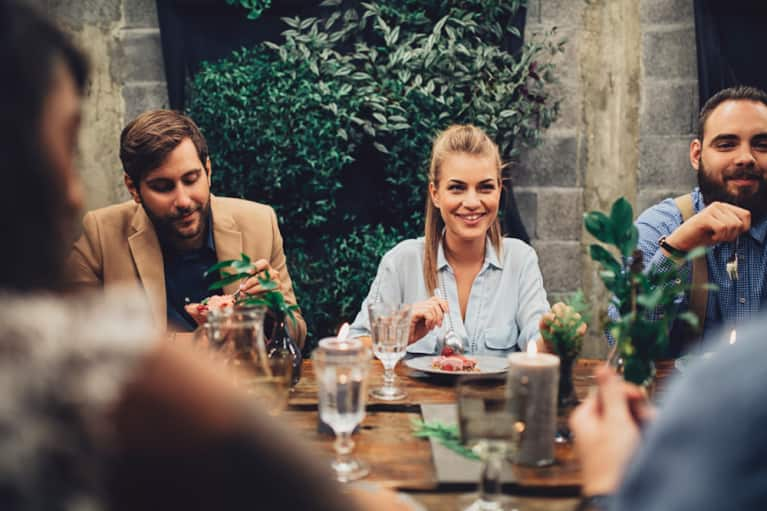 Are you a lifelong vegan? Allergic to shellfish? Maybe experimenting with gluten-free? Just because your diet has restrictions, you don't need to fear eating out. As a chef, I can say that these days no ask is too crazy; I've certainly heard many. Sure, when I'm busy in the kitchen, it can be challenging to adjust recipes, but I always want my diners to be happy, and certainly safe. The next time you're out to eat and feeling shy about mentioning that you have special dining needs, don't be. Use these tips. You can enjoy eating out as much as anyone.
No restaurant wants to leave you unhappy, or worse, unhealthy, but chefs are busy people, and making special accommodations can slow down a hectic kitchen. Don't hesitate to state any and all adjustments you'd like made to your dish, but it always helps to do it politely and in a way acknowledges your respect for the people handling your food.
To make sure you communicate all your needs and keep it straight for the chefs, write down your dietary restrictions and keep copies of that list in your wallet. That way, you can hand that piece of paper directly to the server. They'll appreciate that you're taking this seriously and aren't simply being finicky. A list leaves less room for miscommunication between the front and back of house.
Go Nuts About Nuts (Or Any Other Life-Threatening Allergy)
Nut, shellfish, or any other serious allergies are nothing to mess around with. I'm personally super cautious anytime a customer with these needs comes in. My first recommendation is to always carry an Epi-Pen or any other medication you may require if exposed to an allergen. Life-threatening allergies are too serious to leave in someone else's hands. Even though kitchen crews may be careful, don't leave anything up to chance. Be specific about exactly what your allergy encompasses. And if a dish is brimming with trouble ingredients, just make a new selection. Cut down the chances your food could be tainted with a food someone in the kitchen tossed in by habit.
If there is an ingredient you see that you're uncertain about, go ahead and Google it for yourself. Then confirm what the ingredient is with your server. Find out more about what goes on in the kitchen. If you're eating something that is fried, check to see if any other item on the menu is prepared in the same way. If you're eating fried cauliflower, but fried fish is also being served, there's a chance cross-contaminants could be present in the oil. If you're gluten-free, remember that unless a kitchen has declared itself completely gluten-free, the staff may not be taking all the steps necessary to ensure your dish is without traces of gluten.
If you're trying to avoid excess salt, then stay away from foods that have been smoked or cured. Those are generally sodium scary. If you're at a restaurant where lots of foods are saucy, then ask for it on the side. Even if something doesn't taste too salty, there may still be a lot of sprinkling that went on in there.