How To Make Your Holiday Travel A Spiritual Experience (No Matter Where You're Going)
mbg Sustainability Editor
By Emma Loewe
mbg Sustainability Editor
Emma Loewe is the Sustainability Editor at mindbodygreen and the author of "The Spirit Almanac: A Modern Guide To Ancient Self Care."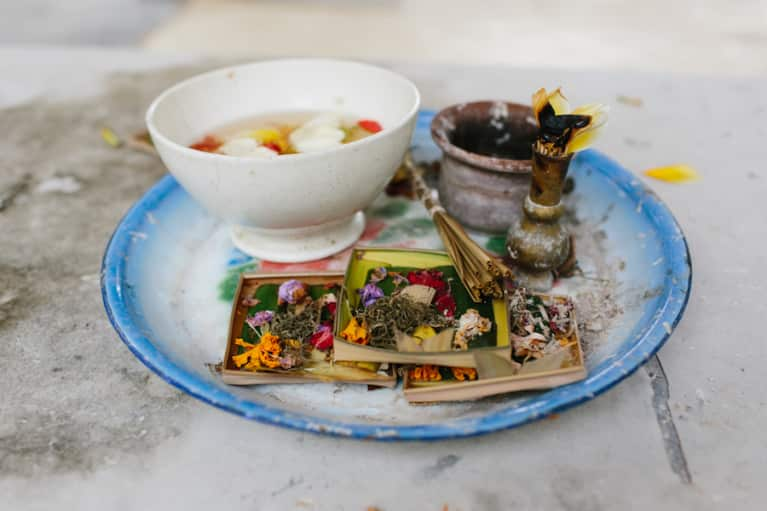 Our editors have independently chosen the products listed on this page. If you purchase something mentioned in this article, we may
earn a small commission
.
The holidays are a time of loving togetherness—an opportunity to gather over comforting food, good conversation, and thoughtful gifting. But sometimes, in the midst of long flights, crowded airports, and family spats, it's easy to forget their true meaning.
Here's a plan for making every aspect of your holiday travel a more satisfying, dare I say, spiritual, experience. It will help refresh your body and mind so you can get present and more fully connect with the people by your side through the festivities.
What to bring on the journey
Keeping a little spiritual stash tucked away in your suitcase will imbue you with some earthly energy as you travel by land or by sky.
Start off with some colorful crystals of your choosing, or take a cue from Elizabeth Kott and Stephanie Simbari of wellness podcast That's So Retrograde and travel with grounding stones like amethyst, jasper, carnelian, and sunstone. Keep in mind that mercury is in retrograde until January 8, so you may be feeling unbalanced and out of sorts these days. According to energy healer Heather Askinosie, calming blue lace agate and quartz can help you navigate this uncertain time, so consider throwing those into your pack too.
Have a few essential oils on hand to smell or rub into your pulse points as needed. Centering frankincense, antibacterial and invigorating eucalyptus, and soothing lavender are lovely options for a long trip. Add in a floral spray to stay alert and keep your skin hydrated, and you've got yourself a mystical reserve for every travel woe.
If your travels involve a lot of airport time, be sure to pack some healthy, energizing snacks like raw veggies, homemade trail mix, or granola bars with ingredients you can actually decipher, like RX and Mamma Chia. And if you do find yourself in one of the terminal's chain restaurants, check out these nutritionist-approved orders.
Many airlines are working to make their menu options a bit more nourishing too, with Virgin America now serving up vegan wraps and ginger soba noodles and JetBlue offering healthier snacks like Terra Sweet Potato chips. Wanderfuel boxes are another exciting option for the traveler looking for food that pleases the body and spirit. "We want to solve every traveler's worst nightmare: bad plane food," founder Corey Angelo tells mindbodygreen. Angelo consults with Ayurvedic nutritionists to craft holistic boxes filled with warming foods and supplements like teas, mushroom elixirs, and grain-free granolas.
What to do once you arrive
Indulge in a facial steam.
There's no better way to kick off your vacay than with a little pampering. Give yourself an herbal facial steam during your first night of your trip to rejuvenate your skin and remind yourself that this is a time to relax.
Simply bring a pot of water to a boil, add a homemade or prepackaged herbal mix, and let it steep. Then, place a towel over your head and relax your face into the earthy steam for five minutes. We love Mullein & Sparrow's facial formula that includes goodies like lavender, chamomile, rose, fennel seed, and nettle. (Bonus: After you're done with their herbal steam, you can drink the water as a tasty detox tea.)
There's something really resonant about starting a new book when you're away. That text will remind you of your travels, and your memories of its pages will always be fixed in that place. Here are some of mbg's top picks to inspire your reading list. All 20 of these wellness reads will leave you feeling a little more in tune with your body and your world.
Keep a reflection journal.
While the holidays are an important time to stay present, they're also an opportunity to reflect on the year that's passed. So take a few moments every night of your travels to write down two things you are grateful for: one that occurred this year (a promotion at work, a new friendship, a healthy habit) and another that happened that very day (an enlightening conversation, a good meal).
Make your interactions meaningful.
If you're lucky enough to be spending the holiday with loved ones, make the time count. Getting outside to take a walk, even if it's freezing, is a great way to connect that doesn't involve the TV. (Plus, spending time in nature has been shown to increase vitality.) Or, consider holding a dinnertime gratitude ritual as a family—one in which everyone goes around and says one thing they're grateful for about each person at the table.
Once it's time to head home, eternalize this gratitude by gifting your host with one of those crystals in your bag. It's an easy way to show that you're leaving some loving energy behind in your place.
Are you the one hosting this year? Check back into mbg tomorrow to snag some tips on how to craft a holistic, comforting holiday home for your guests.