Your Thanksgiving Table Needs These Vegan Winter Squash Cups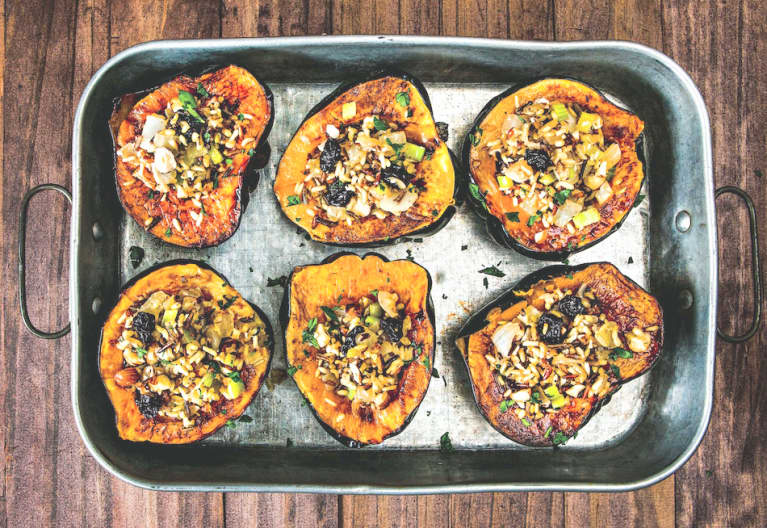 Our editors have independently chosen the products listed on this page. If you purchase something mentioned in this article, we may
earn a small commission
.
Isa Chandra Moscowitz is one of the original vegan comfort food pioneers. She's been championing plant-based meals that are both fun and super-satisfying for years and has just come out with her ninth (ninth!) book, The Superfun Times Vegan Holiday Cookbook, which is packed with delicious celebration-worthy dishes for all occasions.
Winter squash are nature's pottery! Speckled, streaked, water-colored, and splattered, no two are exactly alike. A few of my favorite varieties are carnival, dumpling, and acorn squash. A stunning mix of wild rice, hazelnuts, and cherries stuffed inside adds to the beauty and the yummy.
Winter Squash Cups with Wild Rice, Hazelnuts + Cherries
Ingredients for the squash
3 round winter squash (see tip*), halved and seeded
olive oil, for brushing
salt
Ingredients for the wild rice
1 cup wild rice, rinsed
3 cups vegetable broth, purchased or homemade
½ teaspoon salt
Ingredient for the filling
2 tablespoons refined coconut oil
1 large yellow onion, diced medium
3 celery ribs, sliced
½ teaspoon dried thyme
¼ teaspoon dried sage
1 cup shelled hazelnuts, toasted and roughly chopped
¾ cup dried cherries
2 tablespoons brown sugar
2 tablespoons chopped fresh parsley
½ teaspoon salt
Freshly ground black pepper
Preparation
1. Preheat the oven to 425°F. Line a baking sheet with parchment paper.
2. Lightly coat the squash with olive oil inside and out and sprinkle lightly with salt. Place the squash, cut-side down, on the lined baking sheet. Bake until the flesh is soft and can easily be pierced by a fork, about 45 minutes. Remove from the oven and let it hang out until the filling is ready.
3. At the same time, cook the wild rice according to the package directions, using the vegetable broth and salt.
4. Preheat a large sauté pan over medium heat. Heat the coconut oil, then sauté the onion and celery until the onion is translucent, about 5 minutes.
5. Add the thyme and sage. Cook for 1 more minute. Remove from the heat and toss in the cooked wild rice, hazelnuts, and dried cherries. Add the brown sugar and chopped parsley and stir to combine. Add the salt and a few grinds of black pepper and adjust to taste.
6. Fill each squash half with ½ to ¾ cup of the rice mixture and serve.
*Tip: Look for round squash that are a little bigger than a softball. To cut a squash in half lengthwise, start just to the right of the stem and cut on a slight diagonal, ending just to the left of the bottom nub.