Mimi Thorisson's Tips For Entertaining The French Way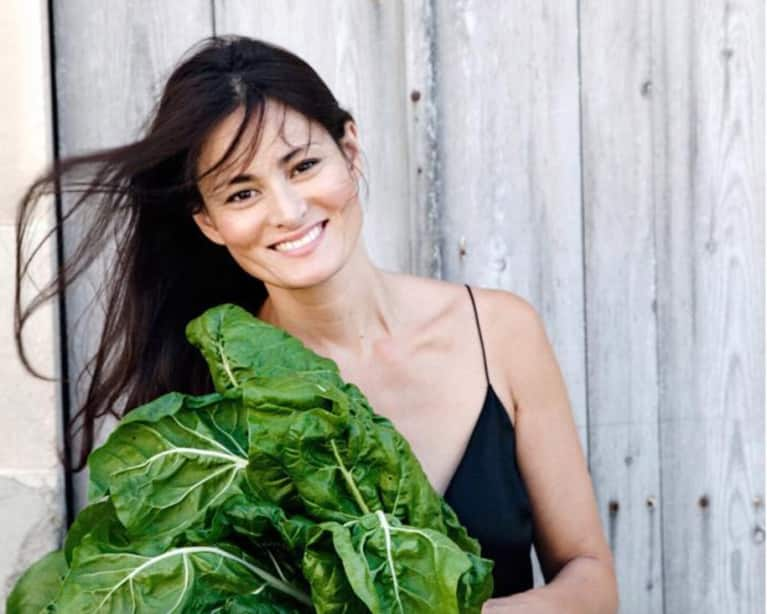 It's a wonder that despite Mimi Thorisson's enviable life, it's nearly impossible to envy her. She's just too likable and too eager to teach readers how to live a life as full of friends, family, and rustic fresh foods as hers is. The French former model and her photographer husband took a gamble three years ago, resettling from Paris to the Burgundy village of Saint-Yzans-de-Médoc into an 1880 château to try out the country life they'd both dreamed of. "I used to read about Scotland, wild rose gardens, lavender fields that took 10 years to perfect, and think, 'I want to do that, too!'" says Thorisson. What emboldened them to take the leap? "Honestly," she laughs, "the dogs. We were those crazy people in the seventh in Paris with four dogs in an apartment." The adjustment was not immediate. Coming from the bustling city, life in the country felt remote. "When you leave the city, you have to kind of detox from it. You have to find your bearings," she says. It took time, but in a quiet moment, Thorisson found inspiration. "One lonely night I was looking at the pumpkins on my table and wanting to tell my friends about my life, so I started the blog." Now that blog has established Thorisson as a master of romantic country living and has evolved into two cookbooks, A Kitchen in France and French Country Cooking, just released last month. Thorisson sat down with us in advance of our biggest entertaining holiday, Thanksgiving, to share her advice on hosting a simple, seasonal, sophisticated meal.
mbg: Readers really connect with the elegance and effortlessness of your lifestyle. How do you create such an elevated aesthetic so seemingly simply?
MT: We have an abundance of vegetables, and everything is seasonal; that's the beauty of it all. That, and old furniture, old things, old plates: I love finding these things. Ours is very much a recycled home of old objects and new seasonal crops. For me, it's hard to buy anything new, apart from kitchen tools. We have lots of little brocantes, little antiques stores, in the villages nearby. I love all copper pots, good or bad. If they're unusable, they just go on the wall.
mbg: When you're planning for guests, what inspires your menu?
MT: It depends on what's available. Right now it's pumpkin season, so I will get these really beautiful pumpkins, scoop them out, and serve soup in there. I think that's really pretty; that's one of my favorite things to have. Chestnuts and mushrooms are readily available right now; cèpes are in the forest, so I will cook a lot around that. Whatever is abundant is great. In the springtime we have an abundance of artichokes and white asparagus, and we have so much of it we eat so much every day. We just stuff ourselves with tomatoes all summer long.
mbg: In Burgundy, I imagine you don't have the same volume of dietary restrictions we have in Brooklyn, but nonetheless how do you approach special requests?
MT: While I'm cooking a non-vegetarian dish, I'll always think about what's good in the dish aside from the meat. I like improvising. Often we come up with something that's even better than what I'd planned to make.
For gluten-free, instead of using flour I'll use cornstarch. In France you use a lot of cornstarch. It makes nice, airy cakes. Living in the country, I don't have a supermarket that's organic and stocked with all the organic flours. There is one, actually, but it's open only a few hours a week. Cornstarch is perfect for making a walnut cake or a chocolate cake. Buckwheat flour we also use a lot. I make savory pancakes with that.
mbg: If you can entertain with 8 children and 10 dogs, the rest of us have no excuses! What do you do to make sure entertaining is enjoyable?
MT: Now we're a huge family, so 20 people for dinner is like "OK, cool." Three kids is like time off. I always have my table dressed, whether or not we're having lunch or dinner. There are these brass candlesticks that I buy from the antiques stores. I have maybe 40 of them, and they're just always out. I think that looks really nice. The table is always filled with flowers in the center and a concoction of plates of garlic and onion, or, at the moment, squash and pumpkins. Any vegetable is beautiful. It's already there, so I don't have to do anything to the table. I like to have crisp, cotton napkins. It makes it feel a little luxurious. We always use the same silverware. We don't change it out. So entertaining and what we normally do at home is very similar. I just have to cook more and serve drinks.
And I always make my friends participate in cooking. They come, they have drinks, but they are cooking with you. Then you're not the only one slaving away. It makes your friends feel uncomfortable that you are doing everything while they're enjoying themselves. Cook things from the oven, then you just take it out, you can prepare it earlier. If it's something you have to deep-fry for example, you get them involved and pick a simple recipe.