A Gemstone Bath To Balance Your Chakras & Soothe Your Skin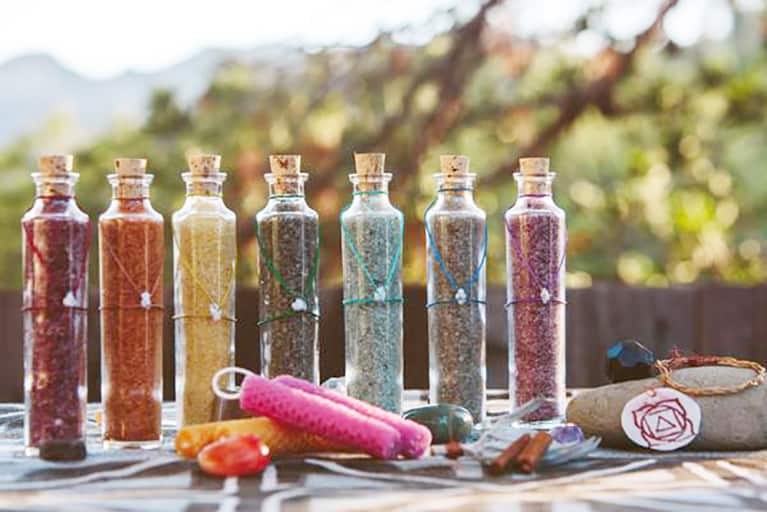 One of the best gifts you can give to yourself (during every season at anytime) is taking care of yourself. I don't mean getting a haircut or buying new makeup. I mean really taking care of yourself; being present to your body, tapping into your five senses, listening to your intuition, spending quality time with the best healer around…yourself.
At Gemstone Organic, we believe you are your best healer. Our mission is to provide you with tools to be your most energized and authentic self. Use your five senses to create your own Root Chakra Ceremonial Bath with some things you may already have at home. Now is the time to focus inward (and bask in self-love) during these shorter days of light moving into winter.
Rather than getting lost in the darkness, Mother Earth is calling you to find your light for yourself and those around you. Learn more about the seven major chakras and how they can help with energy blocks here.
Before starting, draw the Muladhara symbol and place it somewhere you can look at during your bath. In Sanskrit, the word Muladhara translates to root support. The symbol will remind you that you are safe and secure in your own energy.
Mix some earthy Dead Sea salts to place in your bath. Dead Sea salts stimulate blood circulation, calm the nervous system, and balance lymphatic fluids. An alternative to dead sea salts are Epsom salts. They have healing properties to soothe and ease the body, mind, and soul. Add a few drops of essential oils like vetiver and sandalwood. Vetiver balances, grounds and protects, clears heat from the body, and calms and uplifts emotions. Sandalwood helps to relax and promote peace, while boosting mental clarity. The inhalation of the salts and oils connect you with Mother Earth.
Speak your intention, whether it is to spend quality time with yourself or the very reason you felt necessary to take this ritual bath. The Root Chakra is the energy center that aids in grounding; connecting you to your inner courage and strength. Thoughts shape reality so setting your intention brings it into existence.
Make yourself a nice earthy tea to drink before, after, or even during your bath. A grounding tea like ginger or hibiscus is a way for you to internalize healing. We love dandelion root tea and it's one of the main ingredients of our ceremonial bath.
Choose three of your most beloved gemstones to hold during your bath. We'd recommend red calcite, garnet, and black tourmaline. Crystals and gemstones are made of the same elements we encounter on a daily basis; earth, wind, fire, and water. They vibrate at the same pitch we do; emitting energies and frequencies that aid in healing. Use them to reconnect with the Earth and release energy that no longer serves you.
Light a candle or two to really give you a sense of calm and set the atmosphere. Light those babies up to spark the inner fire in you. Most importantly, do whatever feels right for you to realize you are loved, you are powerful, and intricately connected to Mother Earth and Beyond.
Keep on reading: