Here in New York, the scent of pine is starting to waft through city blocks, twinkling storefronts are lighting up our evening commutes, and the air is finally starting to feel crisp. As winter approaches, we're constantly craving comfort foods that will satiate us, but this year we're interested in warming dishes that'll give us comfort without the food coma. After all, comfort food doesn't have to be synonymous with bad; it doesn't have to be coupled with guilt. True comfort meals make us feel radiant from the first bite and hours after the last one. To get some fresh comfort foodie inspiration, we reached out to wellness experts to see where they turn for food that nourishes the body, mind, and soul in NYC.
1. Norma Kamali: Vegetable Sashimi at EN Japanese Brasserie
EN has a fantastic selection of sashimi made from vegetables—it's so delicious, and I absolutely love it. They do gorgeous steamed vegetables, too, and even make fresh tofu. So picture perfect and beautiful. (435 Hudson Street)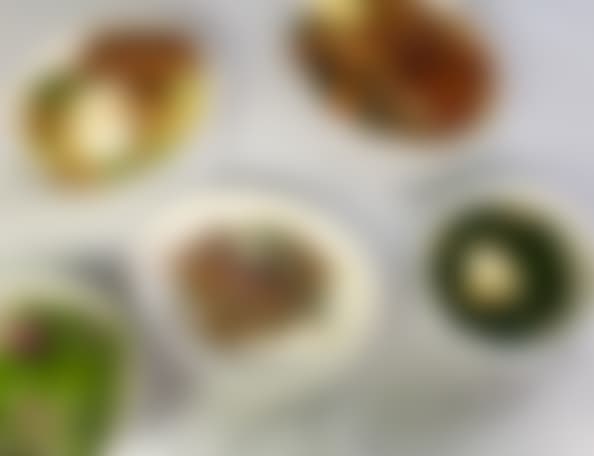 2. Jessa Blades: Brick Chicken at Marlow & Sons
The feel of Marlow & Sons is so cozy and nourishing to all of my senses. The food is grown and cooked with such attention to detail, really highlighting the best of what is locally and seasonally available. Their brick chicken is my go-to when I'm needing the medicine of meat. I also love how they use the less trendy herbs and plants and highlight ones like purslane and amaranth—plants filled with so many vitamins and minerals that they give back to the soil that they are grown in. (81 Broadway, Brooklyn)
I eat homemade buckwheat noodles, also known as soba, at a traditional Japanese noodle house in the East Village, Soba-Ya. In the winter, I enjoy them in a hot broth with lots of scallions, shiitake mushrooms, fried tofu, and vegetables. In the summer, I enjoy them cold with a dipping sauce. Soba-Ya's food is natural, healthy, and free of any artificial ingredients. Lunch and early-bird specials make it an affordable treat. (229 East 9th Street)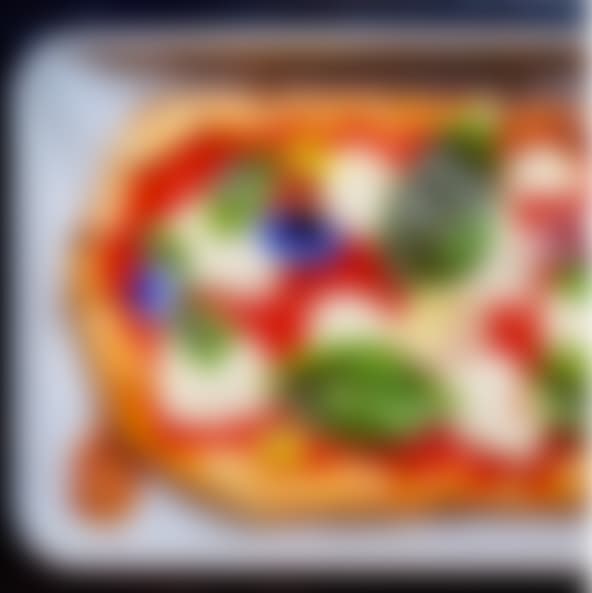 4. Fern Olivia: Zucchini Lasagna at Double Zero
My go-to restaurant for healthy comfort food is Double Zero, my friend Matthew Kenney's new wood-fired 100 percent vegan pizzeria that also has gluten-free dough. Think herbed butternut squash, cauliflower-rosemary cashew nut cheese, and cranberries. My comfort food menu item of choice is the zucchini lasagna with sun-dried tomato marinara, macadamia ricotta, and basil pesto. Expert tip: If you go, ask for Fern Olivia's favorite Malbec and leave plenty of room for dessert! (65 2nd Avenue)
5. Dana James: Dahl and Cornbread at Angelica Kitchen
If it's comfort food, it's a carb-rich meal, and I'd probably be at Angelica Kitchen with a big bowl of dal and cornbread with a slab of miso tahini spread. (300 East 12th Street)
6. Phoebe Lapine: Black Rice Bowl at Dimes
I love Dimes for lunch or a casual dinner. The black rice with eggplant, coconut creamed kale, and ginger ponzu is everything I look for in a bowl. Each element is more delicious than the last. It's the type of place you can take someone who isn't necessarily as into clean eating and they'll still find plenty to love, especially if an egg sandwich is involved. (49 Canal Street)
I'm obsessed with the Macro Bowl from Souen. I like to add the Carrot Ginger and Tahini dressing. This dish is warm, filling, and always makes me feel amazing after. (multiple locations)
8. Rebecca Kennedy: Farro Salad at Charlie Bird
The Farro Salad at Charlie Bird by far...I ask for light or no Parmesan. I love to order the octopus and add it to it for a hit of protein. Why Charlie Bird? Hip-hop beats, a great wine list, and delicious food = win. Alternatively, I love the burger at Bar Sardine. I take the bun off one side and ask for salad instead of fries! Also, in both scenarios, I "modify" by sharing. Portion control is my favorite modification. (5 King Street)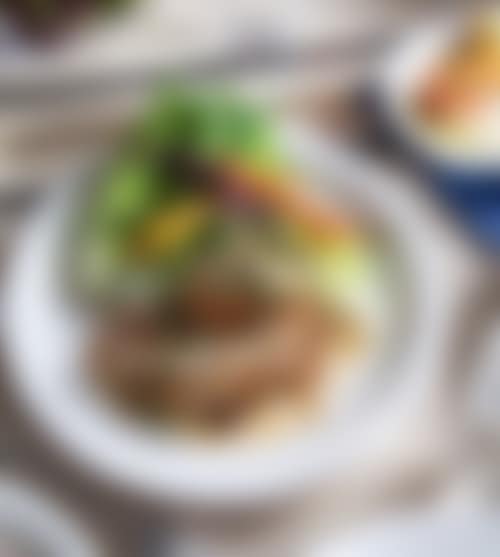 9. Alisa Vitti: Fall Stew at Cafe Clover
I'm obsessed with Cafe Clover—they have amazing handmade gluten-free chickpea flour pasta with maitake, greens, and sunflower seeds that is so comforting among SO many delicious things on their menu. Some of my current fall faves:
Cumin-roasted carrots with cashew cream appetizer
Fall stew with lentils and veg
Salmon with delicata squash and kale
Apple tart with coconut sorbet for dessert
They are all amazing, farm-to-table, and hormone-friendly! (10 Downing Street)
10. Biet Simkin: Bliss Bowl at Bliss
I love the bliss bowl at Bliss in Williamsburg. I choose the tahini miso dressing. It's cheap, easy, and good for you! (191 Bedford Avenue, Brooklyn)
Deeply rooted bone broth with turmeric ginger and bone marrow from hearth! If you need a quick fix, try Brodo, a bone-broth-only shop opened by Hearth's lead chef. (403 East 12th Street)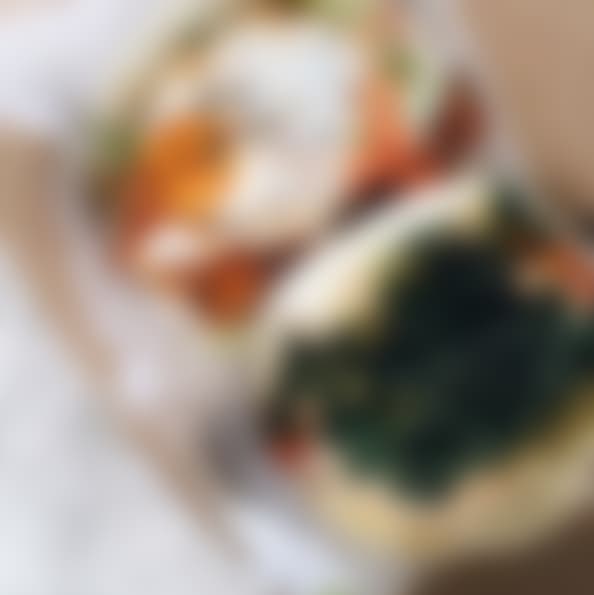 12. Alden Wicker: Vegetarian Tacos at Black Flamingo
So I don't really have a favorite restaurant—I'm always trying new ones! But my fiancé and I love going to Black Flamingo, a restaurant/club right on our corner in Southside Williamsburg in Brooklyn. They serve vegetarian tacos (vegan if you want) that are out of this world. I'll get the Al Pastor, with grilled jackfruit, smoked mozzarella, refried black beans, pineapple, avocado, and pico verde. And always with a Cuban-style cocktail or two, as well. (168 Borinquen Place, Brooklyn)

I love their oatmeal! It's so delicious and decadent with its pecans and brown sugar...but it's also oatmeal, so it's a healthy indulgence, right?! I like to have one of those with a matcha latte made with almond milk before I head over to the meatpacking offices of SereneBook. (95 Greenwich Avenue)
My go-to healthy comfort food is the Black Rice at Dimes. The mix of root veg with seaweed with pickled cucumber...my heaven. I always add avocado because, why not? It is one of those dishes that I can rely on to be delicious, doesn't feel too heavy, and I know will nourish me after a long day's work. (49 Canal Street)
The piece was co-written by mbg's associate green and home editor Emma Loewe.
Keep reading: