3 Reasons Goats Are Having A Moment In Wellness (It Has Nothing To Do With Goat Milk)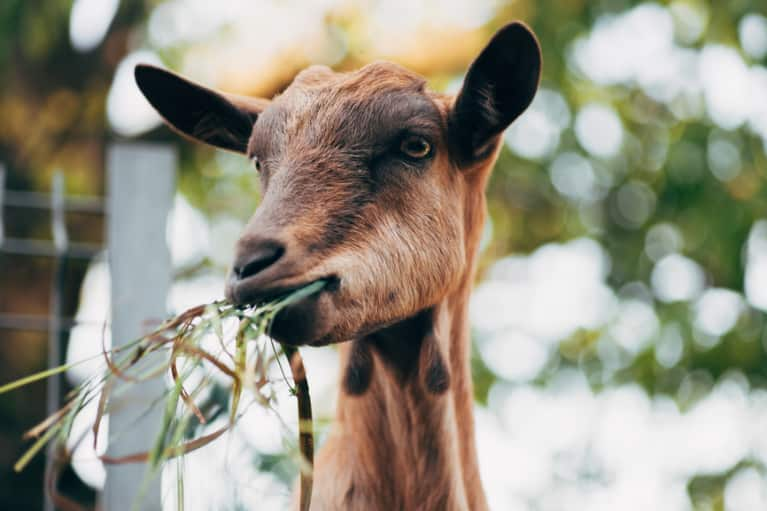 Finding our "spiritual" side can be such a strange exercise for anyone who doesn't have a regular practice or who is just starting out. By "spiritual" I don't mean religion, but entering and staying in present moment awareness. At first it might look like 60 minutes of yoga after work, or maybe you're invited to join in a larger group meditation to "go inward." I used to take Ayurvedic cooking classes with the hope of stretching my awareness muscles and eating healthier—a double whammy.
I have a dermatology practice in New York City, but I've started a passion project called Prana Farms, a dairy farm 90 minutes north of the city, and whenever I spend time there I find myself trying a lot less to stay present. It just happens, but without the effort. The mindfulness is right there in front of me. When you're able to disconnect from the reality we've constructed and connect to nature, tuning into its rhythm, it becomes much easier to flow from moment to moment.
In particular, I've enjoyed caring for my goats. They've—albeit unexpectedly—taught me so much about what it means to be present, mindful, and well. Here are three things I've learned from them:
1. Goats stay present by using all their senses to experience what's directly in front of them.
Within the first month of caring for La Manchas Pantera and Maiden, two of my goats, I noticed that their awareness does not extend beyond 10 feet. If there's a dog (a goat's biggest predator after man) or a tasty alfalfa nugget beyond 10 feet, it might as well be on Mars. But place something within snout reach of a goat and she will investigate it fully—nibbling, sniffing, rubbing—until it's been fully checked out.
This may not seem particularly smart from an evolutionary perspective, and if we were still hunting and gathering on the Great Plains, we'd be wise to pay better attention to things in the distance. But in our modern age, waiting for trains, in traffic, and sitting at desks, we have the gift of relative safety from harm. We have that opportunity to get to present-moment awareness literally every second. Whether this means listening to your loved one, who is speaking in front of you, or enjoying a slow cup of coffee, indulge this luxury, relish this ability in our age to stay focused on what is in front of you in the present moment.
2. Play is an integral part of a goat's daily routine.
From the data the farming community has gathered on goat health and dairy production, we've concluded that goats enjoy being playful. I've learned from watching that goats don't play when they're told or at a particular time of day but break out in prance at a moment's notice. I don't propose you bring a trampoline to work, but I found when I do make time for play that everything else feels less serious. It's not that big of a deal! Little things like missing an elevator are less of a drag, a full subway car and being 10 minutes late feels just a little bit lighter. Remember that these mini stressful situations are often created by our perspective. Just like these goats view this plain ole woodpile as a place to play.
3. Being kind of uncomfortable is an essential part of caring for goats.
Cleaning the shed went from my least favorite, most dreaded chore to an incredible way to connect with Shakti, our most recently adopted Toggenberg goat. Once a month, there's a straw bedding layer to replace, then a sawdust layer, and then a heavy sand layer. It takes about an hour without help, and it's heavy lifting—part pitchfork, part shovel. We spend so much time trying to curate our life with only beautiful things—the perfect weekend, the most stunning sunset, the most amazing acai bowl—that we forget how to sit through, how to enjoy discomfort. Then all beauty is shared, all posted to our highlight reels. Eventually, the impression this gives is that no one experiences sadness, ever. As a result, as a society, we've grown to smother difficulty or boredom with distraction. Shoveling this shed meant sitting with physically uncomfortable stimuli, a sore back, a blistered finger and an unpleasant smell. It's a nice reminder that spending time with your demons is often the best way to get over something. The best way to get over is through. You may even be lucky enough to find some Shakti in it.