A Registered Dietitian's Ultimate Guide To Building A Healthy Pizza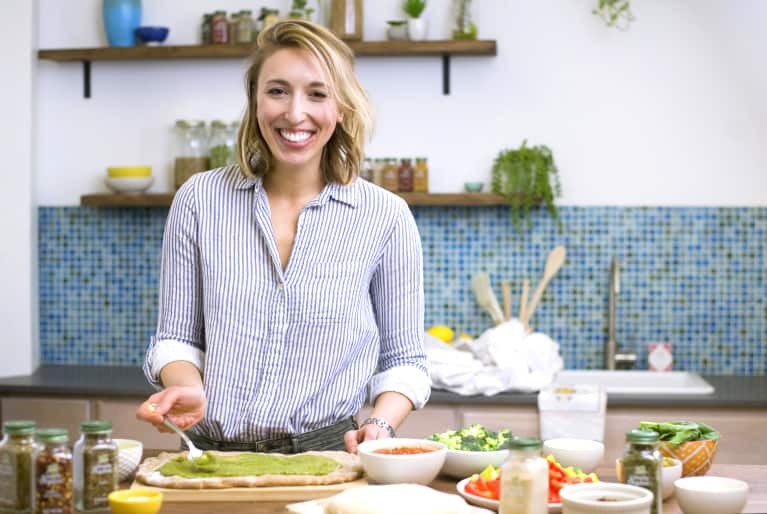 Move over, Friday—it's time to celebrate #TGIT. Simply Organic® and mbg are teaming up to encourage readers to put down their phones, step away from their desks, and celebrate going into the weekend a little early by hosting a get-together with friends and loved ones this Thursday night. Gather your closest friends and family to create your own low-stress #ThursdayMoments dinner party over easy, delicious, and organic food.
Nothing signals a party quite like pizza does. But before you pick up the phone to order in, consider hosting an interactive, build-your-own pizza bar. Pizza doesn't have to be an indulgent food; make a crust with vegetables or whole grains, and have a variety of fresh toppings and flavorful spices that you can feel good about eating. Plus, if you're feeling extra fancy, you can blow your guests away with a dessert pizza that includes ricotta, cinnamon, honey, and fresh fruit!
Host your own healthy pizza party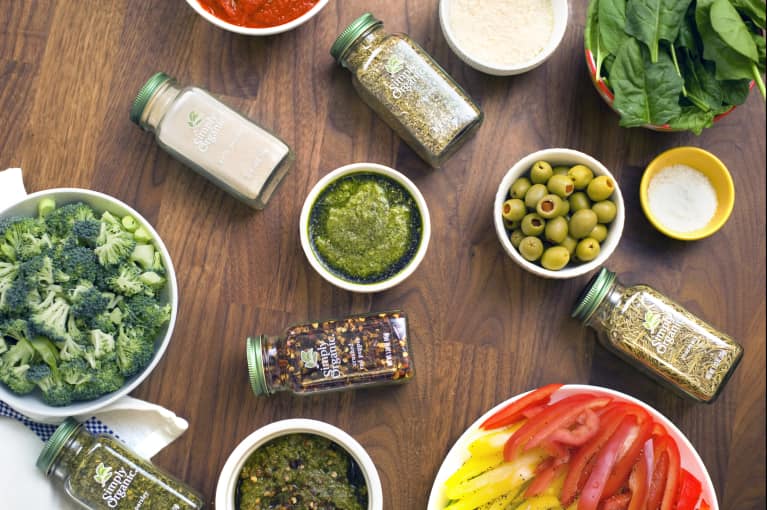 When entertaining, it is important to have a few choices that cater to different dietary preferences such as vegan and gluten-free. This allows everyone to participate and encourages a health-forward approach to the menu. Cooking sauces and vegetables with high-quality organic spices and aromatics adds a nice depth of flavor to your offering.
Make your get-together uncomplicated and unfussy by keeping things simple. Have two different crusts options, two to three sauce options, and a few different toppings to keep the combinations diverse but not overwhelming for your guests.
To make your #ThursdayMoments healthy pizza party even more of a hit, set the mood by dimming some lights, putting on a fun playlist, lighting some candles, and cracking open a bottle of red wine. Or, consider making a signature house cocktail like an apple cider Moscow mule for a little flair!
Make-Your-Own Pizza Party checklist: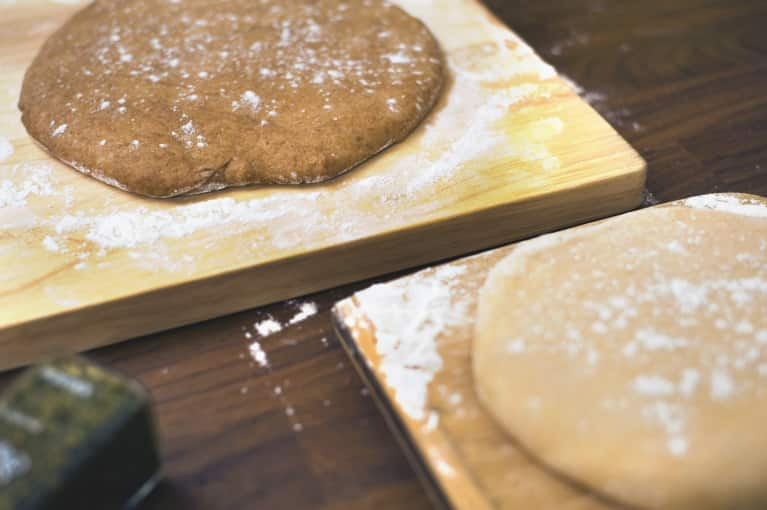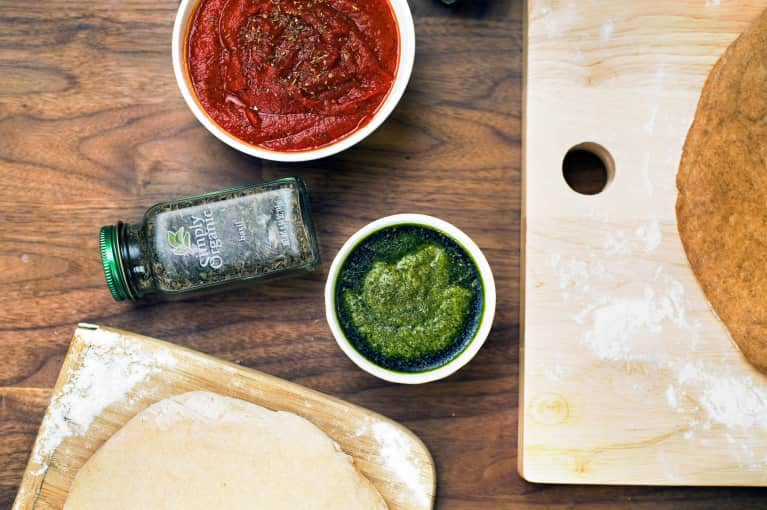 Vegan broccoli pesto
Vegan basil pesto
Sun dried tomato pesto
Tomato Sauce
Spicy tomato sauce with crushed red pepper flakes
Cinnamon and honey infused ricotta for a dessert pizza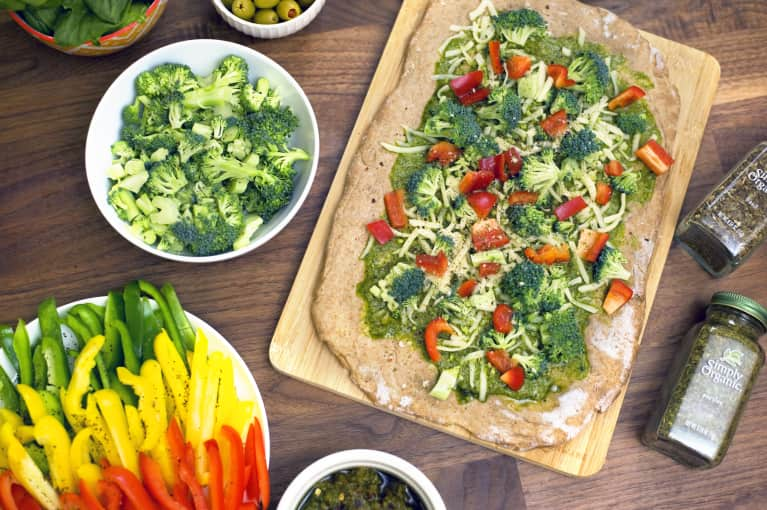 Mushrooms sauteed in thyme leaf
Steamed broccoli
Sliced bell peppers
Fresh spinach
Curry powder roasted cauliflower
Grilled zucchini
Roasted red bell peppers
Hot banana peppers
Sliced green and black olives
Sun dried tomatoes
Caramelized onion
Mozzarella
Ricotta
Parmesan
Berries (for the dessert pizza)
Chocolate chips (for the dessert pizza)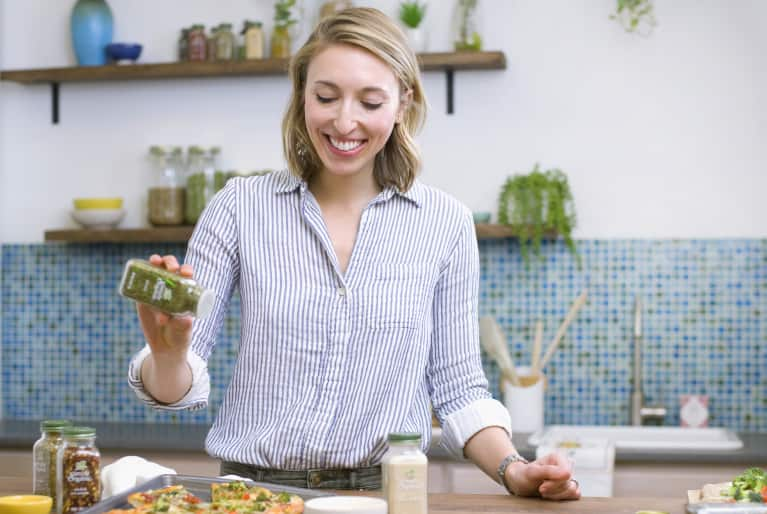 Everyone can make their own pizza to suit their personal dietary preferences, or you can sample and share your master creations with one other. Regardless, make sure to appreciate your company and savor your time with loved ones.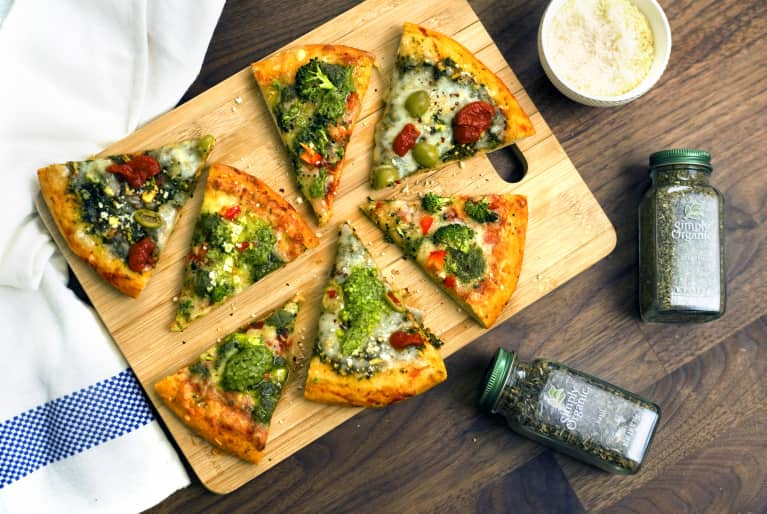 Share your organic moments and enter to win the Ultimate #ThursdayMoments Giveaway by taking photos of your parties and recipe creations and uploading to Instagram using #ThursdayMoments. Visit Simply Organic to find more ways to plan your #ThursdayMoments.