How My Conventional Marriage Turned Into A Group Marriage + What That Means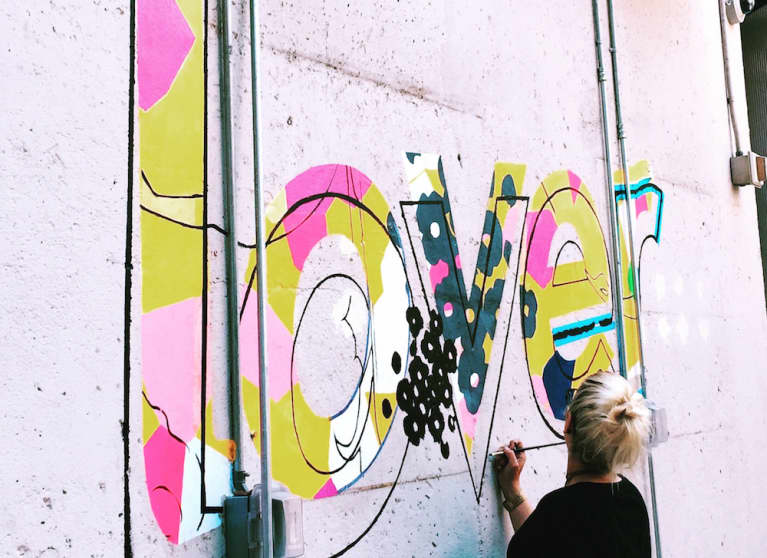 When Elizabeth Gilbert came out as a lesbian, I took a stroll down memory lane to revisit my own sex-capades.
Turns out, Gilbert and I have more things in common than just a later-in-life realization that we like women. Like me, she was married when she realized she had feelings for a woman. Like me, the woman she fell for was her best friend.
But the differences are pretty significant, too. Gilbert didn't mention kids, but I was in the thick of parenting during my sexual identity crisis. Also, sadly, her friend is struggling with an illness, where, fortunately, mine was not. By far the most significant difference is that Gilbert told her husband their marriage was over before acknowledging her love for her best friend of 15 years. I was very much in love with my husband when I realized I was attracted to my best friend.
I didn't go looking for satisfaction outside of my marriage—with anyone—let alone a woman. So when she held my hand in a movie theater and I started to feel that familiar sensation of arousal prickling at my skin, to say I was confused would be a massive understatement.
She was married, too—although not so in love with her husband. As soon as we had discussed what was happening, we told our husbands. In retrospect, I'm not sure why I wasn't more hesitant. Maybe it was because I already knew her husband would be OK with this. She had had dalliances before, and his only rule was "no men." My husband, on the other hand, was understandably a bit perturbed. But he never did put his foot down. I think he was feeling the allure of a new and thrilling dalliance himself and sensed an exit strategy. In our mid-30s, eager not to be sexually stifled, suddenly we'd found a way to have our cake and eat it, too.
Somehow, over time, we found ourselves in the throes of polyamory—which, as far as America was concerned, hadn't even been invented yet. Our two families went on vacations together; everybody slept over at everybody else's house; we shared meals and escapades, our tribe of nine—her three kids and my two, plus our husbands. We all liked the excitement of the tribe for a while. We even tried a threesome once. But it was so awkward, we quickly tried to forget it had ever happened.
Over time, my husband started to get more needy and demanding in ways I found unattractive. I started avoiding him and hiding much of the truth of what was going on with me. This decline went on for another year or so, during which time my best friend became involved in another affair. I was distraught. My husband had no sympathy. Remember, this was decades ago before anyone had ever heard of "compersion" (that is, "the positive feelings one gets when a lover is enjoying another relationship. Sometimes called the opposite or flip side of jealousy").
My best friend and I broke up. I could have reinvested in my marriage, but my husband was now terminally pissed off, and I was convinced I was a lesbian. In my mind, that left me no other option but to leave, splitting up our family in the process.
I moved out and dallied with a lesbian colleague whom I didn't love. She provided a good crutch. Then I packed all my stuff into an old Toyota and moved across the country. My husband and sons soon followed, and we all settled into a new city where the kids shuttled between our two homes. It wasn't long before a young man I worked with (at an exceedingly boring software job) passed me a note telling me he was attracted to me. I told him I was a lesbian, and he said he didn't care. The rest, as they say, is history. I soon realized liking women did not in any way diminish my attraction to men. Who knew?
So, you might be wondering, is this a cautionary tale about sexual confusion, bisexuality, polyamory, or all three? Do labeling and binary categorization really matter when it comes to the human heart? I, for one, think not.
Gilbert found herself drawn to her best friend as I did to mine. Who knows what was going on in her marriage then? Who knows why she couldn't continue loving both of them? When I was exploring these feelings, I had no model for bisexuality, polyamory, or anything except heterosexual monogamy. No one even went to couples counseling back then. Everyone on our block had divorced—why not us? It looked easy enough.
I'm older now, in years. But you wouldn't know it for all the troubles I still have with making healthy boundaries and knowing my own heart. One thing I do know is that I couldn't care less whether my next partner is a man or a woman. I'm now more interested in a soul connection, which is, by definition, free from the binary constraints of gender. Sexual preferences can always be worked out, but a true, flaming love that awakens me with joy every morning and lulls me to sleep in peace each night might appear in any kind of package. I want always to remain open to love.