Q & A with James Fox of Prison Yoga Project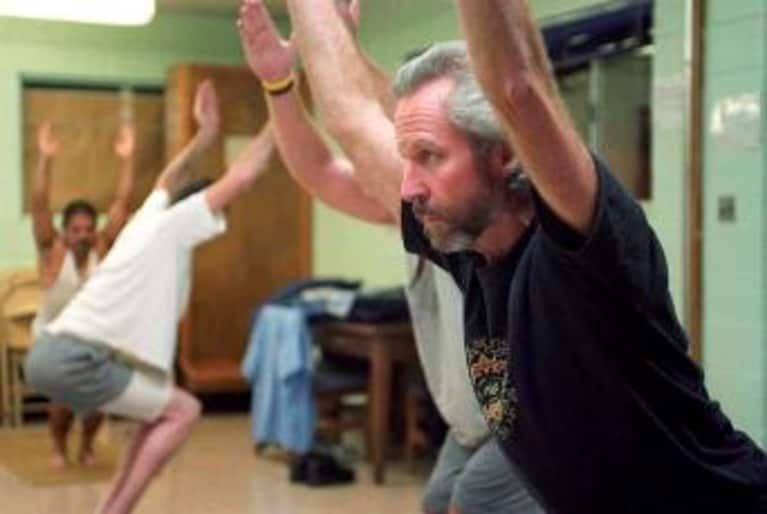 James Fox changes lives with yoga as the founder and director of Prison Yoga Project, an organization dedicated to democratizing the physical practice of yoga and mindful meditation to prisons and rehabilitation centers. He extends the physical and mental benefits of yoga to prisoners suffering from the devastating effects of violence and addiction. With more than 20 years of experience in disciplines such as Iyengar, Ashtanga, and Yin yoga, Fox began exposing at-risk populations to this ancient practice in 2000. In 2002, he developed the Insight Prison Project's Yoga Program at San Quentin Sate Prison, a facility holding some of California's most dangerous prisoners. Today, Fox continues to direct the yoga program at San Quentin, contributes to the development of many yoga organizations catering to at-risk populations, and teaches public classes with an emphasis on the psycho-physiological benefits of yoga for men.
MBG: How did you come to yoga?
JF: I first started practicing as a result of a back injury about 25 years ago. I was living in San Francisco at the time and going to Afro-Haitian dance classes, where people would do a series of yoga warm-ups. I thought they were just stretching. Then my friend, who was also a yoga instructor, recommended that I do yoga for my injury. I did Iyengar and go some relief. As I continued practicing, I got more interested and delved more deeply into the philosophy behind yoga. I was already educated in meditation, and yoga complemented that. Then, I went on a yoga retreat and eventually became an instructor.  
What was it like when you first started teaching at San Quentin? How has the mood/attitude about your yoga classes changed since those first days?
I first started teaching about nine years ago when a non-profit organization contacted me because they wanted to use yoga in a rehabilitation practice they were starting at San Quentin. It was difficult at first because to get to the building where the yoga class was held, I had to cross a yard of prisoners spending time outside. There was definitely the perception that yoga was for sissies, and I would get catcalls.
At first, there were a few brave souls who showed up. I would have about 6-8 guys at a time, and this persisted for the better part of a year. It wasn't really a popular class. After a year or so, things changed. Word got out that my class was intense and enjoyable. Then, a few shot-callers, prisoners who have a certain amount of respect, a few from different ethnicities, attended my class. Within my second year of teaching, my classes filled up, but I can only accommodate about 16 men. I also teach lifers, prisoners with life-sentences.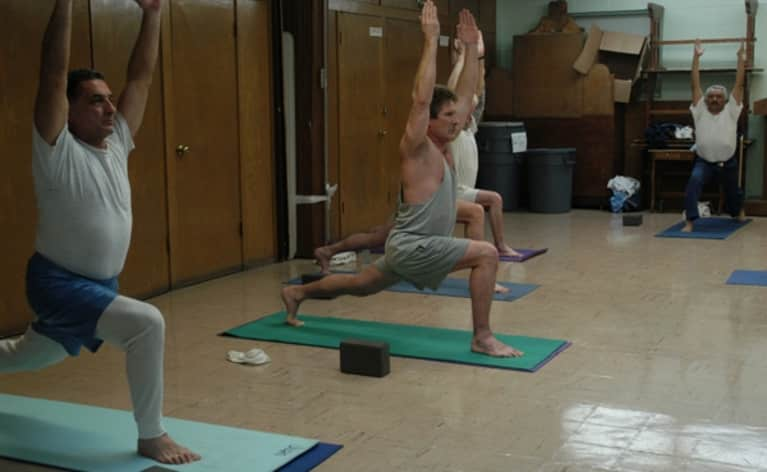 Do prisoners practice differently -- with different intentions?
There is a seriousness to the practice of the lifer population because they don't know if they'll be getting out. I've taught several lifers who are still with me 8 years later, and I have a couple of guys who I'm actually going to train.
Yoga in San Quentin is different in that it's all men. And my focus in teaching these guys is the emotional and psychological benefits of yoga. The physical benefits are secondary. I think there's an overemphasis on asana practice, the physical component of yoga. If you look at the 8 limbs of yoga, asana is just 1 of them. A well-balanced practice needs to be divided among them.
Two primary issues that incarcerated people face are addiction and violence. 90 percent of prisoners are in prison as a result of these two things. In their lives, if they've been involved in some kind of addiction, they've likely been involved in violence. It's my task to apply classical yoga, this ancient practice to the reality that they're facing right now, regardless of ethnic or racial differences. Yoga supports them in overcoming these issues. The path of the yogi is the path of non-violence because you develop a greater sensitivity to yourself through breath, sensations, and emotions on the mat. This translates to sensitivity to others. It gives them self-worth because prisoners are generally treated very inhumanely, so yoga helps them make a deep connection with themselves.
They also learn self-control and impulse control because of the mindfulness that yoga requires. This mindfulness refers to witnessing the moment-to-moment experience with the body and breath. The focus with these guys is a balanced practice, as it's really important to take their yoga practice into prison life, to apply in situations because violence can happen in any moment.
Among prisoners who practice, can you see or feel the cleansing process come through in their practice?
I may not witness it so much while we're practicing, but I see changes that occur over time-physical and emotional. My students become more emotionally literate. They begin to understand themselves, the reactionary behavior that has led them to prison time and time again. They learn that they do have the ability to pause and control their impulses in stressful or violent situations. I also focus a lot on cleansing the liver and kidneys. As men, it's very important to focus on the impact of the kidneys.
What do you say to people who say that prisoners don't deserve yoga?
Well, if I could talk to them, I would say that we have 2.25 million people in prison in the United States. That's 1 in 100 adults. And there are 7.5 million people under some kind of legal supervision, like parole. That's 1 in 31 adults. We have a recidivism rate of 60%, meaning that people return to prison within 3 years. Why is that? Prison is a huge industry, one we can't afford anymore. We spend so much money on this industry, and prisoners aren't being rehabilitated and not offered services to help them thrive when they get out. So why not yoga?
Yoga is cheap, and it's not about pampering people. It's demanding. It's about getting prisoners to focus on self-discipline. It sparks a deep shift within them. There's still this lack of understanding and appreciation from the prison administration for how yoga helps prisoners turn their lives around.
I would also say that prisoners are going to be back out into the world. You're going to run into them-in the grocery store, in traffic, in the mall. So what kind of person do you want to encounter? Prisons aren't intended to rehabilitate people; they're intended to punish people.
Unless there is a fundamental change within prisoners that, in which they long to change themselves, it doesn't matter what other skills prisons teach inmates.
Can you share a story of someone in prison who used yoga to turn their life around?
About a year ago, I had a student, a veteran, who has since returned to prison for his struggles with addiction. Even though he re-offended, he went right back into his practice. He even started practicing yoga in the prison yard, a courageous act. But the guys around him got interested, so he started teaching guys in the yard. And he got the prison staff to approve a yoga class and teaches yoga himself.
What's the biggest life lesson you've learned from your work at San Quentin?
This is something I've always kind of believed. Essentially, we're all the same. We all want love and appreciation. I suffered from the same kind of feelings that these stigmatized prisoners felt. People are the same in what they really want in their lives, and what's missing.
I've also learned that people who wouldn't be exposed to yoga might be the people who could benefit from it the most. Yoga would be life saving for them. I had a student once who asked if yoga could change his life. I told him that it could change his life if he truly committed himself. After we took a vinyasa during class one day, he had tears in his eyes and said, "I really get it now, how yoga can change my life."
What are you working on? What's next?
I'm working on a project right now with the Give Back Yoga Foundation that works with military veterans. I'm co-authoring a book for returning vets, who deal with PTSD as a result of violence and addiction, very similar issues to prisoners. And there are a lot of vets in prison.
Also, the second edition of my book, Yoga, A Path To Healing And Recovery, came out on June 20 and is available on my website. It's written for prisoners, but relates to anyone struggling with addiction. The money raised from book sales goes to purchasing it for prisoners so they don't have to. We were recently able to send 4,500 books to prisoners around the country.
For more on James and Prison Yoga Project: