5 Reasons You Can't Find Lasting Love (And How To Overcome Them)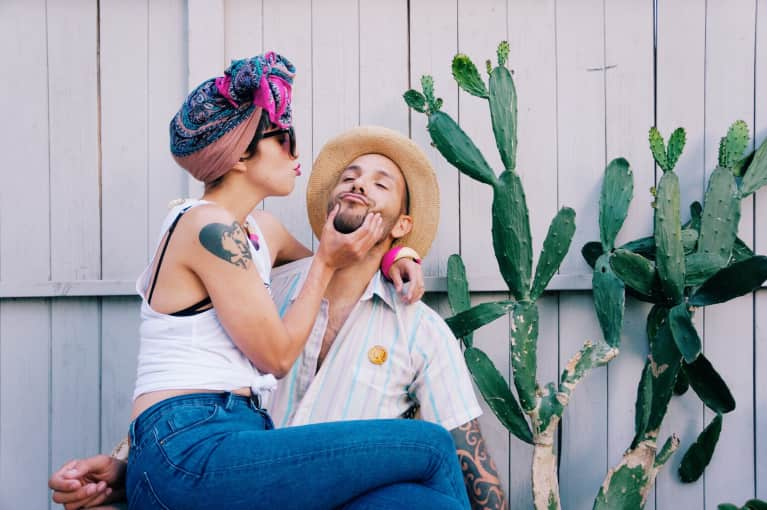 I once visited a fortune-teller in Seoul, South Korea. Although I told myself it was just for fun, I was secretly hoping she would alleviate some of my anxiety and tell me what I wanted to hear. The topic of our session? Love, of course. I wanted to know when I would meet my life partner. Her response was, "Not soon!" She looked at me, then glanced at my chubby belly and said, "When you lose the weight, you will find love. You have to be healthy to attract the one."
Self-love is not dependent on how you look. It is dependent on how you live.
The insecure, younger me would have believed her. I would have left the session and not eaten for a week and hated myself through every painful moment. She was simply saying what so many people think when it comes to attracting lasting love—that how we look matters most.
Obviously this woman, the "famous" Korean fortune-teller, didn't know that I've made it my life mission to fall in love with myself and find self-love. She didn't know that I battled myself for almost three full decades, suffocating in self-sabotage, eating disorders, and drug addiction. She didn't know that I overcame all of my addictions and depression to find a real, genuine love for myself and pure, uninhibited joy for who I am in this world. She doesn't know that I am healthier today than I have ever been because I eat better, I work out daily, and, most importantly, I speak kindly to myself and I am my own best friend.
This woman was telling me I couldn't have what I want most because of how I look. The sad thing is, she is not alone. I used to believe that. I used to think if I had weight to lose, no one would love me. But today, I know that self-love is not dependent on how you look. It is dependent on how you live.
We have to stop believing other people's opinions about why we don't have what we want. I am not single because of how I look. We all have insecurities, and in our quest to find lasting love, we often feel like our flaws are keeping us from finding the one. We think things like, "If only I lose weight, then I would meet my soul mate. If only my hair were longer, my legs taller, my eyes bluer, my nose smaller, my butt firmer—then I could have what I wanted and I would be happy." We have to stop beating ourselves up about not being good enough.
Your uniqueness is your gift, so celebrate it, honor it, cherish it.
It's frustrating for me to see this endless second-guessing. The problem is, I do it, too. Despite having written multiple books on happiness and coaching women how to love themselves, I often wonder why I am still single.
Then I remind myself that the goal is not to change ourselves to fit others but to accept ourselves and love ourselves as all that we are. Only then can we attract those that love the real us, too.
This focus on what's not working can prevent us from getting what we want most. In doing research for my next book, The Self-Love Experiment, I discovered that there are certain things that block us from getting what we want. If you want lasting love but it isn't happening, it could be for one of these reasons. But don't worry—I've outlined steps to combat these issues so you can overcome them with joy and ease.
1. What other people want and expect of us
The Korean fortune-teller believed that overweight people are unhealthy and can't find love. This is her belief, not mine. You may have a grandma whose dying wish is to see you get married. This pressure others put on us can be devastating, as it often makes us feel like we are off track. Do yourself a favor and stop listening to others' opinions about you and your life direction. The best thing to do is focus on your own life path and let go of the need to please others. You have a unique life journey designed just for you, so honor where you are and celebrate that. Remember, how your life feels is more important than how it looks.
Many of us want to find lasting love, but we are unconsciously committed to our comfort zones. You may be used to living your life the way you currently are; you have routines, situations, and habits that you may be unconsciously unwilling to give up. Meeting the love of your life might mean not taking off your bra the moment you get home or forgoing the urge to grab a spoon and eat directly out of the ice cream container. The thing is, we get comfortable being alone and develop a routine, and secretly we fear we have to lose a part of ourselves in order to be with someone. The fix is so simple: Recognize that all of who you are is who your future mate will fall in love with. You won't have to change in order for someone to love you. But you do want to get honest with yourself about which habits are serving you and ditch the ones that aren't. Maybe a nice nature walk would serve you more than yet another night of sweat pants, mud masks, and romantic comedies. No matter what, be conscious about your choices and habits, and you will attract someone who is on the same page.
3. What we say about ourselves to ourselves
My friend Christine Hassler says, "If you talked to your friends the way you talk to yourself, would you have any?" The reality is, we can be downright mean to ourselves. How you talk to yourself about yourself is key to attracting the one. If you are constantly putting yourself down and undercutting yourself, it will be hard to allow love in. Instead of criticizing yourself, turn your attention to love. Start to compliment yourself and see the good in yourself. You are amazing, and there is only one of you on this planet. Your uniqueness is your gift, so celebrate it, honor it, cherish it.
When we want something, we often see it highlighted in others. We think, "That person seems so happy in their relationship," then we feel bad about ourselves and being single. This focus keeps us from manifesting lasting love. Every time you see another happy couple, turn your attention to possibilities rather than to what you lack. This means instead of feeling sorry for yourself, simply repeat the mantra, "The universe is showing me what's possible. This is on its way to me."
The biggest barrier to manifesting love is our lack of faith in the process of life. We have to believe in our future and know that we are worthy of our desires, and this happens when we put our faith in the unknown. The truth is, there is a divine timing to everything in our lives, and when we trust the process we can alleviate the suffering of thinking we are off-track. Trust the process by turning your attention to life in this moment. Instead of focusing on what's missing, focus on what's going well. Start living your life with more focus on the moment, and you will feel more peace and ease. When you trust life just a little bit more, you won't need validation from others—like Korean fortune-tellers—because you will be so committed to your path, you will already be living it with joy and abundant ease.
I created a free resource to help you manifest lasting love. Grab this free audio meditation for daily guidance.