Roasted Pumpkin Soup That Makes Turmeric The Star Of The Show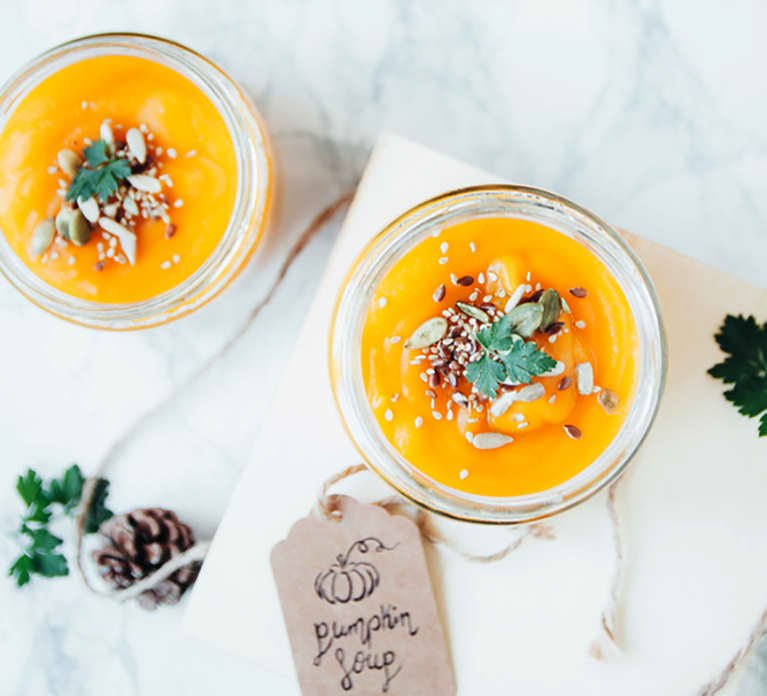 With temps dropping, warm, creamy soups are calling my name.
This recipe marries roasted pumpkin (filled with vitamin A, fiber, and beta-carotene!) with creamy coconut and spices to create a filling dish perfect for a cozy night in, entertaining guests, or even a leftover lunch.
Turmeric ups the anti-inflammatory factor, too, which never hurts.
Vegan Roasted Pumpkin Soup
Serves 4-6 (depending on if it's served as a side or main dish)
Ingredients
1 small pumpkin (sugar pumpkin)
1 can coconut milk
3 cloves garlic
1/2 small white onion
2 cups vegetable broth
1-2 teaspoons fresh turmeric or turmeric powder
1 teaspoon ground ginger
1/2 teaspoon cayenne
1 teaspoon cinnamon
1/2 teaspoon cloves
Preparation
1. Heat oven to 400°F. Cut open pumpkin and scoop out seeds. Quarter the pumpkin.
2. Brush olive oil on inside and flip upside down on parchment paper on a pan.
3. Bake for about 40 minutes, until soft. Once done, set aside to cool. Once cooled, peel skin off the pumpkin.
4. In a pot, lightly saute onion and garlic. Add vegetable broth and all spices.
5. Add pumpkin and bring to a simmer. Let simmer for about 10 minutes and move soup mixture to a blender.
6. Add coconut milk and blend until smooth. Transfer back to pot and bring back to a simmer. Adjust spices to your taste.