Are Beautiful Spaces The Future Of Meditation? A Peek Inside Inscape, NYC's Newest, Chicest Sacred Space
Contributing Wellness & Beauty Editor
By Lindsay Kellner
Contributing Wellness & Beauty Editor
Lindsay is a freelance writer and certified yoga instructor based in Brooklyn, NY. She holds a journalism and psychology degree from New York University. Kellner is the co-author of "The Spirit Almanac: A Modern Guide to Ancient Self Care," with mbg Sustainability Editor Emma Loewe.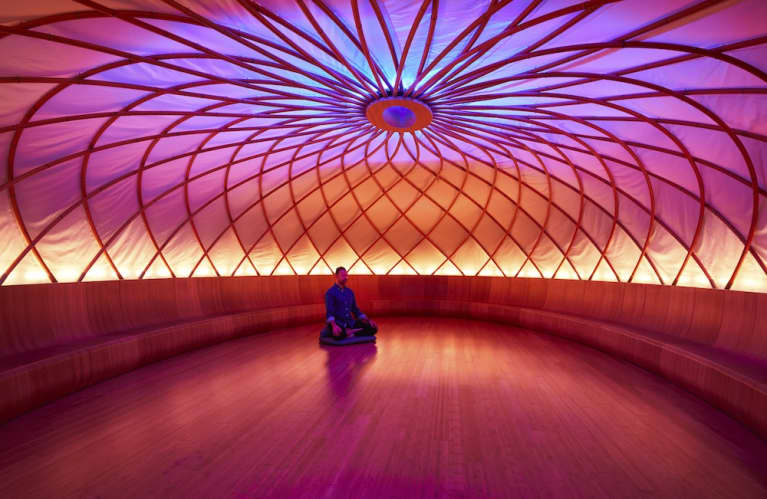 As our own personal wellness practices become increasingly informed and substantiated by technology and social media, it's fascinating to see physical spaces designed in response to and in consideration of the plugged-in reality we're so often trying to escape.
Inscape, a new space based in New York's Flatiron "fitness" district, embraces this paradox. Upon arrival, I wasn't certain I'd come to the right place. I was here to meditate, right? It looked like an incredibly spacious, high-end mindfulness boutique—three things that, until now, hadn't gone together.
But if the Instagrammable lounge and well-curated shop are any indication, founder Khajak Keledjian is looking to attract a certain consumer: someone looking for an elevated, sensory meditation experience.
Formerly the CEO of Intermix, Keledjian has been meditating since 2007 and said that Inscape has many inspirations, but first and foremost he aimed to solve a problem: he couldn't find a place to meditate regularly. He even tried bathroom stalls and a random church down the street from his apartment, but both weren't long term solutions.
In 2014, after two years packed with life-changing events: a silent meditation retreat, his wedding, the death of his father, and the birth of one of his kids, paired with a dash of burning man, he decided meditation was more than his personal practice. It was a lifestyle. He sold Intermix to Gap that year and started thinking about what was next.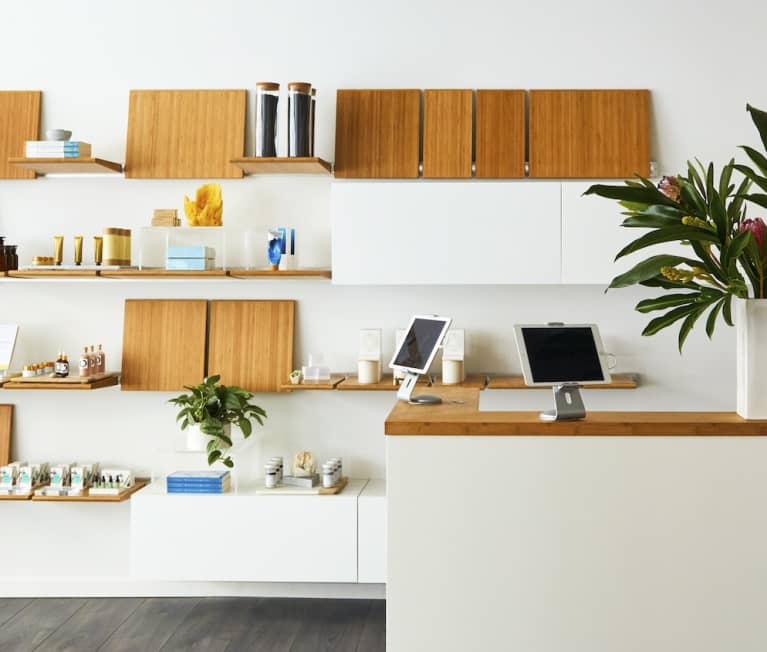 As you might expect from a burning man-inspired studio, the experience is multi-sensory and utilizes scent, sight, sound, taste and touch throughout. The dome room, where we meditated is a phone-free zone and had an array of blankets, props and cushions which is delightful for those of us who enjoy a more supported seat.
The experience itself was deeply relaxing, and there's a new spin: no teacher. It's a recording. This is where it gets interesting: the same recordings that are shared in the studio are also available on Inscape's app. For Keledjian the reason for this is simple: it's not about the guru. It's about finding the teacher within.
"Integrating meditation into my lifestyle already made realize. You know your gut makes a decision but your mind hasn't yet? With meditation naturally you start feeling. Just, things start happening. Changes, the way I eat, the way I interact with people, type of people I start attracting, just, you see evolution, and you become aware of things."
The app further personalizes your meditation experience based on a brief questionnaire and the time of day and offers both guided meditation and sound bath healing, taking the connected and calm movement to new heights.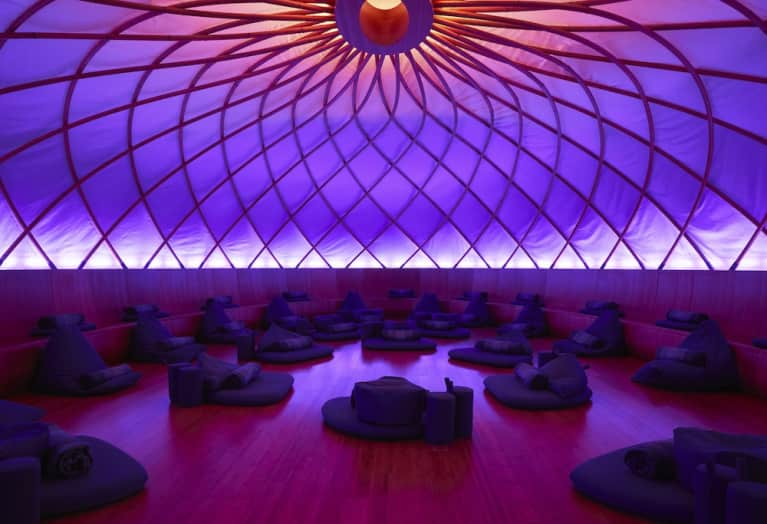 Above is the Dome Room, where we meditated.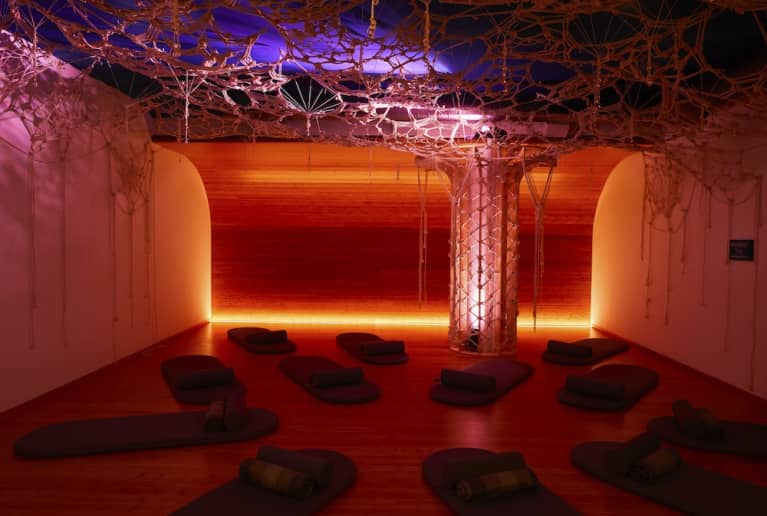 The alcove room is pictured above, where Inscape hosts monthly art installations. This month, it's a rope-based artwork that reminds us of a spider's web.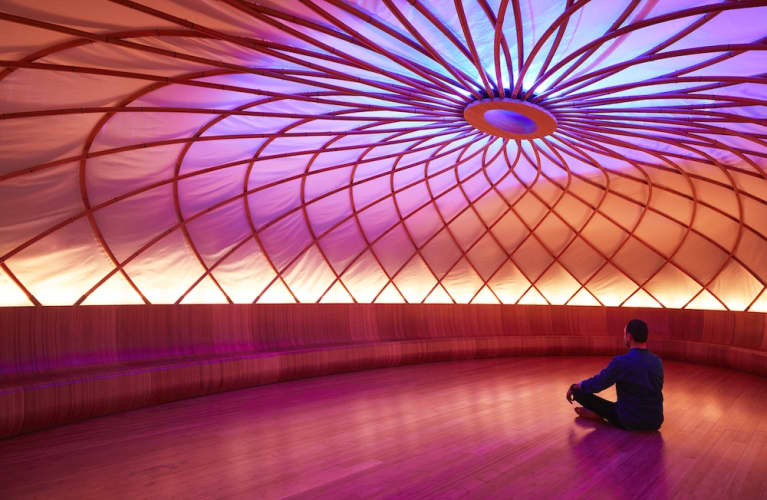 The app subscription is $12.99 a month or $89 annually, and drop-in classes are $18. Inscape is located at 45 West 21st Street.