Women Helping Other Women Is More Important Than Ever. Here's What You Can Do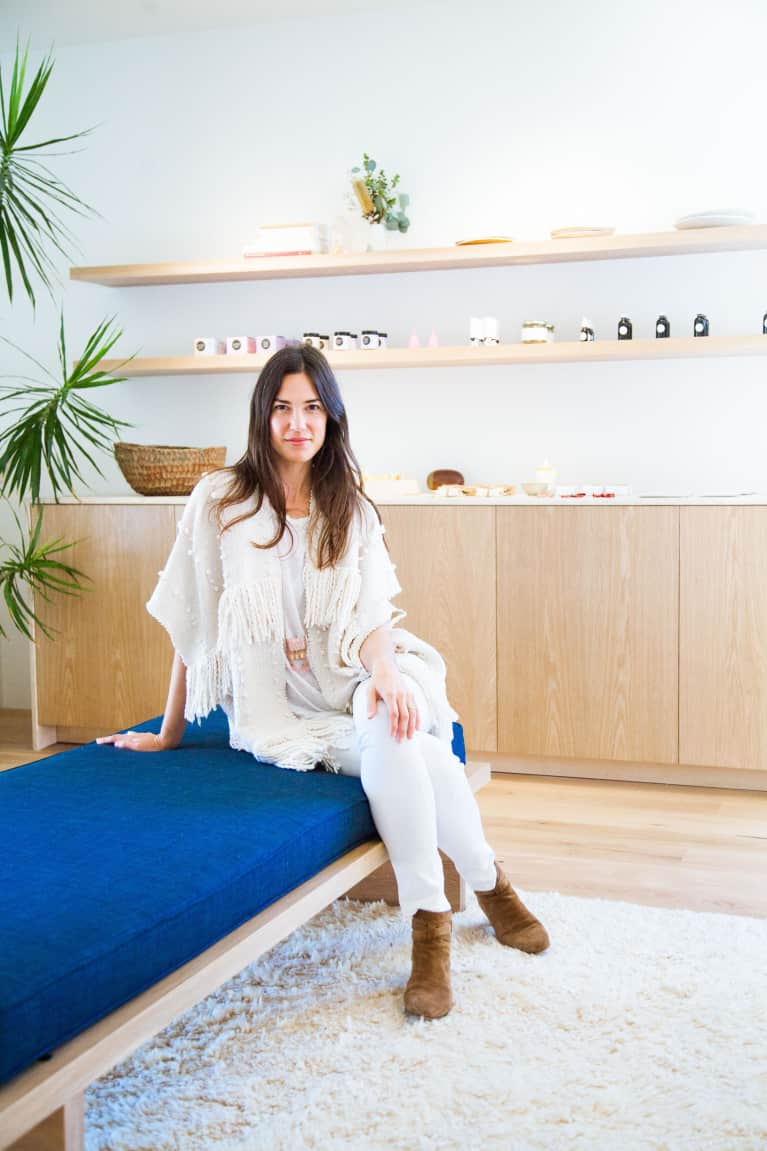 Back in December, we forecasted women's spaces would be an essential wellness trend in 2017, providing the time and space for women to come together as a community. This new brand of togetherness is somewhere in between group fitness, talk therapy, and lamaze class: come as you are, share an experience, leave feeling lighter, but also more connected to yourself, your inherent womanhood, and to others on the basis that our experiences aren't as unique as they feel. We're in this thing together, as women.
The resurrection of women-only spaces are, without a doubt, an outward acknowledgement of both the healing that takes place in a sharing circle and the need for this type of collective support. In culture that's increasingly digital, the desire for analog connection is potent and real.
Perhaps the rise of these special spaces is also a reflection of what was already happening in our digital lives. On social media, there's a drive to share authentically and while that can be therapeutic in and of itself, it's the sacred space that exists because of the sharing—not the fact that it's digital—that facilitates healing. A digital-first (analog to follow) women-helping-women movement was quickly growing roots, as if we knew this year would be a very important one.
But the trend goes beyond just women-only spaces. They're a physical manifestation of a cultural shift that's more important now than ever: women helping women. Here are five ways we're helping each other, and ideas on how you can get involved.
1. Women-only social spaces facilitate in-person connections and healing.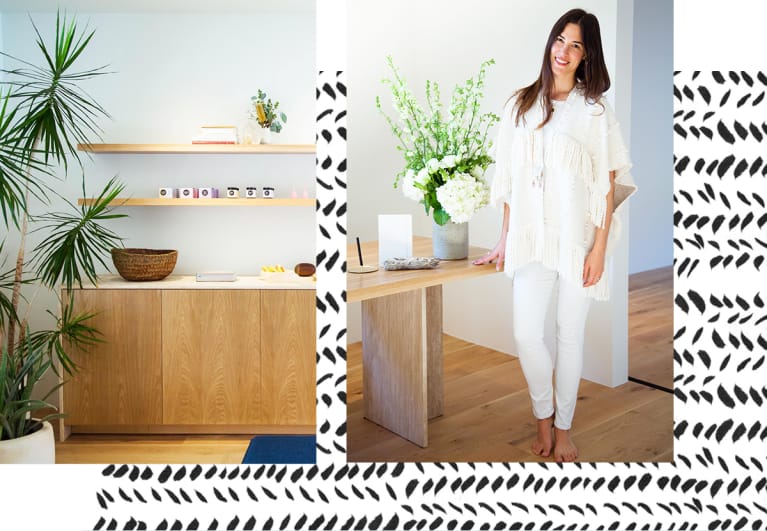 While women-only clubs have been around for quite a long time, they're finally being democratized with a decidedly stronger focus on well-being and supporting women in their multi-faceted endeavors, whether it's a co-working space like The Wing or a safe space for women to support each other through pregnancy and parenting, like soon-to-open Loom, or somewhere in between, like doula Paula Mallis' WMN Space offering meditation, talks on body image, moon circles, and more. "A main reason it resonates with me, and I believe why it speaks to a lot of women nowadays, is because we are all starting to see how powerful, strong and capable we are as women," said Kelsey Patel, a female entrepreneur who loves taking advantage of her local space, JIG+SAW. "It's about getting to let our guard down, to be real, to be female, to wear what we want, to say what we feel and to be empowered and inspired by one another."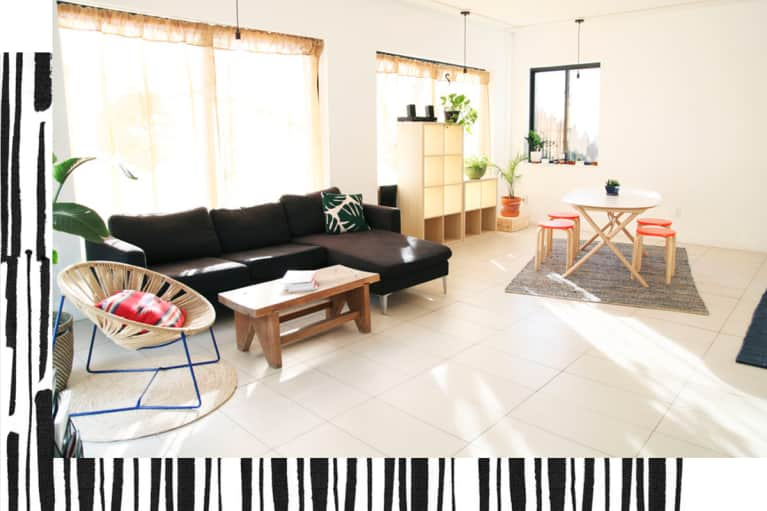 JIG + SAW is an LA-based co-working space championing values of "connection, collaboration, and community" while Brooklyn-based New Women Club, in addition to providing a space for events and meetings, also helps women looking to build their own personal brands by offering accessibly-priced head shots and logo design. The WW Club is an online-based international community that hosts in-person events like art gallery dates, women's wellness days, and live recordings of their podcasts. They also provide members-only content, tools like worksheets and inspirational content for women looking to grow themselves, their creative projects and / or their businesses.
2. Formalized mentorship programs break down bureaucratic barriers creating professional opportunities.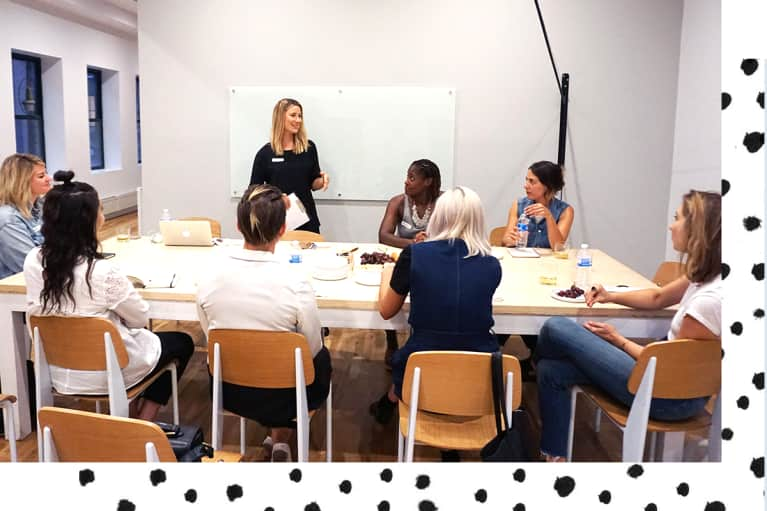 Mentorship and teacher training programs have become a way to take your wellness obsession to the next level, with their focus on self-improvement. Formalizing yoga teacher mentorships, Sky Ting's female owners Krissy Jones and Chloe Kernaghan take an authentic approach to mentoring yoga teachers who want to grow their practice, develop their voice, and define what they have to offer to the yoga community.
Influential individuals are also taking on mentees in response to growing demand for connection and coaching. Chinae Alexander, the wellness leader, global adidas women ambassador, and mega-influencer who you might remember as @getfitbrooklyn speaks to women of all ages globally who want to learn from her personal fitness journey and philosophy on balanced wellness.
Filling the void between a "networking event" and that "networking coffee," formalized mentorships have also become a meaningful way to meet like-minded women who are interested in helping one another, or who are seeking help. OKReal hosts seasonal mentor circles and offers one-on-one mentoring. Mentees and mentors get access to their secret Facebook group, expanding their professional networks.
3. Workshop culture is driving awareness and action.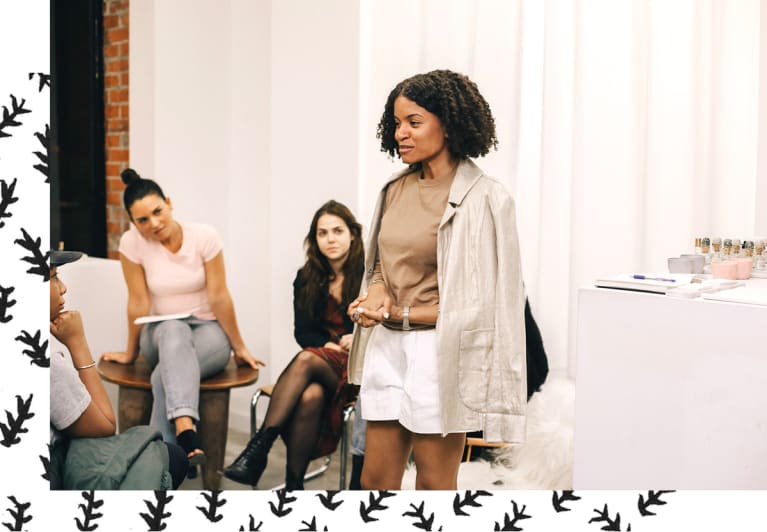 Women's spaces are hosting more and more workshops—informal education on passion-point topics, especially (lately) women's health. New York City's green beauty destination CAP Beauty offers free workshops and events, yoga studios like Sky Ting takes a lifestyle approach to their workshops, with sessions like Basic Witch 101 to Inversion Workshops to The Wisdom Body, an afternoon spent learning about the nervous system. Brooklyn's Maha Rose Center for Healing is entirely workshop- and class-based, with seasonal workshops—for Valentine's Day, they taught Tantric Thai for example—and evergreen ones like how to read your birth chart. Jill Lindsey is a concept-boutique also in Brooklyn that offers workshops that range from individual wellness consultations to tarot reading and full moon meditations.
If you're not in New York, check out Conscious City Guide for recommendations on workshops near you, and if you don't live in a major city, check out our tips for hosting a moon ceremony—while there are certainly some pointers specific to moon celebrations, it's fundamentally about how to hold space for others, which is arguably the key to hosting a successful gathering.
4. Women's circles are the new talk therapy.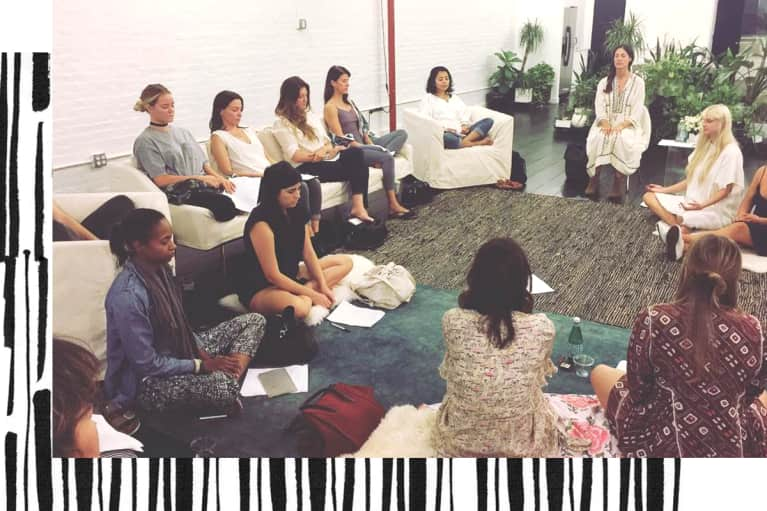 Getting together with a group of women—friends or strangers—to share experiences of modern day womanhood might sound weird if you've never tried it. They're not new, whether it's sharing in a religious context or just as female friends, it's happened informally but ritualistically for centuries. Now women's circles have been reintroduced as a modern way to maintain well-being, to share experiences, connect with other women, and gain insight and tools into the issues we're collectively facing on large scale, but on a personal one as well.
Natural beauty and women's health expert Jessa Blades says, "Carving out a moment for reflection and validation is important because it's healing know you're not alone. Especially in times when we're feeling vulnerable, you can retreat and feel really isolated. In this world of social media, you feel weirdly connected, but then on a daily level, it's tough to know how someone is feeling and their stress level."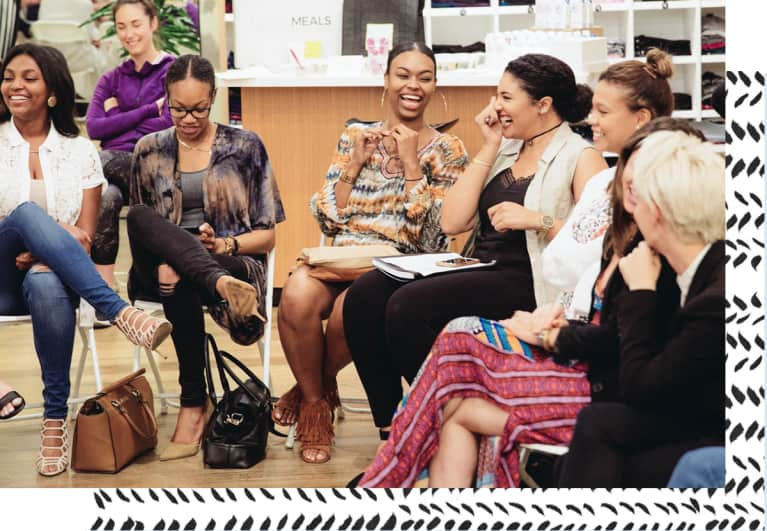 The reality is that we're all going through this thing together, and that sharing in circle helps you feel less alone. "There are cycles in nature, seasonal, the moon, and taking time to really remember that we're part of nature, and being able to experience that together is what we used to do. Other generations now in the 1960s and 1970s did just this, they gathered to discuss. Let community happen," Blades said.
Of course, it only works with a moderator and a collective intention. Doula and WMN Space owner Paula Mallis recommends three basic ground rules when it comes to sharing: no cross-talk (for safety), sharing must come from the heart space, a place of neutrality and non-judgement, and absolutely no apologizing for crying. "We gather to support our journeys as women and what we're standing up for. Our truth. Standing up together is a hell of a lot easier than standing up alone," said Mallis.
Sharing this way "supports a culture of communication where people communicate openly and lovingly," says Jessie May, the founder of Heart Rise Movement and host of women's circles. "It's our nature when we allow it."
5. Women-run startups are facilitating a new kind of sex ed.
Driven by a desire to understand, own, and reclaim their bodies, many women have started companies that aim to educate other women on their unique and miraculous biological processes. Because let's be real: sex ed just didn't cut it! Whether you watched the classic "Miracle of Birth" video or were spared, most of us were left with two options when it came to contraception: abstain, or get on the pill. Now that "the pill" has been around for nearly 60 years, we're beginning to understand its side effects and decide consciously whether it's for us. We have more options, and now we're learning about them.
Thankfully, women-run and owned companies like Brilliant Bodies and The Fifth Vital Sign are making it their mission to teach other women about their bodies, from periods to contraception to childbirth, there is something for everyone whether you're looking to avoid pregnancy or have the best birth experience.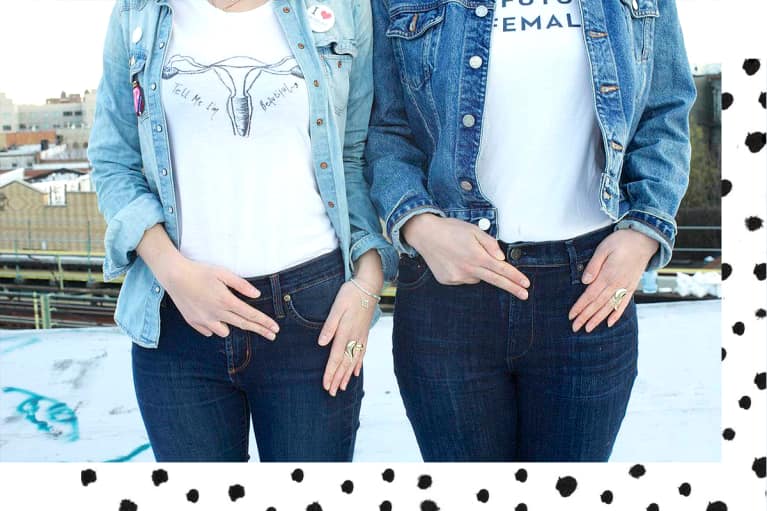 New technologies and innovation driven by startup culture are empowering women to understand more about our bodies now than ever before—and perhaps for the first time it's in context of our own unique biological makeup, not as a comparison to men. Kits and tools like this are helping, big time.
Due in large part to this grassroots movement, we're also finally starting to talk about our vaginas in the media without shame, asking all the questions that make you blush, like whether you should put a jade egg up there. We are looking at our periods as a vital sign of health. Instead of dreading it every month we're embracing it, and we have a new wave of accessories just for menstruating women to prove it.
Where there's a will, there's a way. It's uplifting to see women prioritizing each other's well-being, as well as their own. Starting with women's spaces, this movement is beginning to shape our past, present, and future for the better. One thing is certain: no matter where you are on your wellness journey, whether you're having your third kid or just want to feel good inside your body: there's a space, time, and community for you.