Up Your Side Dish Game With This Rare Sea Veggie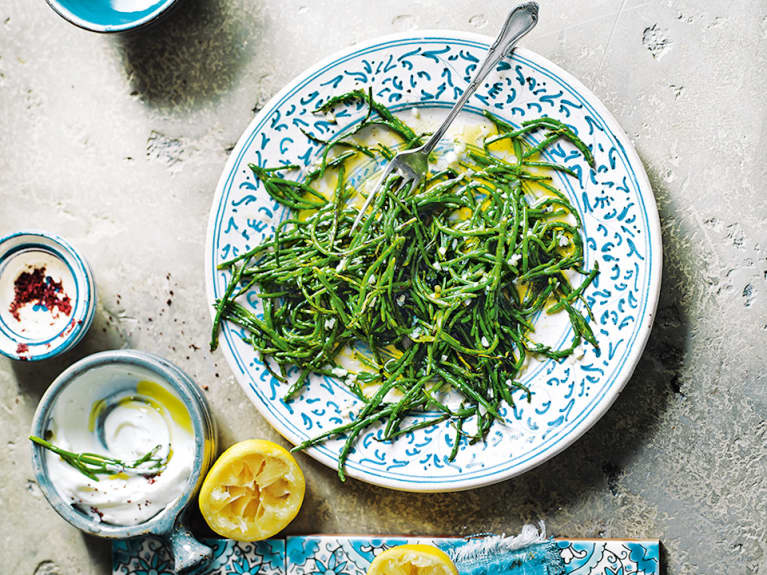 The Aegean coast of Turkey is stunning: rugged rocky outcrops; long, white sandy beaches; and crystal-clear, azure sea. The food of this region is fresh and light, with lots of vegetables. Samphire grows in the coves of the Aegean coast and is served boiled as a simple salad at balik (fish) restaurants. This mouthwatering recipe is slightly different from the traditional boiled version. The samphire is grilled to give it a smoky finish, then dressed in olive oil, lemon, and garlic while still warm so that it soaks up all the flavors as it cools.
From Turkish Delights by John Gregory-Smith
Charred Samphire with Lemon
6 ounces samphire
3 tablespoons olive oil
Juice of ½ lemon
1 garlic clove, crushed
Blanch the samphire in a saucepan of boiling water for 3 to 4 minutes until tender. Refresh in ice water and drain.
Heat a griddle pan over high heat until smoking. Meanwhile, pour the oil onto a flat dish. Add the lemon juice and garlic and mix together.
Grill the samphire in batches. Spread it out onto the griddle and cook for 2 minutes until a little charred and smoky. Remove from the pan and toss straight into the dressing. Repeat with remaining samphire and leave for 2 minutes to soak up the dressing. Serve immediately.