So You Want To Start Running: Here's What You Need To Know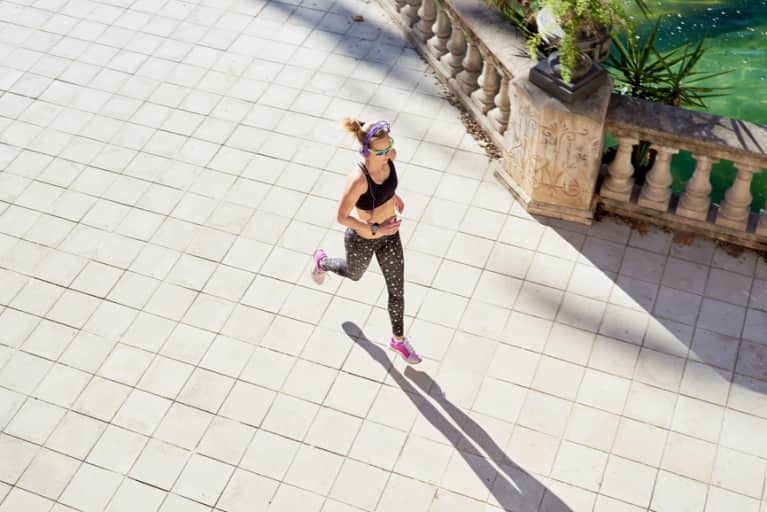 Running can seem daunting. Is it just me, or is everyone a marathon runner these days? So your interest is piqued and you want to hit the pavement, but you're a little scared. Well, if you're on mindbodygreen it's probably because you love a healthy challenge and love to knock fear in its ugly face.
So here are a few tips to help you kick-start your running career:
1. Remember that you don't have to be a marathon runner.
It's OK—not everyone has the time or energy to train for a marathon! They are extremely difficult and time-consuming. Maybe if you discover you actually do love to run, then look into challenging yourself to some races. There are run clubs everywhere, for every level of runner. You don't have to go at it alone.
2. Start on the treadmill.
Start on a treadmill at your local gym; it's a controlled environment, temperature is a nice 65 to 70 degrees, and treadmills are easier on the knees than concrete. Buying a treadmill is a great idea, but don't invest in one until you know it won't become an expensive clothes rack.
Planning is always a good idea. Make yours look something like this:
Week 1: 2 miles, three times per week
Week 2: 3 miles, three times per week
Week 3: 10 miles total (doesn't have to all be at once, or it can be. Runner's choice!)
4. Mix it up on the treadmill.
Don't just get on the treadmill, hit 5 mph, and go. It gets so boring. So play with inclines and speed.
Sample beginner treadmill run:
Minute 1: 5 to mph
Minute 2: add 1 mph (6 to 8)
Minute 3: add 0.5 mph (6.5 to 8.5)
Minute 4: add 0.5 mph (7 to 9)
Minute 5: hold
Minute 6: Walk 3 to 5 mph (refocus the breath)
Minute 7: 6 to 9 mph
Minute 8: 6 percent incline
Minute 9: 4 percent incline
Minute 10: 0 percent incline
Minute 11: walking recovery
Repeat once, and you'll get a great 20-minute treadmill workout in.
Changing what you're doing every minute will make those minutes fly by, and you won't need a mind-numbing episode of reality television to make it through.
What kind of music inspires you? Every person is different. Whether it's rap or Barbra Streisand, figure it out, make a playlist, and get that energy pumping. There are also great playlists on Spotify specifically for running. Pinterest also has great playlist ideas. Do a little research—it will prove worth your time once you're on the treadmill.
There is no time like the present, so hop on that treadmill and start running. And make sure to be kind to your body and before every run do 10 big leg swings on each leg and 10 deep squats and a 5-minute cool down and stretch after.