Why Science Says Mindfulness Is Important + How Crystals Can Help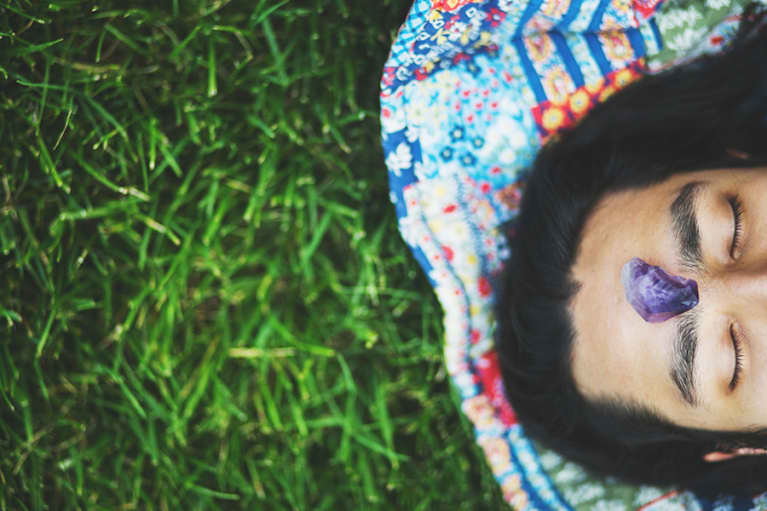 Our editors have independently chosen the products listed on this page. If you purchase something mentioned in this article, we may
earn a small commission
.
Practiced for more than 2,500 years, mindfulness has its roots in Buddhist spiritual teachings of the East, although more recently it has found popularity in the West as a secular practice for well-being.
Thich Nhat Hanh, the Vietnamese Buddhist monk, peace activist, and author of many books on mindfulness, defines it as "the energy of being aware and awake to the present moment." Traditional mindfulness practices include formal meditation as well as disciplines such as yoga, chi kung, and tai chi. However, you do not need to take up any of these activities to bring mindfulness into your life, as mindfulness practices also include simple breathing exercises, mindfully doing daily tasks (such as washing the dishes or walking), saying mantras or focusing on an object, such as a crystal.
Resting in the present moment deepens perceptions and switches off the tendency to chew over the past or worry about the future.
The fast-paced lifestyle of the 21st century is a recipe for stress, and long-term stress, even if low-grade, is known to negatively affect every major system in the body, leading to symptoms that can range from headaches, insomnia, low libido, mood swings, and heartburn to more serious health consequences such as raised blood pressure, reduced immune function, hormonal disruption, and bowel issues.
No wonder the buzzword on everyone's lips is mindfulness, as study after study has shown that adopting a regular mindfulness meditation practice can significantly reduce levels of stress and so make a positive impact on mental and physical well-being. Perhaps even more surprisingly, the antidote doesn't take years or even months to take effect. In fact, in one study conducted by Oxford University, participants showed a 58 percent reduction in anxiety levels, a 57 percent reduction in depression, and a 40 percent reduction in stress within one month of starting a mindfulness practice. And research reported in Frontiers in Human Neuroscience showed that meditators don't need to be actively meditating to benefit from the changes their practice brings about in the brain. During meditation, the amygdala region—the integrative center for emotional behavior and motivation—is "reset" to better handle emotional processing and anger control, and the change is maintained during nonmeditative states.
Mindfulness is proving effective in other areas, too. A study undertaken at the University of California, Santa Barbara, found that college students trained in mindfulness performed better in verbal-reasoning tests. They also experienced improvements in memory and cognitive function with wide-reaching effects. And in another study, seven out of ten psychologists rated mindfulness training as being "excellent" or "good" for weight loss.
Gazing into the depths of a crystal offers instant clarity and stillness of mind, as they provide a point of soft focus and help you to stay attentively in the present moment without judging it or needing for it to change. Crystals offer a detached perspective; they have been around for millions of years, and in their terms, the passing of time is merely the blink of an eye. They each have unique qualities that can assist in switching off mind chatter or compulsive thinking. They ease your anxieties, ameliorate your anger, show you how to forgive and let the past be, and so much more. They help you to be decisive when appropriate and connect you to yourself at a very deep level.
These resources will help you find the perfect crystals to get started with: