An All-Ayurvedic Restaurant Just Landed In NYC—Here's A Recipe You Can Make At Home
Former mbg Deputy Editor
By Elizabeth Inglese
Former mbg Deputy Editor
Elizabeth Inglese is a writer living in San Fransisco, California. She earned her bachelor's in english literature and cultures from Brown University and her master's in writing from The University of Southern California. She's the former Deputy Editor of mbg, and has also worked for Vogue, Architectural Digest, Bon Appetit, and Good Magazine covering food, health, and culture.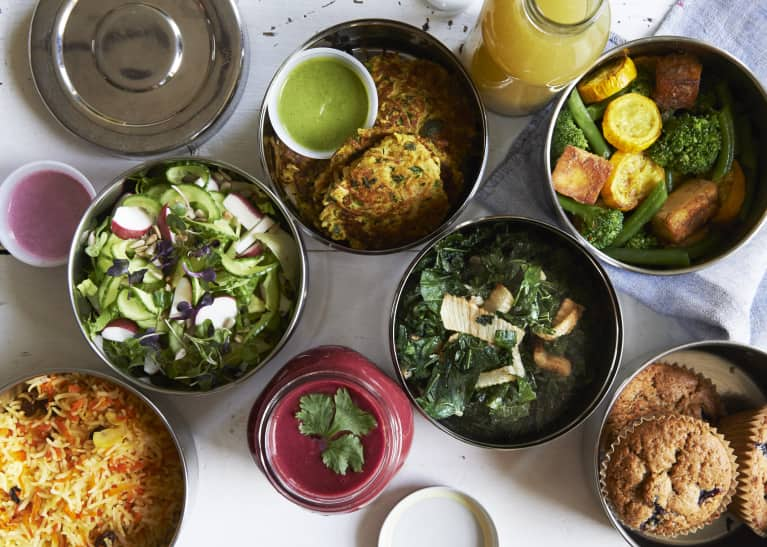 Divya Alter has never been one to stick with convention. "My act of teenage rebellion was becoming a yogi," said the New York City–based chef with a laugh. Growing up in Bulgaria, there were few opportunity for a young girl to learn the practice—no corner yoga studios offering classes and no YouTube videos to follow along. "You can't learn this from a book," says Alter, who found her way into the Vedic tradition when she met a woman who ran an underground ashram. They took her in—"I interned there washing pots and chopping vegetables," said Alter—and taught her not only about yoga but about the Ayurvedic tradition, teaching her to cook by preparing meals for 30 to 50 people at at time. "I was in love with it," she said.
It was after falling ill with a stubborn infection that Alter's newfound appreciation of food deepened. "Antibiotics didn't work for me," she said. Instead, Alter attributes her recovery to a carefully regimented Ayurvedic diet. She moved to the United States, became a certified Ayurvedic nutritional consultant, and with her husband formed Bhagavat Life, a nonprofit culinary school that quickly gained her a following of urbanites eager to learn how to unlock food's healing potential. "Modern medicine doesn't tell you what to eat. People are intrigued by how to use spices and foods to balance the body and mind," she explained.
Now, New Yorkers can taste Alter's cuisine five days a week, as she introduces the city to its first restaurant ever applying the Ayurvedic tradition to not only Indian dishes but foods from across the globe. "I love Italian!" Explains Alter, who flexes her culinary muscles with a fully Ayurvedic lasagna dish reconstructed ingredient by ingredient. "Traditionally we don't mix milk and salt, so for this dish we developed a béchamel with house-made almond milk. We also don't use fermented cheese, so we make fresh cheese daily. And we add herbs that are still in the Italian palate, like oregano, to aid digestion." Her seasonal offerings reflect the three Ayurvedic doshas. "The current menu is very vata balancing: grounding, warm, heavier. When you eat them, you feel settled in your body." Alter's einkorn-barley biscuits and creamy taro root soup are exactly what the coming winter warrants. "I want to make Ayurvedic cooking accessible," said Alter. And with her restaurant she's found a way to do that like never before.
Divya's Kitchen, 25 First Avenue, New York, NY 10003, 212-477-4864, divyaskitchen.com
If you're not in New York City, you can still taste Divya's Kitchen, with a recipe from Divya Alter for celery root pancakes.
Divya's Celery Root Pancakes
By Divya Alter
These simple vegetable pancakes are my Ayurvedic version of potato latkes. Much more nutritious and flavorful than their potato cousins, Celery Root Pancakes draw attention and win praise every time I serve them at Bhagavat Life's classes and events. Celery root (aka celeriac) is a round, knobby vegetable with an assertive celery-anise-like flavor. Pan-frying these pancakes adds subtle nutty tones to the root's earthiness. Celery Root Pancakes are very balancing and enjoyable in cold weather.
Makes about 8 pancakes
Ingredients
1 cup quinoa flakes
4 cups peeled and grated celery root
¼ cup flat-leaf parsley leaves, minced
¼ cup basil leaves, chopped
3 tablespoons amaranth flour
1 tablespoon arrowroot powder
1 teaspoon salt
½ teaspoon turmeric
¼ teaspoon freshly ground black pepper
¼ cup water
2 tablespoons lime juice
about ¼ cup ghee or coconut oil for pan frying
Place the quinoa flakes in a small bowl; add ½ cup water and mix with your fingers, to make the flakes slightly moist and plump (they should not be dripping wet).
In a separate bowl, toss the celery root, parsley, and basil together. Fold in the quinoa flakes, amaranth flour, arrowroot, salt, turmeric, and pepper—mix well. Stir in the water and lime juice.
Use your hands to shape the mixture into 8 round pancakes, about ⅓ inch thick.
Heat 2 tablespoons ghee in a griddle over medium-high heat. Pan-fry a couple of pancakes at a time until the bottom side is golden brown, then flip to cook on the other side, until the pancakes are browned and slightly crispy. Regulate the heat as you go—if your pan starts to smoke, reduce the heat.
Serve immediately with a chutney or pesto.