How mbg's Food Editor Nourishes Her Skin With Yummy Superfoods
Contributing Food Editor
By Liz Moody
Contributing Food Editor
Liz Moody is a food editor, recipe developer and green smoothie enthusiast. She received her creative writing and psychology degree from The University of California, Berkeley. Moody is the author of two cookbooks: Healthier Together and Glow Pops and the host of the Healthier Together podcast.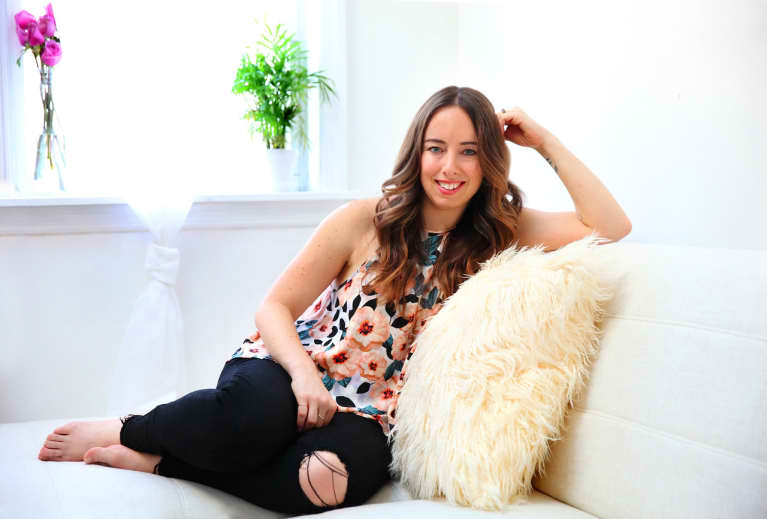 Liz Moody is mbg's new senior food editor. She's eaten food for as long as she can remember, although up until her early 20s, it tended to be chemical-filled and come from the freezer section (proof there's hope for us all!). After a change of heart, she was lucky enough to travel the world as a newspaper columnist, exploring how different cultures ate and stayed healthy. Now, she drinks way too many green smoothies, blogs about healthy Snickers Pie and probiotic soup on Sprouted Routes, spends far too much time on Instagram, and has a debut cookbook coming out in April! She can't wait to explore the world of beautiful, delicious, and, of course, functional food with all of the wonderful readers of mbg.
If, when I was in college, someone had told me there was a connection between the pint of cookie dough ice cream found in my hand most evenings and the menagerie of tenacious red pimples that marched like angry, drunken fire ants around my face, I would've laughed in their face. What I ate was simply what I ate. I had power over my looks, sure, but it was via the drugstore benzoyl peroxide cream I prayed would burn off my pimples, and the thick, orange-tinted foundation I slathered on when it didn't.
Flash-forward ten years and several hundred green smoothies, and I'm the person who prescribes local honey when my friend complains of seasonal allergies. In our food content on mbg, I look for recipes to do two things: 1) serve a functional, medicinal purpose and 2) be insanely, delectably delicious. All of which is to say: Why wouldn't you want both? If you have to eat (spoiler alert: you do), why not eat for your beauty, your health, and your vibrancy? So put down the damn ice cream and pick up these instead:
1. Dairy-free milk & ice cream
Yes, college Liz, I'm starting here. Even if you're not lactose-intolerant, dairy milk is one of the most mucus-forming, inflammatory foods around. In quick math, inflammation = acne and aging. With the barrage of almond and coconut milks invading grocery stores around the country, finding a viable alternative shouldn't be too hard, and it's super easy to make your own. Just stay away from soy (as it can disrupt your hormones, causing, you guessed it, more acne) and carrageenan. I use these in smoothies, soups, cereal—basically, wherever you'd use dairy milk.
2. Greens, greens, greens
Leafy greens are one of the best foods you can put in your body. There are hundreds of reasons for this, but let's focus on two: chlorophyll and fiber. Chlorophyll gives anything green its beautiful hue and helps to detoxify and oxygenate your body. It's also a potent weapon against candida overgrowth, which causes many common skin issues. Fiber acts like an internal broom, sweeping up any leftover waste in your body and helping eliminate it. I like to front-load my day with a green smoothie, which is essentially the set-it-and-forget-it approach to health: If I eat nothing else healthy for the rest of the day, I've still gotten in near my recommendation of daily veg and fruit (although, bonus: Once you start your day with a green smoothie, you'll notice yourself craving healthier food later). I don't really use a recipe, but you can find my basic formula that will ensure you get it right every time here.
Citrus is a double hitter. Many people focus on the flesh, which contains high amounts of vitamin C. Vitamin C helps your body produce collagen, which is incredibly important to strong skin and hair. The oft-forgotten zest, though, is a flavor and nutritive powerhouse. The zest is rich in d-limonene, which has been found in studies to protect against skin cancer and sun damage. I zest oranges, lemons, and limes into smoothies, top off toast with a bit of fresh lemon zest, and throw orange zest into chocolate energy balls. When you're zesting citrus, be sure to buy organic since you'll be consuming the skin.
Turmeric is the darling of the health world, and for good reason. It's one of the most anti-inflammatory foods around and, again (say it with me, folks): Inflammation is at the root of most beauty concerns, from acne to aging. I try to include a few teaspoons a day, either sprinkled into my smoothie, stirred into a curry, or in my new favorite nighttime concoction, the turmeric latte, which helps with anxiety and thus sleep, another huge beauty bonus (there's also a caffeinated version, if you want to drink it in the morning).
Of course if you're reading mbg, you're probably all over the myriad benefits of good fat already, but don't stop reading yet: I've got a whole new one for you. Beyond helping to make sure your skin stays plump and hydrated (and you know, making your brain work, which is pretty much the ultimate in beauty), good fats help stabilize your blood sugar, minimizing your body's stress response. When your body gets stressed it gets—you guessed it—inflamed. You know how an errant pimple will often rear its head after a few sleepless nights or when you're in the middle of a big work project? Those are stress zits. Eat good fats—we're talking avocado, coconut oil, olive oil, flax oil, nuts, and seeds. Your skin will glow, your blood sugar will be stable, and you'll feel Zen. Wins all around. Just make sure you cook only with fats with a high smoke point (coconut, avocado, and ghee) and leave the rest raw for optimal benefits.