A New Year's Eve Ritual To Manifest Your Best Year Yet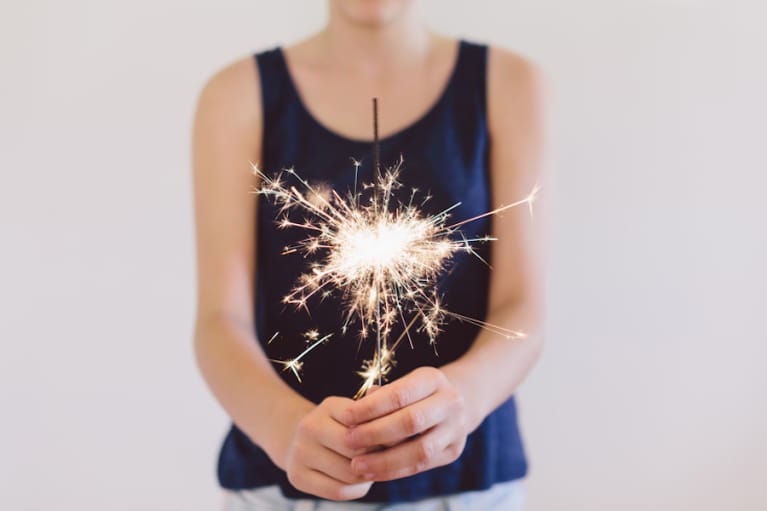 December 31, 2016 — 8:38 AM
On December 28, we collectively leaned into the foundational energy of the new moon in Capricorn—a divinely inspired moment to set our grand plans into motion for 2017. The sun remains in Capricorn until January 19, affording us plenty of time to work consciously with this powerful energy.
During the Gemini full moon earlier this month, we experienced an influx of energy ripe with fresh experiences and new ideas. We changed up our routines in favor of the unexpected. We sought out shock, wonder, and awe. We positioned ourselves to cultivate new thought patterns, and we were inspired to stretch our minds and our stories into uncharted territory.
It's been an exciting—not to mention busy—time! After all that buzz, it's important to once again become grounded in the physical plane and step into a more pragmatic framework. In doing so, we ensure that our new ideas aren't fleeting but that they have a chance to anchor and manifest into something real and fulfilling as we step into 2017.
Enter Capricorn: the energy most conducive to this inward reflection.
Capricorn energy invites us to connect to our purpose in this lifetime. Its energy transcends words like "work" and enters the arena of "mission"—the arena of our cosmic job description. Here, we aim to do something in the world that is about more than just money but about making a difference in the lives of those around us in a tangible, palpable, memorable way.
So, if you knew you couldn't fail, what would you do? How might you inspire positive change? When we think about mission on a grand scale, it can seem a bit like "Mission: Impossible," but Capricorn supports us in pushing through the difficult times.
In order to harness the powerful energy of this time, we must clarify our goals, empower ourselves to think strategically, and take responsibility for making our vision a reality. We prepare ourselves for the long haul. As we turn the corner into 2017, let us honor the physical, the practical, the real, and the grounded. Let us create solid foundations for our dreams to rest upon as we commit to carrying our most clear-minded ideas forward into the new year, knowing they'll be supported by a hefty dose of practical magic.
The following ritual will support you in employing this magic to manifest your mission in 2017.
A ritual for an abundant new year
What you'll need: quiet space, candle, a paper or pen, and 30 minutes of time to yourself.
Go to a quiet place. Light a candle and breathe deeply into your heart space. Ground and center yourself.
Create a "mind release" list in bullet form, writing down all the ideas that have entered your mind over the past two weeks on the crest of the Gemini full moon energy. No idea is too small or random. All the information streaming through your consciousness is important. The overflow of unexpressed ideas is taking up space and energy in your mind, so the intention here is to release all the mind clutter onto paper.
Run down each idea on your mind release list, repeating each one aloud. Use your emotional body to scan the "data" as you speak and really check in. Is your body's wisdom saying yes or no to each idea? Then, once you've run through the list, identify the idea that lights you up the most. Write that idea on a new sheet of paper.
Close your eyes, light your candle, and visualize yourself having already accomplished the vision represented by your chosen idea. Imagine what your life will look like once you bring this idea into physical manifestation. Who will be around you? How will you feel as you move throughout your life? As you visualize, be sure to feel the success, feel the joy, feel the fulfillment.
Collapse your idea from the mental plane to the physical plane and commit to its fulfillment one step at a time. On the new piece of paper, write 10 "I am" statements in support of your vision, making sure to use the present tense. Examples include "I am joyfully collaborating with a team of visionary entrepreneurs who support my vision" and "I am writing inspirational blog posts every morning by the ocean."
Read each of your "I am" statements every morning throughout the month of January and take enlightened action steps that align with making your statements a reality.
Keep reading: