The Breakfast Cake That Gives You Clear Skin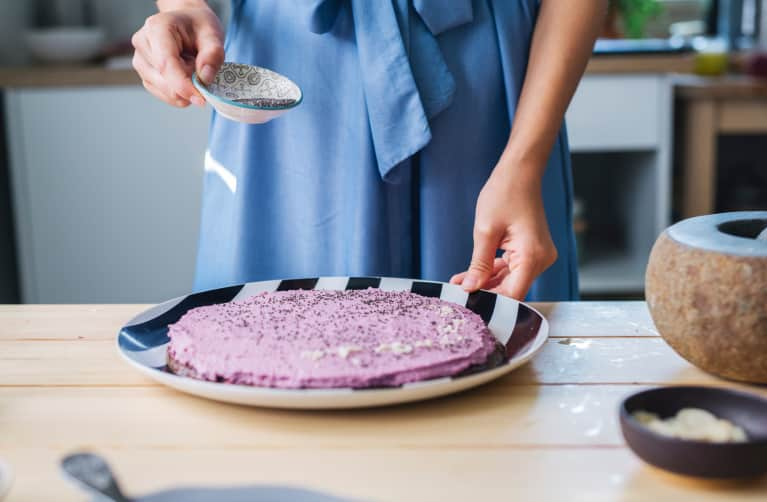 In my several years of recipe posting, nothing gets as many likes/comments/shares as when I post my favorite dessert recipes that not only satiate your sweet tooth, but make your skin glow, too. Whether you like sweet and chocolaty or tart and savory, the one thing you can all agree on is that you like your desserts! Finding the right vegan and gluten-free desserts can be tricky; they both have a bad reputation for overcompensating with loads of sugar or hidden ingredients.
This vegan "cheesecake" is sweetened with coconut nectar, dates, and is made with simple ingredients that are powerful beauty foods. The three main ingredients of this cake have amazing nutrients for the health of your hair, skin, and nails:
Consuming pistachios on a regular basis can be very beneficial for achieving a radiant glow because they provide essential fatty acids (omega-3, omega-6, and alpha linolenic acid) that play major roles in keeping your skin happy. Their high selenium content reduces skin inflammation and can prevent those harmful free radicals attacking the skin. In addition, they're an excellent source of skin-soothing vitamin E.
Citrus fruits are known for their beneficial affects on your skin and lime is rich in the powerful antioxidant vitamin C, and flavonoids that work internally on dark spots, acne, and even protect your skin from infections!
Almonds are a complexion boosting food, rich in proteins and vitamins to hydrate and soften skin. The Institute of Food Research has identified potential prebiotic properties of almonds that could help improve our digestive health by increasing levels of beneficial gut bacteria, hence boosting the body's immune system.
Vegan Pistachio Lime "Cheese" Cake
Serves 6 to 8
Ingredients
Crust
1½ cups pecans (could also use almond or walnuts)
½ cup pistachios
10 medjool dates, soaked in water, peeled and de-pitted
1 tablespoon vanilla bean powder (could also use 1 teaspoon alcohol-free vanilla)
2 tablespoons coconut oil
Pinch of sea salt
2 cups cashews, soaked minimum 4 to 6 hours in warm water
1 container Kite Hill Vegan "Cream" Cheese
½ cup fresh juiced lime and zest of 2 limes (can add more lime juice if you like more tart)
1 cup SO Delicious Culinary Coconut Milk (original, not lite)
1 teaspoon alcohol-free vanilla
⅓ cup Coconut Secret Coconut Nectar
1 cup crushed pistachios
Grated lime rind
Line a square cake tin with parchment paper.
In food processor, add the pecans and pistachios; start food processor; then add the dates, vanilla, coconut oil, and sea salt. Blend until the consistency of dough.
Scoop this nut "dough" onto your cake tin and firmly press down with your fingers to create a crust about ½ inch thick. Once evenly pressed, place in freezer.
Add filling ingredients to a high-power blender (you may want to make in batches, depending on the quality/power of your blender. Blend until creamy then remove the crust base from freezer and pour this filling over it, smooth with a knife and sprinkle the top with additional crushed pistachios and lime zest. Place back into freezer until firm (approximately 2 to 3 hours)
Take out of freezer and cut into squares. Top with your garnish and enjoy!
Can store in fridge or freezer. This will get very soft if not kept cold, so keep frozen or chilled until about 30 minutes prior to serving.