LA's Newest Juice Hotspot, Lifehouse Tonic, Shares Its Best Adaptogenic Recipes
Former mbg Deputy Editor
By Elizabeth Inglese
Former mbg Deputy Editor
Elizabeth Inglese is a writer living in San Fransisco, California. She earned her bachelor's in english literature and cultures from Brown University and her master's in writing from The University of Southern California. She's the former Deputy Editor of mbg, and has also worked for Vogue, Architectural Digest, Bon Appetit, and Good Magazine covering food, health, and culture.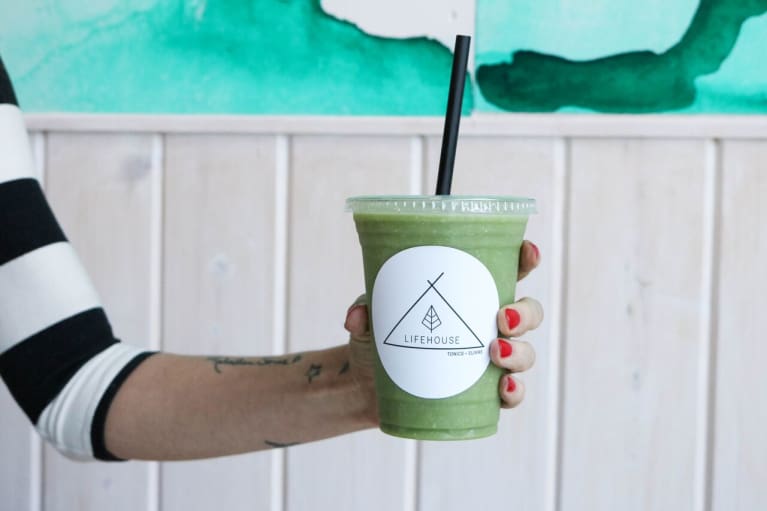 Lifehouse Tonics, on Sunset Boulevard, is the latest West Coast hotspot to serve up the cool vibes and supped-up super-ingredients that have made L.A. a wellness mecca. Just a few miles down the road from Moon Juice and near the base of popular hiking trail Runyon Canyon, Lifehouse Tonic has carved out its own white marble, watercolor-splashed niche, serving tonics, elixirs, and liquid shots made not from whole foods but from high-potency mushrooms, Chinese herbs, and Ayurvedic elements.
Take a look inside their Coco Picante elixir and you'll get a sense of what differentiates Lifehouse from the cold-pressed juices in your supermarket: Meticulously sourced adaptogens like tocos, agarikon, blazei, cordyceps, mesima, and lakanto form the base of their beverages. Co-founder Jack Latner says, "At first people are skeptical about mushrooms in their smoothie. Most people haven't heard of half the ingredients we use, but after they taste them they're always immediately converted." With concoctions targeted to boost energy or spark libido, improve gut health or induce calm, you can find a Lifehouse drink to suit any mood. Latner says, "We focus on including incredibly beneficial ingredients that can help improve your quality of life. Oh, yeah, and they all taste absolutely delicious."
If you're in L.A., drop what you're doing and head to Lifehouse. And if you're not, hit your home blender with these three Lifehouse recipes.
Lifehouse Tonics, 7515 Sunset Boulevard, Los Angeles, CA 90046, (323) 378-5691, www.lifehousetonics.com
1 cup cold brew coffee
½ cup coconut/cashew/almond milk (or a mixture)
1 teaspoon of Mushroommunity Lifehouse infusion powder
1 tablespoon nut butter
1 teaspoon coconut oil
1 teaspoon mesquite powder
Pinch of vanilla
1 teaspoon cacao powder (optional)
1 frozen banana
Preparation
Blend ingredients until smooth. Add a pinch of your favorite sweetener to taste. If you want a hot tonic, leave out the banana and use hot coffee for an elevated morning coffee.
5 ounces raw coconut water
5 ounces coconut kefir
1 teaspoon Lifehouse infusion
1½ cups pineapple (fresh or frozen)
1 half-inch piece of ginger
Preparation
Blend ingredients until smooth. Add a pinch of your favorite sweetener to taste.
Basic Pumpkin Spice Latte
11 ounces almond milk
2 tablespoons coconut oil
¼-inch piece fresh turmeric or ginger
3 tablespoons maple syrup
1 teaspoon vanilla (powder or extract)
1 teaspoon pumpkin spice
3 dates (optional)
Preparation
Combine all ingredients in a blender and blend until smooth and hot, about 3 to 5 minutes depending on your blender. If your blender doesn't heat your drink, once blended pour mixture in a pot over medium heat until hot.