8 Reasons Time Spent Alone Is the Greatest Gift You Can Give Yourself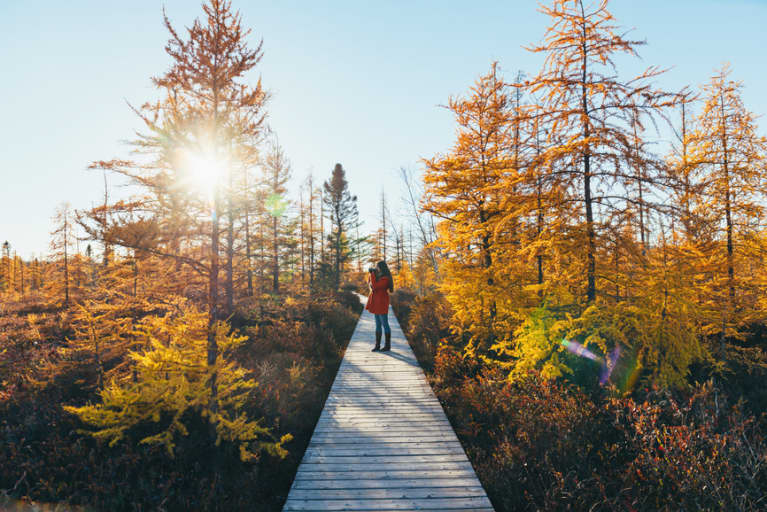 The late philosopher Paul Tillich said, "Language has created the word 'loneliness' to express the pain of being alone. And it has created the word 'solitude' to express the glory of being alone."
Let me ask you this: Do you like yourself enough to spend a week alone? I mean, completely and utterly alone. Without friends, family, or anyone who knows you exist. Here's the thing—most people don't.
Liking yourself enough to spend days—or even hours—alone is something many of us struggle with. Your heart pounds. Your muscles tense. And the voice in your head screams "I can't." We're afraid of being alone because the world we live in makes it the exception rather than the rule.
Technology is constantly innovating to facilitate connection anytime, anywhere, and the result is a generation of people who've never experienced true alone time. And they're struggling to find happiness as a result.
Why alone time is the secret path to self-discovery:
It's been said that "being alone allows you to drop your 'social guard,' thus giving you the freedom to be introspective, to think for yourself."
Being alone is meditative. It can heal your soul.
You may fear being alone simply because you never learned to do it. But it's not too late. Understand that you're good enough all by yourself. Understand that sometimes the best cure for loneliness is, in fact, to be alone. Being alone can lead you on a journey of self-discovery that will profoundly alter your path in life.
Here's why it's so important:
1. It's a chance for reflection, appreciation, and gratitude.
The road to happiness is paved with gratitude. Time alone allows you to view your life from a new perspective. You'll be able to reflect on the good, the joy, the triumphs, and the hardships that have made you stronger. Say to yourself, "Today I'm going to be wildly grateful for my life," and see what happens.
2. Alone time is a choice. Loneliness is not.
Know this: You're not abnormal if you're lonely. Loneliness is feeling disconnected and isolated, even in a crowded room. It's raw. It exposes your deepest fears and desires. It's confronting and terrifying, but it's real. If you stop and listen to yourself for a moment, you'll learn of things that are buried so deep in your being that you don't even realize they're there. But they are, and they drive your actions and behaviors every day. Aloneness is different. Aloneness is finding freedom in this very same isolation.
I once read the most beautiful description of this moment of enlightenment: "I sat in the frigid darkness, surrounded by Nepal's greatest peaks. As they towered above me in the moonlight, I'd never felt so small. Yet, in that moment, I also felt bigger than I'd ever felt before. I felt more connected to myself sitting alone in the darkness than I'd ever experienced in my life. My world suddenly made sense."
3. Alone time can boost your self-awareness.
Self-awareness means understanding your emotions, strengths, weaknesses, thoughts, and beliefs. When you do, you'll understand how others perceive you. And to strip back the protective walls you've surrounded yourself with, you'll need to reflect—something that you have the most room for when you're alone.
4. It helps you to discover your passion and purpose.
Your passion is your what. Your purpose is your why. Passion is effortless and can be selfish—time slips away when you're doing something you're passionate about. Purpose is your motivation, your reason for being. Being alone allows you time to be selfish and to do things that complete you. It opens pathways in your mind that were previously blocked by life's chaos. Once unencumbered, your motivation to achieve your goals will be limitless.
5. Alone time is where possibility lives.
Solitude is unbridled possibility. Your mind and spirit are free to dream. You can live as you please. You decide the what, how, and when of your every moment. Run with reckless abandon. Countless new experiences await—with no fear of judgment. Pure freedom is rare, and you need to be alone to experience its true glory.
6. There is peace in solitude.
Find peace in the quietness of your mind as it lets go of expectation. When your mind is free from disturbance, calmness follows. And in calm, we discover clarity. Being alone is meditative. It can heal your soul.
7. You'll learn to trust yourself.
When there's only you, you'll learn to trust your gut completely. Without outside influences, you'll own your decisions and the consequences that go with them. You'll think harder and become more mentally agile as you navigate logic and instinct.
8. Being alone is not something to be afraid of, nor is it something to pity.
It's about acceptance of your reality. Alone time is a road less traveled but full of riches. Being alone changes you. If you believe that alone time is good for you and have the courage to explore it, your eyes will open to a life previously hidden from sight.
Deep down we all know it's good for us—we're just terrified of it. So, we pretend we're too busy for solitude. But being alone will build your inner strength. If you work your self-sufficiency muscle, you'll learn that you can withstand almost anything. Your powers of observation will become almost superhuman. Solutions to relationship woes will suddenly begin to burst forth in clarity from your crowded mind. Stress and overwhelm will melt away. No longer will you feel trapped in a life you hate. And you'll have a new soul mate at the end of the journey—you.
It may be rough at times. You'll argue. You'll be annoyed. You'll cry. You'll laugh uncontrollably. But you'll be free to live the life you've always wanted—without compromise.