Having "A Song" Can Help Save A Rocky Relationship. Here's Why
Couple Therapist
By Stan Tatkin, PsyD, MFT
Couple Therapist
Stan Tatkin, PsyD, MFT, is a couple's therapist known for his pioneering work in helping partners form happy, secure, and long-lasting relationships. His method—called PACT (Psychobiological Approach to Couple Therapy®)—draws on principles of neuroscience and teaches partners to become what he terms "secure-functioning."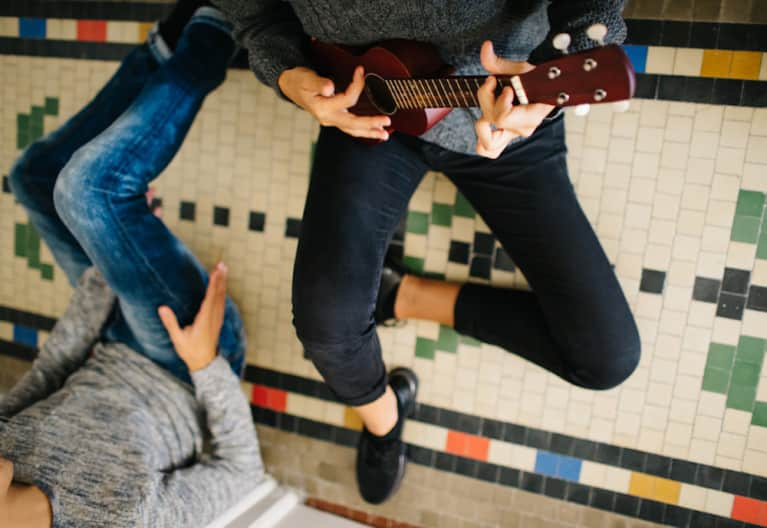 Music has been an integral part of my life since childhood. Countless events are marked in my memory by the music I listened to during that time. Certain songs point me to past love relationships. You may have the same experience. In fact, many people make such links between songs and events. However, others don't. For one reason or another, music is not part of their emotional memory.
My wife, Tracey, and I went to the same middle and high schools. Although we didn't start dating until our early forties, I had a crush on her all those years before. At least one song is still linked in my memory to this crush: "Windy," by The Association. During our courtship, Tracey and I formed emotional music memories to Van Morrison's "Someone Like You." We danced to that song during our wedding, and whenever we hear it today, we want to dance with each other.
If partners are at each other's throats, and I play their song, they will show immediate signs of a positive shift.
As a therapist to couples, I like to study the effects of music on romantic partnerships in my practice. I often ask couples if they have a song. It could be a song linked to falling in love or a song they danced to at their wedding. Sometimes a song is not mutually shared, but one partner links it to falling in love with the other. When I get that information from a couple, I surprise them by playing the song later during therapy. I record their reactions with digital video. Then, I use a process of digital frame analysis to study their reactions, and I share the results with them. This can help them get back in touch with the closeness they associate with that song.
Emotionally encoded music memories tend to remain stable over time. In other words, a shared song can be more powerful than a negative experience. I have seen proof of this in couples sessions. For example, if partners are at each other's throats and I play their song, they will show immediate signs of a positive shift. Their emotional music memory functions as the trigger. This can happen even when they don't expect it.
I can think of only one instance when a couple responded negatively to hearing their song in a session. One partner reacted with sadness and anger at the loss of what the song represented. I asked the couple for a second song that was linked to their mutual feelings of being in love. However, that song was also met with grief. Perhaps not surprisingly, that couple filed for divorce shortly after our session.
If you and your partner have a song that has lost its magic, my advice is run—don't walk—to therapy.
However, in general, I think you will find that playing your song will reinspire and rekindle the original feelings and memories that are linked to it. Here are three ways you and your partner can use music to reignite your loving connection:
1. Bring to mind the song or songs you associate with the initial stage of your courtship or with falling in love.
Then play that song while gazing into each other's eyes and notice what happens.
2. Decide that the next time you and your partner are having a disagreement or feeling distance between you, you will take a five-minute pause and listen to your song.
Assure each other that you won't do this to avoid your issue: You can come back to it after you listen to the song. Notice how you both feel after the song.
3. If you and your partner find yourselves without a song, don't worry. It's not too late to create emotional music memories. Now is a good time to start.
Going on a trip together? Play something new that fits the occasion. Going to a happy event together? Do the same. Planning a romantic evening for the two of you at home? Put on some music (of course, not something that carries memories of other partners).