These Inspirational Illustrations Are Just Begging To Be Instagrammed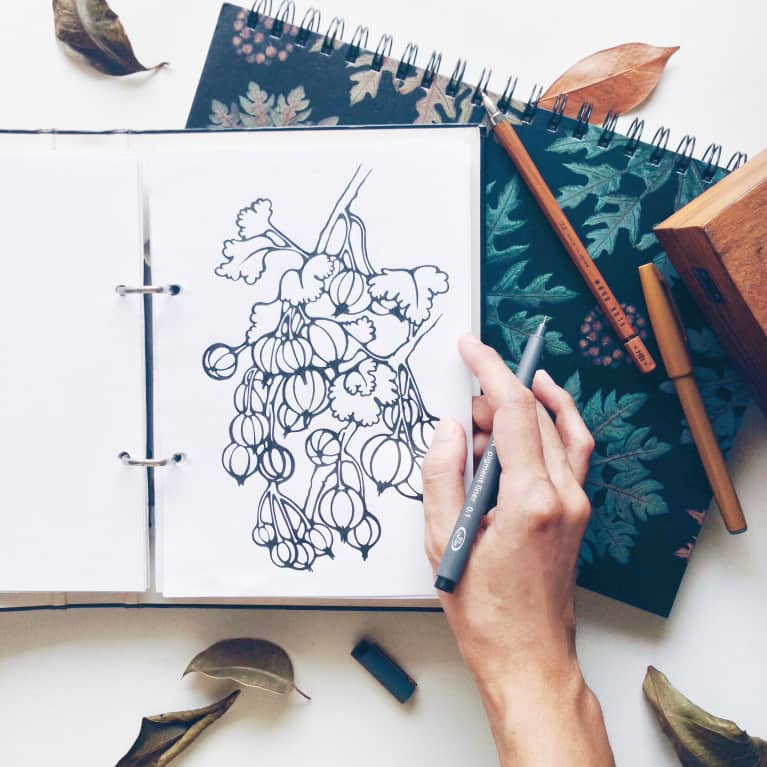 Our editors have independently chosen the products listed on this page. If you purchase something mentioned in this article, we may
earn a small commission
.
In 2010, Leah Pearlman shared her first comic on Facebook. It was an announcement that her father's cancer had gone into remission. A week later, inspired by a conversation in which she counseled a friend to "follow his heart," she turned the metaphor into a drawing.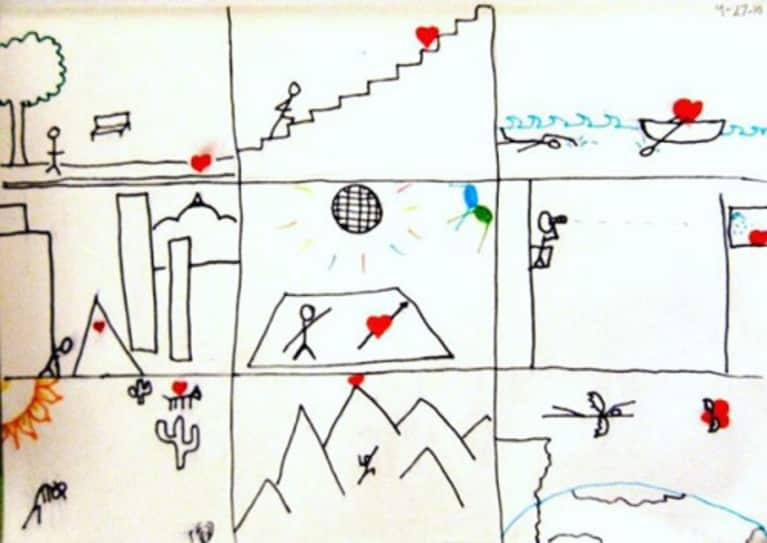 Over time, her passion grew into a company—Dharma Comics—which, six years later, is still known for consistently personal, deeply moving inspirational imagery.
Dharma, loosely translated, means those ways of living that make life and the universe possible. When asked, Leah says the word choice is doubly meaningful to her. Dharma Comics is about helping people find and stay on the path to their purpose—and pursuing the company has proved to be Leah's dharma, her true path, as well.
This month, Leah published her first book, Drawn Together. It's a compact little book, jam-packed with all the cleverness, warmth, and wisdom people have come to expect from DC. I couldn't wait to learn more about the catalyst, inspiration, and content for the book, so I went straight to the source.
Here's what Leah has to say about her brilliant collection—plus the inside scoop on what inspired some of her favorite illustrations.
"[When the idea for the book came up,] I'd been drawing Dharma Comics for four years—just sharing everything on the web. When I [lost my Dad to cancer,] many of my comics had to do with sadness and loss... Someone sent some of those comics to a woman who was going through something similar in her life, and they really resonated with her. She reached out to me [to say] that Dharma Comics had reached her at a really important time. She was a book agent, and she told me if I ever wanted to collect them together and create a book, she'd help me... Two years later we came together to create the collected works."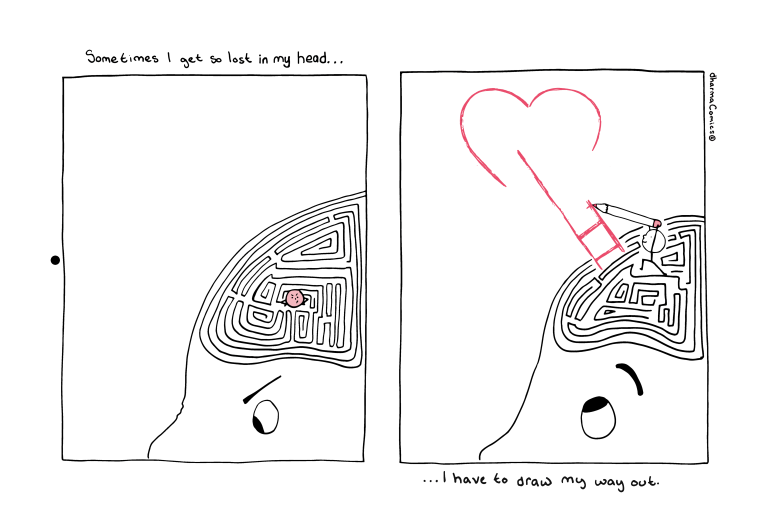 "Sometimes the linear mind can't solve a problem the way the creative mind can. Trying to think of a creative way to illustrate a difficult experience can have the effect of moving me from being inside the experience to being outside, looking in. [It's a great way to get perspective.]"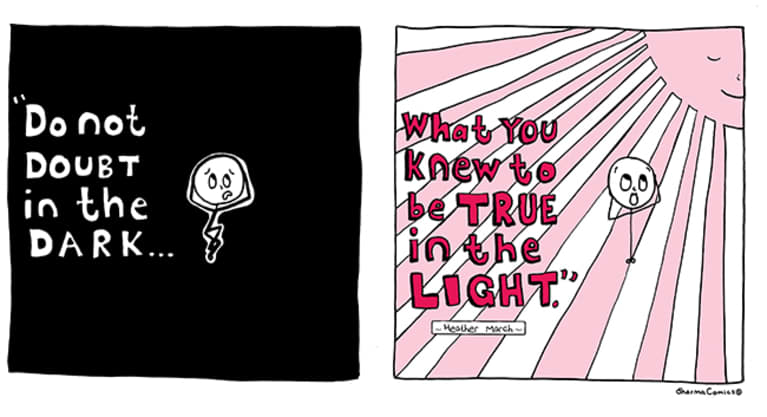 "[When I got the inspiration for this illustration,] I was on a retreat with one of my teachers, Byron Katie. I'd been having a magnificent time, learning so much. But one day, I was struggling. One of the other participants said these words to me to remind me of all I knew, deep down in my core, even when my mind had trouble remembering."
"Several years ago, a close friend wanted to tell me something that was very hard for her to say. I felt so touched by her vulnerability in that moment, [I was inspired to draw] this comic afterward."
We Each Pop In Our Own Time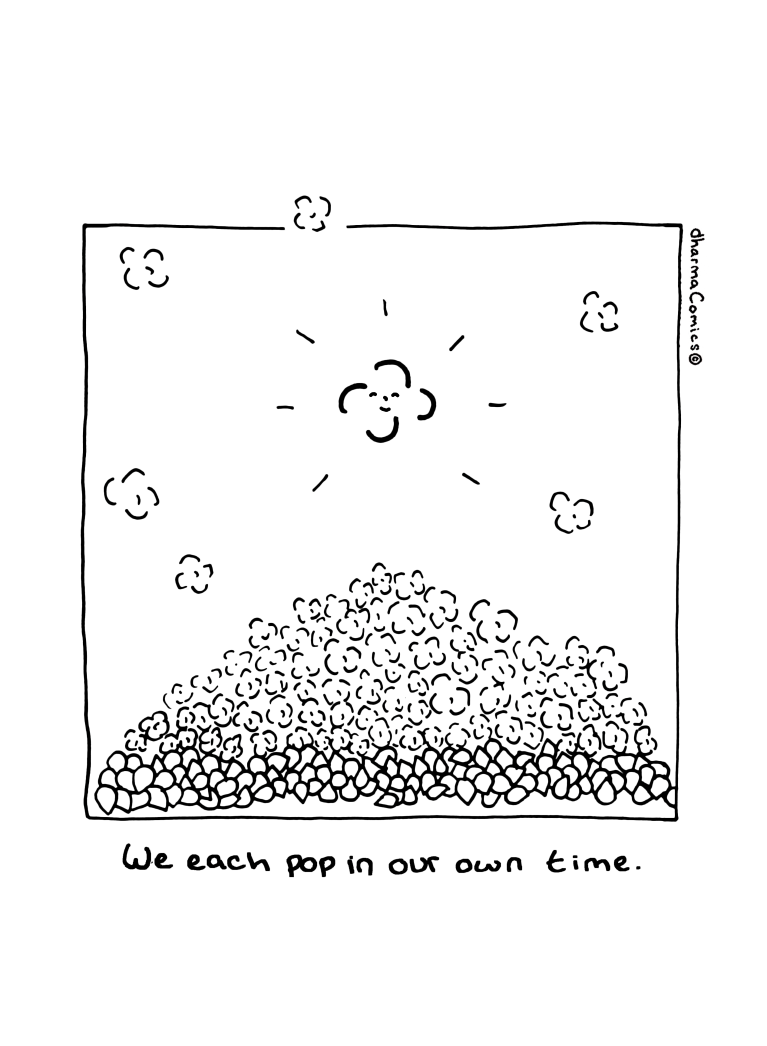 "I drew this comic as a reminder to myself that we are all on our own journey, doing our own thing, and everyone's path looks different. Some people have known their life's purpose their whole lives—others find [their path] in their eighties; it's all good."
"[I created this as] a thank-you to a dance teacher. Every time i was in her presence, i just felt my heart melting like warm frosting on a hot cupcake!"
Excerpted from
Drawn Together: Uplifting Comics on the Curious Journey Through Life and Love
by Leah Pearlman. Reprinted by arrangement with TarcherPerigee, an imprint of Penguin Random House LLC. © 2016 by Leah Pearlman.