20 Wellness Leaders Reveal Their Absolute Favorite Morning Drink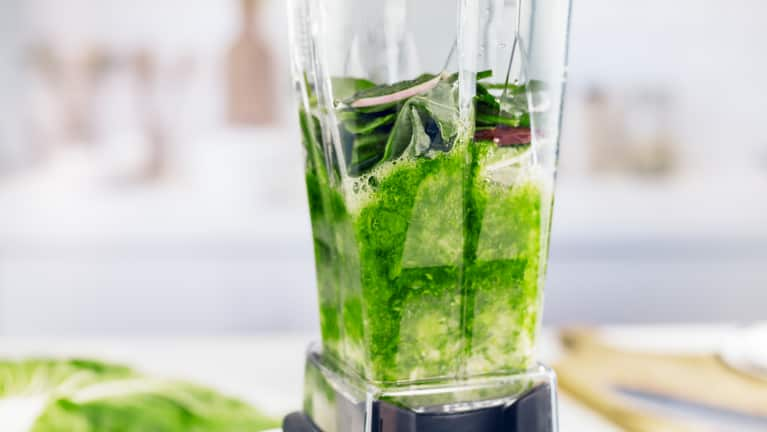 Our editors have independently chosen the products listed on this page. If you purchase something mentioned in this article, we may
earn a small commission
.
We all have that one drink. You know, the one that imparts life with every sweet sip, the one you couldn't imagine starting the day without. Here are the energizing brews our pool of wellness experts can be found enjoying on any given morning:
1. Dr. Sara Gottfried, gynecologist and hormone expert: Runa
My go-to morning drink right now is Runa—a clean and low-caffeine super-leaf from the Amazon. When I'm writing, I go for Yerba mate. I love matcha, but its caffeine level is too high for me. I'm keeping my caffeine under 30 mg per day for optimal sleep, since I metabolize it slower due to genetics.
2. Emma Mildon, author and spiritual guru: Dirty chai or turmeric latte
I'm a total morning person. As soon as my eyes open, my head starts going, thinking, and creating. I'm at my most creative in the morning, so I like warming drinks to help fire my action-driven yang. I drink dirty chai (a spicy chai with an espresso shot), or if I feel I need a healing hit in the morning, I go for a turmeric latte. The key is to ask for a blend that has turmeric, a good fat like coconut oil, and pepper. It's easier to metabolize this on an empty stomach, so I drink it first thing in the a.m. (in an eco-friendly cup, of course!).
3. Amanda Chantal Bacon, Moon Juice founder: Tonics
Sprouted stone-ground almond butter, protein, power dust, and water or sex dust, hot water, and almond milk!
4. Dr. Lissa Rankin, integrative health expert: Green juice and coffee
I'm a double fister: green juice with kale, celery, cucumber, ginger, sprouts, and yellow beet in one hand and coffee with a chunk of my homemade raw chocolate, stevia, and coconut milk in the other. I know that seems like one foot on the gas and one foot on the brakes, at least from an alkalinity perspective, but I dig my morning rituals.
5. Rich Roll, vegan ultraman: Tea with mushroom powder
6. Scott Linde, Sun Potion founder: Teas and potions
I love to begin my days early, and with traditional tea. After a few rounds of oolong, puer, or other tea treasure of choice, it is potion time. My recent favorite is to simply froth Sun Potion powders and water in a bowl, with a traditional matcha chasen. Try it yourself. This is my preferred start to In-Joy-ing my day.
7. Dana James, nutritional therapist: Macchiato
A macchiato with either almond milk or organic milk. I have a genetic mutation that makes me a fast metabolizer of caffeine—coffee brings me joy!
8. Dr. William Cole, functional medicine practitioner: Green tea
My morning go-to drink is organic green tea with MCT oil if I want something warm. If I'm in the mood for something cold, I make a smoothie jam-packed with superfood goodness like coconut milk, greens, berries, eggs, grass-fed collagen, and Moon Juice's Brain Dust and Spirit Dust. (Amanda Chantal Bacon is my spirit animal.)
9. Kathryn Budig, yogi: Almond milk latte
I start my day with one or two glasses of room-temperature water followed by a trip to my favorite coffee shop for my morning almond milk latte.
10. Michelle Buchanan, numerologist: Lemon and apple cider vinegar water
My morning drink is a warm lemon and cider vinegar drink, and it tastes bloody awful, but it's a good way to balance my acid and alkaline before starting my day.
11. Fern Olivia, thyroid expert: Matcha smoothie
Matcha blended with superfoods. I add a generous amount to this beauty smoothie packed with protein, essential vitamins, herbs, and nutrients to rev up my metabolism and promote healthy detoxification while balancing hormones.
12. Adriana Ayales, herbalist: Coffee
What can I say—growing up near coffee farms has made me a serious coffee lover. My morning bliss fix includes drip coffee, cashew milk, coconut oil, and coconut crystals.
13. Dr. Robin Berzin, Founder and CEO of Parsley Health: Protein shake
I start every morning with a Rebuild protein shake—a plant-based shake designed to support gastrointestinal (GI) function and balanced detoxification.
14. Light Watkins, meditation practitioner: Green tea
There's nothing more satisfying to me than waking up in the morning to a hot cup of fresh green tea. And it's got to be in a glass mug—because what's the point of drinking something as pleasing to the eye as green tea if you can't see it? There is none. Of course, "green tea" is a generic term, with so many varieties and sub-varieties. And I love them all. Especially the darker varieties. The more bitter, the better.
15. Phoebe Lapine, chef and author: Golden milk
When I'm not home, I opt for a simple green tea. If I'm in my kitchen and have a little more time, I'll make a cup of golden milk using some spices and almond milk. Gaia herbs also makes a nice blend if you don't want to whip up your own.
16. Jonathan Galland, author and integrated health expert: Coffee
Waking up is the best part of the day with my morning coffee meditation. It's a quiet moment to focus on that first glorious cup of organic coffee, letting your mind travel to lush, green subtropical coffee-growing mountains.
17. Kristin Dahl, holistic nutritionist: Water or tea
Every morning, I drink two large glasses of water, sometimes with lemon, to kick-start my digestion and ensure I'm well-hydrated. I am also a lover of warm tea; tulsi, spring dragon, and dandelion root are always on rotation. I check in to see what my body needs on a day-to-day basis instead of running straight for the caffeine all the time.
18. Julie Piatt, plant-based chef and spiritual guide: Cashew cacoa latte
My go-to morning drink is a Cashew Cacao Latte (you can find the recipe I use in The Plantpower Way!). I love it because it has a natural kick, is decadently delicious, and is packed with antioxidants. My kids join me in this high-vibe, nourishing drink. The best part is that it's totally dairy-free and compassionate.
19. Jordan Younger, wellness blogger: Bulletproof coffee
My go-to morning drink is bulletproof coffee, hands down! I have a recipe on my blog, but I usually mix Chameleon cold brew with fresh almond milk, MCT oil, chocolate protein powder, ghee, and Vital Proteins collagen peptides. It tastes so good and makes me feel superhumanly alert in the mornings!
20. Kelly Leveque, holistic nutritionist: Matcha
Organic matcha powder from Matchaful or Sun Potion whisked with hot water and topped with frothed unsweetened almond milk and a tablespoon of MCT.
Related reads: