Salt-spray can make anyone want to throw out their hair dryer and channel a mermaid: Yep, you know those effortless sun-kissed, windswept manes that we're constantly lusting after. An easy salt-strewn tousle is the epitome of the carefree hairstyle, a symbiosis with Mamma Nature.
According to Jana Blankenship, owner the eponymous Captain Blankenship natural beauty line, sea salt can do magical things for the hair: "Sea salt is one of my favorite ingredients. It is incredibly detoxifying and also can do wondrous things for body and hair. Did you know our own bodies contain the same concentration of minerals and nutrients as ocean water?"
Which brings me to her latest addition, a sea-salt spray infused with gold-mica shimmer! "I was inspired to make this product by a friend who said she didn't have enough glitter in her life. I liked the idea of creating a natural product that also had subtle shimmer and otherworldly shine. Gold mica has become very popular in skin care and body care products to add luster to skin, so why not haircare, too?"
Having my head lightly misted or doused in sparkles is a daily aspiration. With a transformative light-catching product in hand, anything is possible. "Mica is a silicate mineral that reflects light. For cosmetics, mica is mined in sheets, ground into powder, and used on its own or mixed with iron oxides to create an array of shimmering colors," says Jana. "The name is thought to be derived from the Latin verb micare, which means, 'to glitter.'"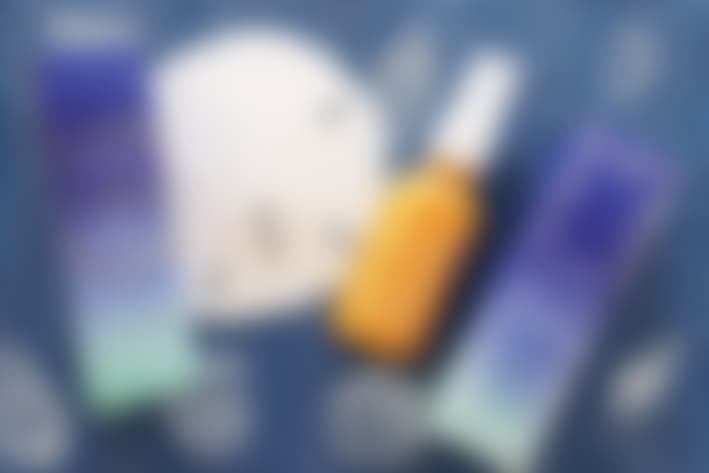 Applying handfuls of glitter to my hair part may be a bit OTT, but shimmering hair embellishments are whimsical—there's no denying the eternal charm of a little something that sparkles. "Though mica has been used since prehistoric times to add sparkle to everything from pottery to windows to skin, it is notoriously difficult to source," says Jana. "More often than not these days, it is synthetic. It was important for me to find mica that was natural and traceable. It took a long time to find the right stuff with the right golden shimmer, but I did. I love that the mica we chose throws tiny golden rainbows and adds lots of shine to tresses."
Here, the ultimate guide to getting envy-inducing beach waves, no matter what hair you were born with.

1. How much to use
Sea salt sprays are all about trial and error; so don't give up if you've had one bad experience—a fine mist or a generous spritz; it's good to practice the amount you apply as the results vary from brand to brand.
2. Where to apply it
If you want texture through long hair, be sure not to overload too much into the roots—salt sprays work best on mid-lengths to the ends. If you have flat roots and want to dry them out for a kick of lift, spritz some salt spray into your roots when wet, as you would do a root-boosting product.
3. When to apply it
You can spritz it through dry hair and scrunch into hair for a sexy, tousled texture, or you can spray over wet hair and blow-dry in for a voluminous look with added oomph.
4. How to avoid "crispiness"
Cocktailing products is an easy way to bespoke them to your hair type. If you find salt spray leaves your ends dehydrated, layer on some Evolvh SmartVolume Leave-In Conditioner, detangled or Intelligent Nutrients PurePlenty Scalp & Strand Serum to soften the hair, while benefiting from the texture.
5. Product picks

Or alternatively, take a cue from Wellness Mamma, and make your very own DIY Sea Salt Texturing Hair Spray—seashells required!