How Having Cystic Acne Redefined What Beauty Means To Me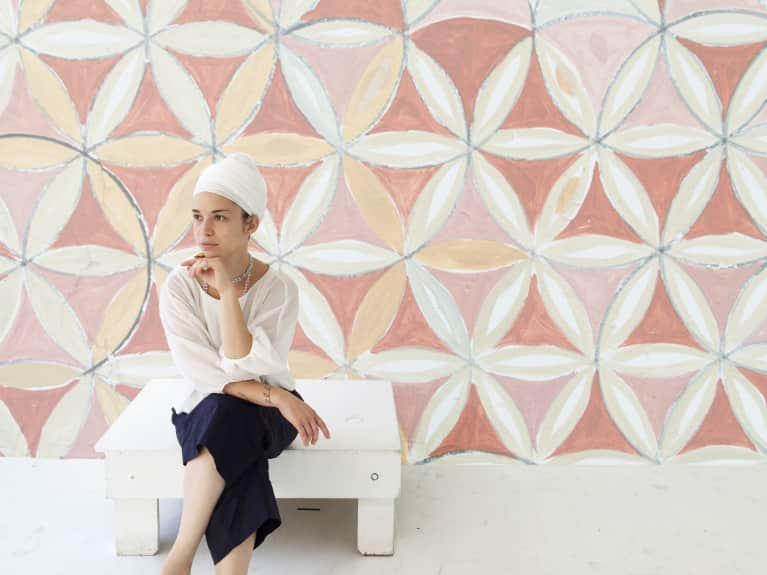 In 2012, I developed chronic cystic acne. I'm not going to sit here and say I wasn't blessed with a pretty face, but I will say when someone develops cystic acne, no matter how they look, it's easy to feel absolutely the opposite of beautiful. It's painful, physically and emotionally. Over the next three years, I forgot what it felt like to feel beautiful. Every day I looked in the mirror and felt hideous. I didn't recognize myself. I would wear my hair down to cover my face. I would spend many days alone at home crying because I was too afraid to walk down the streets of New York. I was afraid to see people I knew for fear that they were thinking, How could you let yourself get like this? What happened to you?
It was the loneliest three years of my life, filled with self-destruction and emotional misery. People often say, "Oh it's not a big deal. Don't think about it," which made me realize people have no idea what it's like. The actual acne is only 30 percent of the case. The rest of the 70 percent is the emotional suffering that comes, the attacking your face and body, the guilt and shame, the self-destruction that occurs because you're subconsciously angry at your body for rebelling against you.
I started learning EVERYTHING about how to fix acne, from diet to its psycho-emotional causes. In her book, You Can Heal Your Life, Louise Hay says that acne is a dislike of the self, inner anger. My teacher, whenever I asked him why I was going through this, said that I had a lot of anger to work through. I couldn't figure out the anger part. What was I so angry about, aside from the fact that I felt like my body was waging war against me? It baffled me.
And then, one day, I was taking a class on RaMa.tv with Guru Jagat in which she said, "Self-loathing, when turned inward, becomes inner anger." I had found the missing piece to my puzzle. I had spent my entire adolescence with eating disorders, hating the way my body looked and trying to mold it into what I thought it should look like, until my body started finally rebelling back at me with hormonal imbalance, PCOS, and chronic fatigue.
In 2014, I began randomly meeting women who practiced Kundalini yoga. Every single woman I met who practiced was radiant. They were beautiful in a way that I hadn't experienced beauty before. The way these women held themselves, the way their eyes sparkled, the way they were more confident than any other women I've ever met…I thought, Whatever they're doing, I want to do it too. At the same time, I had just launched Benshen, a natural skin care line, with the intention of offering women not just a product to use but a ritual of kindness to their skin.
We often attack our faces and our bodies, so I thought if I could make something natural and absolutely luxurious, women and I would start treating their/my skin better. And after all, if our bodies are rebelling in some way, we need to make peace with them, not wage war. After all the learning I had done about acne and skin issues, I knew it went deeper than just applying a product to your face. Benshen became a platform where I could use the Kundalini teachings to help women not only clear their skin but also feel absolutely empowered and radiant.
So much of the beauty industry is fueled by fear or the need to cover something up, to hide something, whether it be blemishes, the dull skin, the wrinkles, the fatigue, the sadness, the loneliness, the stress. We end up with hundreds of products filled with promises and mostly chemicals. When I began practicing Kundalini, I was amazed to see all of the women's teachings that Yogi Bhajan, the master of Kundalini yoga, had left behind. He spent much of his time training and teaching women how to find their inner beauty, their confidence, their power, and their radiance. As I began to practice Kundalini and add meditation into my life, I began to feel brighter, happier, more stable. I began to clear out the habits of self-destruction. I began to balance my hormones through the practice, which helped my skin clear up and my depression, anxiety, and insecurities melt away.
I used my products as a topical means of self-appreciation, of showing my body and skin the love it deserved. Benshen became this concept of inner and outer beauty, for we can't have one without the other. My whole life mission became to help women experience their beauty and their security rather than falling victim to their neurosis and insecurities. All of the suffering that the acne put me through got me here, a place where I have so much compassion for the insecurities that women go through and has driven me to create a business around helping them find their radiance, once and for all.
I will leave you with one of my favorite Yogi Bhajan quotes on beauty: "You don't need makeup; you don't need to make up for anything. You are known by your spirit. You shall project out by your radiance. You shall be loved and honored by your excellence."