This Vegan Superfood Berry Cheesecake Is Epic
Written by
Sophie Jaffe
Sophie Jaffe is a certified raw-food nutritionist and raw-food chef. She's a member of the Yoga Alliance as an advanced teacher and is certified by the National Academy of Sports Medicine as a personal trainer.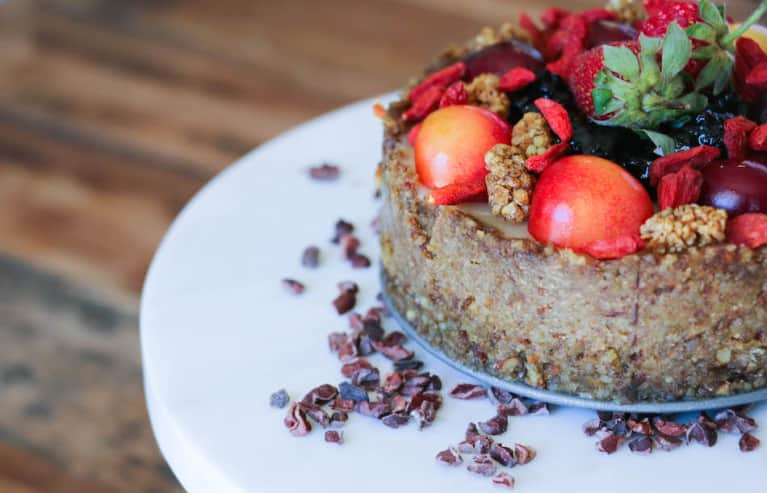 During the cool fall and winter months, we tend to slow down to conserve energy. We all know, though, that this doesn't mean our to-do list gets any shorter, given all of the holiday activities.
In fact, we need more energy than ever. And while tonics and medicinal drinks are absolutely lovely for our health, it's completely normal to crave something decadently delicious, especially when there are treats on display everywhere.
So to satisfy your sweet tooth, boost your energy levels, and ramp up your immune system, whip up this raw, gluten-free, and dairy-free berry cheesecake—in as little as 20 minutes!
Not only is the crust of the cake naturally sweetened with dates, which combat inflammation and support heart health, the filling is also created with honey, which boasts both antiviral and antibiotic properties. The melted coconut oil contains medium-chain triglycerides (MCTs)—those helpful fatty acids that head straight to the liver from the digestive tract to provide you with an energy lift.
The lemon juice in the filling also strengthens the immune system while the pecans and cashews bring in an excellent assortment of vitamins, minerals, and antioxidants.
By tossing in a spoonful of Superfood + Protein Blend for the crust dough, you add a potent, revitalizing fusion of acai, goji, sprouted brown-rice protein, pomegranate, camu camu, mangosteen, and maca.
As this beautiful cheesecake needs about five hours in the freezer to set, make it in the morning (right after your breakfast smoothie) so that you have a nourishing treat to look forward to after dinner. Once it's ready to be savored, be sure to top it with berries for a burst of tangy flavor to perfectly complement the sweetness of the cake!
Raw Superfood Berry Cheesecake
1½ cups raw cashews (soaked for 1 hour)
1 juiced lemon
⅓ cup melted coconut oil
½ cup Berry Bee Honey
½ cup and 2 tablespoons coconut milk
1 teaspoon vanilla
strawberries
blackberries
blueberries
goji berries
golden berries
Preparation
1. Pulse the dates in a food processor and remove once they've formed a ball consisting of small pieces. Process the pecans into a meal and mix with the dates to create a dough.
2. Grease a muffin tin and scoop about 1 tablespoon of the crust into the sections and press down with your fingers to pack the crust dough in. Cool the crust in the freezer.
3. Blend all of the cake filling ingredients until smooth and then divide among the cups. Freeze for about 5 hours after covering with plastic wrap until the cheesecakes have hardened.
4. Pop the cheesecakes out (use a butter knife to make it easier!) and then sprinkle on your toppings!
You'll end up with about 12 servings, which will last in the freezer for one to two weeks.