Your Guide To Making Time To Do Yoga When You're A Busy Parent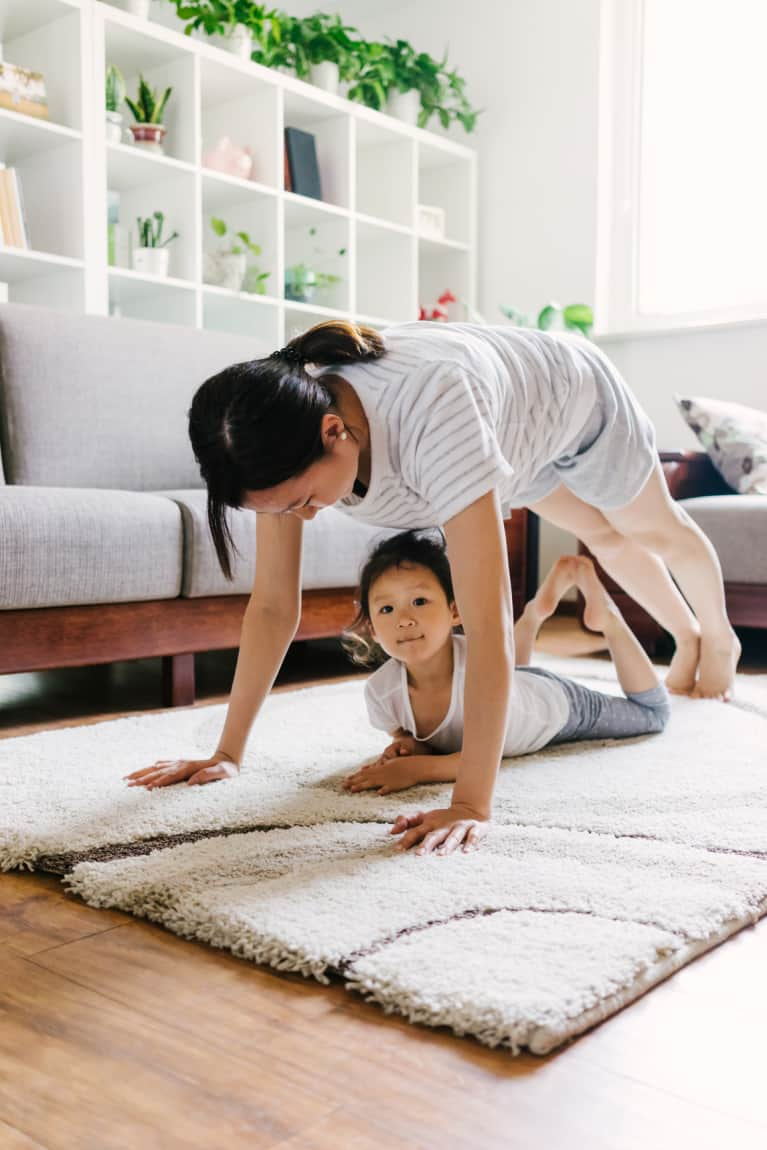 The daily life of a parent is filled to the brim with taking care of people you love. It can be so difficult to set aside even a small piece of that time to care for yourself.
Here are four tips to help get you on your mat more often and take that much-needed time out for yourself:
1. Embrace a home practice.
Before I became a mom, I rarely practiced yoga at home. It was always in a studio and was a wonderfully social experience. I still love going to a studio, but the reality is that these days I am more likely to practice if I do it at home.
I often make time to practice by waking up before my daughter does, try to fit it in during her naps or by unrolling my mat and lighting a few candles at the end of the day once she is sound asleep. While sometimes I miss the community that a studio offers, there is something so nourishing about being in the quiet space of my own home.
It would be easy to choose the countless other things I could choose to do around the house or for my business, but I think that by choosing to first practice, it sets a tone for when I do get around to all the other stuff. When I choose myself first, I am able to have more clarity, breath, patience, and love to give to everyone else.
Especially of the amount of time or effort you put forth. I used to think that if I didn't do every single asana and practice for an extended period of time, it didn't count as a "real" practice.
The life of a parent is filled with interruptions, and there are often times when in every situation I listed above, I don't quite finish or I have to walk away for a few minutes to tend to my daughter's needs. Or sometimes all I can seem to muster that day is five minutes of breathing with my eyes closed while lying on my back.
We can get caught up in thinking that our yoga practice has to fit into the box of how it is supposed to look and feel. The irony is that the moment we put yoga into a box, it loses its essence. The more malleable and forgiving we can be with how much time we can offer ourselves, the more we will get out of whatever time we can spend. Five minutes can still change the entire course of your thoughts and your day.
3. Create an inviting space.
The beauty of yoga is that you only really need the space of your mat in order to practice. However, I have found that by making the surrounding space as inviting as possible, I am more likely to want to spend time there. My two favorite things to include are burning incense and a couple of lit candles.
I happen to love the smell of incense and engaging my sense of smell, but if that doesn't work, perhaps find a candle that you love the smell of. The other thing that I love to have in my practice space are pictures or reminders of the people I love. For example, I have one of my favorite pictures of my family and a bracelet that my mom gave me wrapped around a statue that one of my dear friends gave me. They are just simple reminders that while I am first doing this practice for myself, it's so I can better love and be of service to those who love me.
Since my daughter is only 15 months old, she doesn't quite grasp the concept of yoga, but she sure loves to play around me, on me, and under me while I practice. It's a very different practice when this occurs, but there are always two ideas that I keep in my head and heart when I choose to do this.
First is that since life itself is filled with noise and distraction, sometimes it's good to practice with those things present. Since yoga is meant to mirror our life, what better way to hone the amazing coping mechanism that is yoga and especially our breath! The second thought I have constantly is that it is good for my daughter to see me practice. If I can not just teach her but show her how important it is to love yourself and take care of yourself, then I am doing what I consider to be one of my most important jobs as her parent. The world needs more yogis, and since yoga has a long tradition of being passed down, I like to think that I am just beginning to do my part.