How To Cook Restaurant-Quality Veggies At Home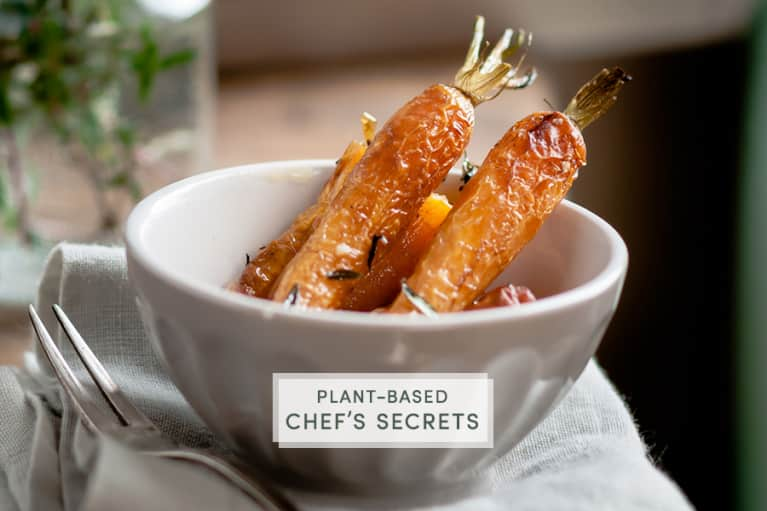 Chances are you've seen the word confit on a menu at a restaurant somewhere, and chances are the chef might have been applying this cooking method to duck or another animal protein, using actual duck fat.
But as of late we've been noticing that restaurant menus are giving veggies the same cooking treatment. The process involves simply slow-cooking a vegetable in a healthy oil (olive or grapeseed) at slow and low temp over an hour or two. This leads to tender vegetables while keeping their earthy flavor.
Historically, this process was used for preserving foods, but these days it's used for pure enjoyment, making foods even more divine than we thought they could be. Instead of parboiling or roasting, try this simple technique as a way to impress dinner guests.
Step 1: Heat oven to a super-low temp (about 180°F).
Step 2: Place vegetables in an ovenproof pot (like a Dutch oven) so that the vegetables fit inside comfortably.
Step 3: Pour in enough oil to cover the vegetables completely.
Step 4: Cook for 1 to 2 hours, depending on the size of your vegetable pieces, checking for tenderness after the 1-hour mark.
Step 5: Drain the vegetables before serving. You can reserve the oil to add to salad dressings—especially shallot oil, which tastes amazing.
Below I've named four of my favorite veggies to confit and what to do with them once they're cooked!
I often refer to shallots as "my salt" because they add so much flavor to everything! So when they are slow-cooked they melt in your mouth and almost taste caramelized.
I like to chop them up and add them to my favorite leafy green salad, quinoa pasta, or add them as a topping to my favorite veggie "steak" like cauliflower or kabocha squash.
Beets are full of vitamins, they are beautiful in color and can add so much to a dish, but they aren't the most fun to cook. No matter how long a beet has been cooking, it always seems like it can go for longer. If you overcook them, the flavor gets muted (as does the color), but if you peel them, cut them into thirds, and submerge them into oil, they maintain all their best qualities.
I recommend using this process and then serving them with a dollop of saffron hummus with toasted pistachios for crunch and color.
I'd say that carrots with hummus might be one of the most snacked-on combos out there, but carrots can be applied to a dish in so many playful ways. With confit carrots, I've taken a liking to sandwiching them in folded corn tortillas to make a veggie taco in which I also add sautéed mushrooms, avocado (of course), and toasted pepitas, for crunch.
The veggie that we can't seem to get enough of. Whether you turn it into a piece of toast, a hummus, or just roast it, it's always delicious. As you might have guessed, confit sweet taters are pretty damn delicious.
I like to cut them into cubes, submerge them into the oil with garlic and thyme. Once cooked through, toss them in with your favorite grain and toasted-nut combo with orange zest and juice and thinly sliced scallions and toasted sesame seed oil.