Ginger Cider Spritz That Gets Its Kick From Kombucha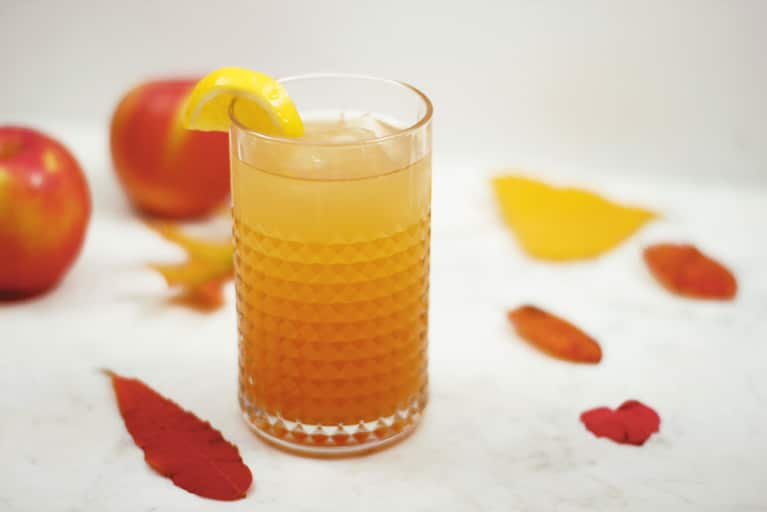 In the lead-up to Thanksgiving, we're sharing a mix of original recipes, entertaining advice, and seasonal dishes from our favorite bloggers to help you approach the holiday with a little more mindfulness and a lot of extra-delicious vegetables and fruits.
We're focusing on whole-food, plant-driven dishes to make your holiday table not only beautiful but more healthful, too—while still keeping the integral flavors of the season front and center.
Thanksgiving is all about indulging, which we're all for—especially when your favorite dish hits the table. Alcohol is often a big part of family and holiday celebrations, and while a tipple or two is totally fine, we thought it might be nice to offer your guests and yourself something else to drink.
This mocktail is meant to feel special and celebratory, without the booze. This recipe combines classic apple cider with a ginger kick from the kombucha. The kombucha will add a little probiotic boost as well, which is probably something we could all use before a big meal or after traveling.
This mocktail could easily become a cocktail with the addition of a little bourbon, if you felt so inclined. Make these by the glass or make a larger pitcher to serve a few guests at a time.
For more delicious Thanksgiving recipes, click here.
Ice
¼ cup apple cider
¼ cup ginger kombucha
Splash soda water
Fresh lemon slices, to serve
Preparation
Place a few ice cubes in a small tumbler or a wineglass. Pour apple cider and ginger kombucha over the ice and stir to combine. Top with a couple of splashes of soda water and serve with a piece of lemon.
2 cups apple cider
2 cups ginger kombucha
1 cup soda water
Lemon slices, to serve
Lots of ice, to serve
Preparation
Combine cider, kombucha, and soda in a pitcher and stir to combine. Pour over small tumblers or wineglasses filled with ice and top with lemon wedges.