The Tastiest Ways To Apply A Minimalist Mindset To Your Food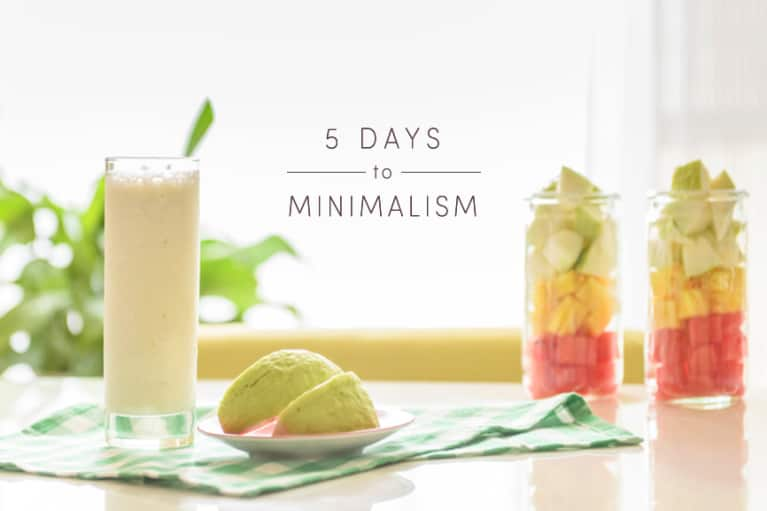 We're putting out a "5 Days to Minimalism" series to help you clear clutter from your life really, really quickly. Day 3 is all about paring down your grocery list by making your food go the distance.
Carrying a minimalist mindset into the kitchen doesn't mean consolidating your spice cabinet or eating less. Rather, it's all about regrowing, reworking, and re-imagining your food into something brand-new. It's a way to reformulate your food philosophies so you can harness the potential of every ingredient you take home. It's a way to buy less, trash less, and think about your food waste more.
Here are a few food hacks that will help you get the most out of your grocery essentials.
1. Make vibrant dyes using plant leftovers.
Immortalize the rich violet hues of beets, the tropical orange tint of mangos, and the bright reds or ripe raspberries by whipping up your own plant dyes. Infuse everything from baked goods to clothes and home décor with the colors of nature by blending or juicing your vegetable or frozen fruit of choice into a thick liquid, adding water if needed. Strain out any seeds and heat in a saucepan until reduced to a paste.
Since plant dyes aren't as concentrated as the artificial stuff they sell in stores, you'll need to use it more generously. Make a few batches and freeze leftovers in ice cube trays for an anytime rainbow reserve.
This makes for a fun kitchen experiment at the very least, especially if you're cooking with little ones. There are dozens of veggies you can regrow from scraps; here are three simple ones to get started with.
Celery: Instead of chucking your celery's base, place it in a bowl with a bit of warm water. Keep the bowl on a windowsill that gets some sun and wait about a week, until you notice leaves beginning to grow. Once this happens, transplant the stem into soil and watch it return to its original glory with regular watering.
Sweet potato: Suspend the end of a sweet potato in a bit of water using toothpicks, until half of it is submerged and the other half is dry. Expect to see roots and leafy sprouts pop up within a few days. Once these reach 4 inches or so, remove them from the potato and place them in a container of water. Leave them for about a week, then plant in soil. Water every day and see what pops up!
Avocado: Terrified by the possibility of another shortage? Take control of your destiny by making a personal avocado reserve. Rinse off your avocado pit and suspend the bottom inch in water using toothpicks. Give it two weeks to sit and grow a stem, then cut the stem in half once it gets to be about 6 inches long. Once it starts to regrow after a few days, place the seedling in soil and get ready for some homegrown avocado toast.
3. Repurpose food scraps into new dishes.
Here are a few of our favorite ways to use those peels, tops, and seeds into new dishes instead of tossing them.
Sauté your beet greens with garlic and olive oil
Throw your apple cores into a smoothie—seeds and all
Mince your citrus peel and roll it on top of goat cheese
Mix your herb stems into salts and butters to add some earthiness
Add carrot-top greens into pestos
Bake sweet potato peels into chips
Turn your old, opened red wine into a warming mulled wine
Warming Mulled Wine Recipe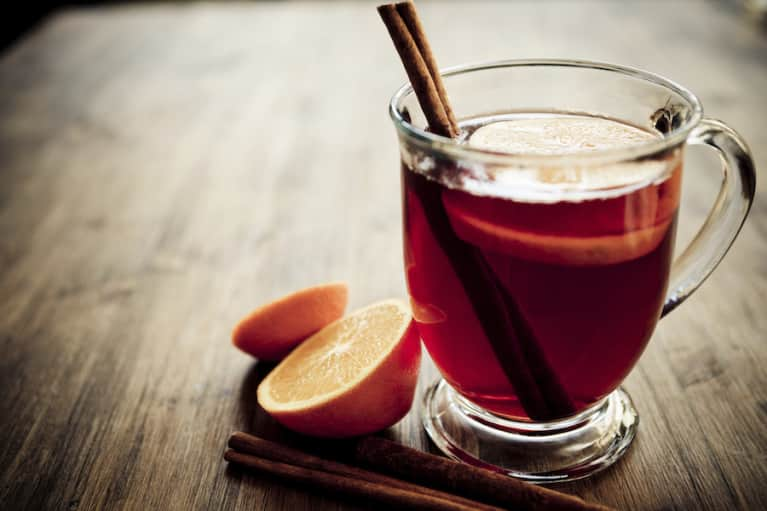 5 oz of old red wine
1/2 cup water
1/4 cup fresh orange juice and orange zest
1 cinnamon stick
1 star anise
1/4 green apple, cut into bite-size pieces
1/4 pear, cut into bite-size pieces
Preparation
In a small pot, combine the wine, water, orange juice and zest, cinnamon stick, and star anise. Stir and let heat up for two minutes. Then add apple and pear. Stir again and pour into a mug for sipping.
Want to learn how feng shui can help you create a high-vibe home and set powerful intentions to manifest your dreams? This is feng shui the modern way - no superstitions, all good vibes. Our feng shui master Dana Claudat will guide you every step of the way. Click here to learn more about this incredible class!