How To Turn Any Work Space Into A Sanctuary
mbg Contributor
By Isabelle Marsh, MSW
mbg Contributor
Isabelle Marsh is a freelance writer who received a Master of Social Work, specializing in families and children, from Walden University.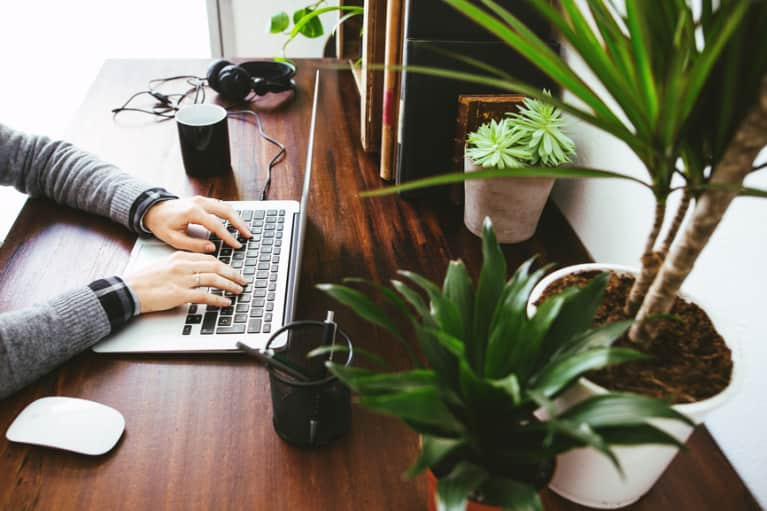 Every day I walk into the office, I'm blinded by the starkness of the cubicles staring back at me. I, like most people, don't enjoy working in a cubicle, which is why I decided to design mine in a way that invokes peace and serenity.
I spent many years unhappy in the workplace simply because I didn't take the time to think about how my surroundings affected me. Then I realized that the workspace is what you make of it, so I should fill mine with objects I truly love.
Now, instead of dreading sitting at a desk each day, I watch my cubicle watch me. I feel like I've created a temple of sorts—a space where my work day does not feel like work. The positivity that surrounds me has become positivity I radiate to my co-workers and clients.
Here are some ways to transform your desk into a place that actually makes you happy.
1. Create a Buddha Board.
Buddha Boards came onto the market a few years ago as a way to help spread the message of Zen and bring more mindfulness to the everyday. To use it, you simply get a paintbrush, dip it in water, and create a design on the board. After a few minutes, the design will slowly disappear, allowing you to take a deep breath as each stroke dissipates. I complete this process five times each day, and I always make sure to begin and end the day with a Buddha Board creation.
I keep a box full of essential oils on my desk, placing a small drop on my wrist or under my nose a couple times a day. Using essential oils is a potent way to revamp the mind when I feel sluggish, but I try not to overuse them so they never stop being special. You don't need one hundred different scents—one will do. Choose a fragrance that excites your mind and brings you to a place of contentment. I especially love the pleasant, invigorating scent of clove.
3. Drown out noise with tapestries and music.
I use a tapestry as a blanket that I use to cover myself when it gets chilly in the office. When I'm not using it this way, I hang the tapestry over my cabinets as a decorative enclosure. I also listen to Tibetan gong noises periodically throughout my day, and always place my iPhone face down so I can't see my screen light up when I receive emails or texts.
4. Find a terrarium that you enjoy looking at.
Terrariums serve to bring me a sense of calm throughout the day, and I love taking in their natural beauty. I actually keep a small fish in mine (it's so soothing to watch the little creatures swim!) but if you don't want a live creature on your desk, succulent terrarium definitely do the trick too.
5. Keep a scented eye pillow nearby.
I'm not saying you should be sleeping on the job! I am, however, suggesting taking at least five minutes each hour to lay your head back, place an eye pillow over your eyes, and take three to four deep breaths. Eye pillows come in a variety of scents, and you can even make your own if you wish. Choose a scent that is not overwhelming or too potent; I like the soothing scent of lavender or the rustic smell of burlap.
Keep reading: