How To Overcome Fear & Pursue The Life You've Been Dreaming About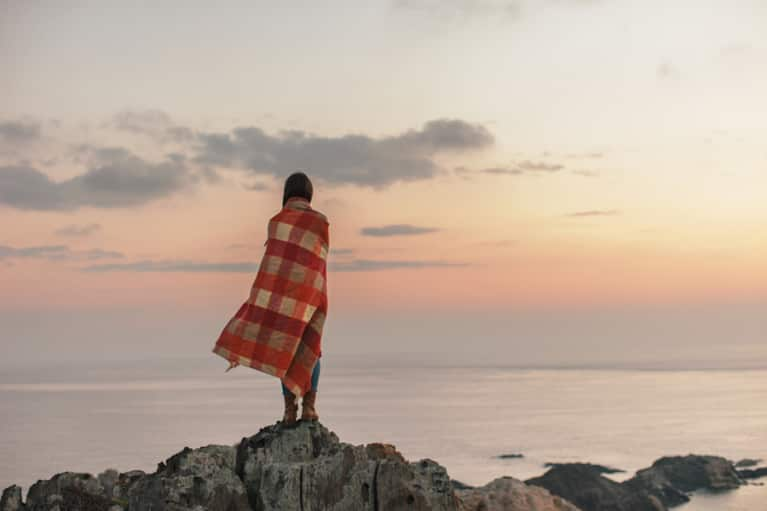 Maybe it was during one of my hour-long commutes to work that I decided I wanted—no, needed—to live somewhere else. Or maybe it was when I realized exactly how much we'd need to save in order to afford a 20 percent down payment on a house where we were living. Perhaps it was my dissatisfaction with the type of job I would need to continue having in order to earn enough money to afford said down payment. I'm not sure exactly when it was, but once the realization was firmly lodged in my brain, it became a matter of my life's happiness that I make a big move.
Living in a suburb of New York City was...well...draining. My husband and I experienced a chronic shortage of time while we commuted to work (his was worse than mine: two hours each way), used up all of our energy for the day at work, commuted home, and had a couple of hours to ourselves (which more often than I would care to admit consisted of collapsing in front of the TV in a stupor) before having an unsatisfactory sleep. Also, in an effort to save money, we had moved from one small apartment to an even smaller one. We called it our Hobbit House.
Even though I knew it was our best hope for gaining more ownership over our lives, it wasn't necessarily easy to make this change.
Although uprooting yourself from most of your family and friends to live in a more idyllic place may seem like a radical solution to this common overworked-and-underfulfilled problem, I firmly believe it can save your soul. (Your family and friends would eventually start to dislike you once you became soulless in your hometown anyway!)
In choosing where to go next, I didn't use questions like, "Where am I most likely to get a job in my field?" or, "Where can I earn a similar salary?" Instead, I asked myself, "Where have I been happy?" "What place affords access to the things I most enjoy in life?" "Where can I work but not have my work define me?"
To different people, these questions will evoke a wide spectrum of answers. The image that came shimmering in front of my mind's eye was that of my college town: a hilly city on a lake, where you can't go more than a quarter of a mile before you come across a creek or a waterfall, and where people have such pride in and engagement with the place they call home.
My husband and I moved to Ithaca, New York, eight months after we started talking about it. We introduced a smidgen of practicality back into our plan first; we would move as long as one of us got a job. He got a job first and in a rare act of serendipity, his new office was able to offer me a temporary position, which gave me some security while I looked for a permanent job.
Even though I knew it was our best hope for gaining more ownership over our lives, it wasn't necessarily easy to make this change. It involved giving a lot of explanation to the people closest to us. Promises to host guests and to come back and visit. It was also a decision that left us with many uncertainties. How much rent could we afford if I didn't have a permanent job yet? What if I became unemployed for a long stretch of time? Would our new location live up to the high hopes we had for it? But the need for a change was so strong that these uncertainties seemed so much more manageable than the alternative.
...a reminder to trust the voice in me that is slightly unconventional but has wisdom all the same.
Now, we have a five-minute commute. (Five minutes!) We make dinner together almost every night and can even splurge and go out every so often. We go for hikes or to wineries or to one of the many festivals our new hometown has to offer on weekends. Our sleep has improved. We're saving up for a house in a place where what we want is within our reach without having to work ourselves to death. I even started volunteering on a farm on Saturday mornings.
And I keep this note from a former co-worker on my desk as a reminder to trust the voice in me that is slightly unconventional but has wisdom all the same: "I think it is wonderful how you and your husband made the decision to put yourselves where you want your life to be. While it may seem simple, I think most people do not do that...they let the circumstances lead them more than the other way around."
This business of influencing circumstances has led me to make a host of other changes that I hope will improve my life and the lives of others. I have time to pursue more sustainable practices of living. I'm able to purchase food from the many nearby farms that offer products born of responsible agricultural methods. I'm exploring the possibility of providing child care so that I can be around kids, who make me happy, be able to stay home with our own children once we start a family, still be working full-time, and avoid the cost of paying for child care ourselves. (Win, win, win, win!)
My only words of caution to others thinking of making the move are: Watch out, it's the best kind of slippery slope.
Keep reading: