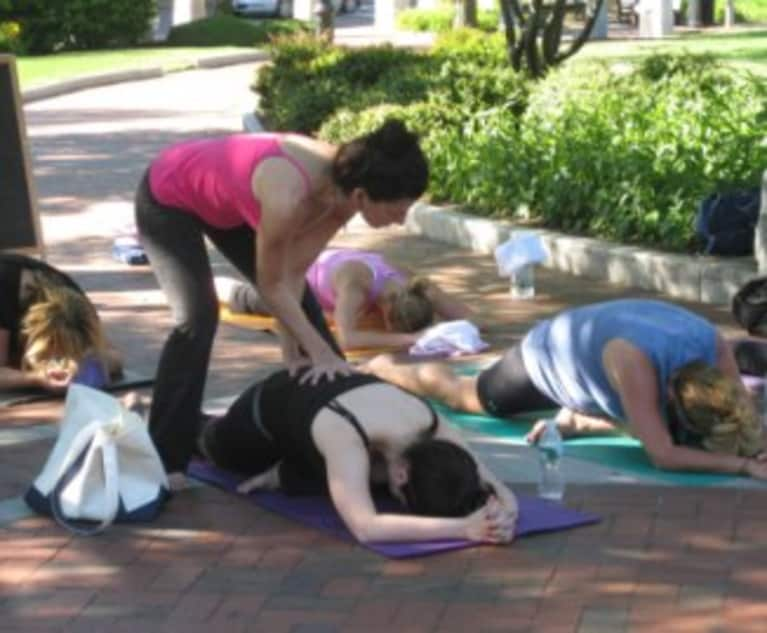 When I finished my first teacher training with Baron Baptiste in 2002, I immediately looked for a chance to start teaching. Funny, because I wasn't even sure when I attended the training that I wanted to teach yoga. I'd been practicing at the Baptiste studios since 2000 and figured a week to immerse myself in yoga sounded like a good idea. I knew it was a teacher training so I expected a good amount of the more academic side of the practice but I wasn't prepared for the shift I experienced in my sense of dharma, or what I really wanted to do with my life. Teaching yoga became a passion at that training and it remains my truest passion ever since.
When I returned, I encouraged some friends to get together and indulge me in participating in some practice teaching sessions. They were happy to get some free yoga and hardly cared that I had huge fears and a sense that I had no idea what I was doing. After a few months of that, while working full-time in my corporate job, I branched out and got a one-class-per-week commitment at a local gym. It gave me another real opportunity to put into practice what I'd learned thus far. I'd prepare readings for shavasana, I'd practice the sequence myself before class, I'd sometimes even put index cards around the room to remind me of the order of the poses. One of my greatest fears was forgetting what pose would come next in the sequence and the cards were my crutch. I'd audiotape my classes and listen to them back. I'd sit in a coffee shop and talk myself through the sequence as well. All these things helped guide me in my first few steps on this journey of teaching yoga.
One of the most powerful things that I was ever told as a newer teacher was this: keep the sequence simple. In my early days of teaching at the Baptiste studios, many of us would have discussions about the value of changing up the sequence to cater to the students in the room. We often discussed the challenge of teaching to a class filled with a mixture of beginners as well as more advanced practitioners. I know for myself, I wondered if I should make the sequence more challenging in order to keep the advanced students interested or if that would just be discouraging to the newer students. Also, as a newer teacher, could I handle mixing up the sequence? Honestly, I was still getting my bearing with what I considered the basic flow.
So, here, keeping consistent with my company, Bare Bones Yoga's motto, "Keeping Yoga Simple," I share some of my thoughts for someone just starting out teaching yoga classes on some things to consider:
Based on the training you received, decide on a sequence you will use to teach. Stick to it for at least the first year of teaching. Having a regular "go-to" sequence you'll teach takes a lot of pressure off of you to think of something new every time you step into the classroom. You'll have your hands full with other things so no need to pile that on too.
Within that sequence, try not to link too many poses together on the same side of the body. Baron Baptiste raised this at my first training and I'll never forget it. With some exceptions, this kind of sequencing can look fancy but can be overwhelming for the students and tiring for their standing leg.
When you ask for students to come into their first downward dog, look around the room and spot the beginners. It's easy to spot the beginners in class. They may have a new yoga mat. They may have their blocks, blankets and strap at the back of the mat. They may be wearing loose fitting clothing and in that first downward dog are spending time fiddling with it as it falls up and over their heads. Know where the beginners are in the room so you can go to them if needed.  
Have faith that despite the varied range of experience levels in the room, yoga has something for everyone, regardless of the complexity of the postures themselves. Once you start practicing yoga for a while, you realize that even the most basic poses can be challenging when you work with things like alignment, focus and duration of holding. Stay committed to presenting the flow as you determined it (within reason) and look for ways to challenge students that have little to do with where they place their arms and legs.
A yoga class is a mixture of instruction and inspiration. Share both with your students. Just as a class that is all about alignment without any inspiring thoughts can be somewhat clinical, a class that is heavy on talk of spirituality, sutras and mindfulness can be overbearing. Students come to yoga for a workout but many also come because they are looking for something different than what they get at the gym. Many come because of their commitment to living mindfully off the mat as well.  Remember to give them both.
As tempting as it is to bring a reading to class, try to speak from your heart. I have many books that were instrumental to me as a yoga teacher. I've highlighted pages, marked them with post it notes and the covers are falling off. I used to bring a book to class because I figured if I found these thoughts inspiring, wouldn't my students? It's hard to say. After a while, I started to feel like it was more like a crutch and something I was hiding behind. After all, wouldn't it be more real for me to speak my own words, from my heart, based on the connection we'd created in the moment of the class? So now, outside of a special occasion, I hardly ever do a reading while students are resting. As a newer teacher, again, it's one less thing to have to worry about. 
Be yourself! When you let yourself shine through, you give your students a unique experience they can't get anywhere else. You demonstrate fearlessness and authenticity. You inspire them to be their best self. And, you don't need a book or a training to know how to do it. It's completely portable and ingrained in your very being.