3 Surprising Joys Of Being A Single Parent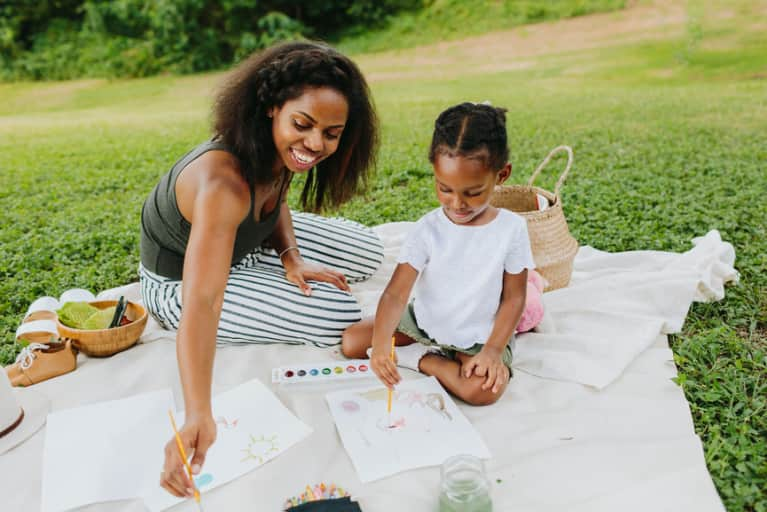 Over the past two decades, traditional family structures (think, two parents raising kids together) have changed immensely. In fact, four out of 10 children are now born to unmarried mothers.
Gaze upon a kindergarten class wall, and you're likely to see all sorts of family life represented in the inevitable crayon portraits. From same-sex couples to happily co-parenting divorced couples, single parents who bear the brunt of responsibilities to a growing number of solo parents: those who either willingly or not find themselves to be the only parent on the job 24/7, year-round. (I fall into the last category, initially not by choice, but now I wouldn't change it for the world.)
I tend to say that my son is being raised by Labradors (we've had two of them for years), and looking back on his kindergarten artwork, it's not far from the truth. There I am: a triangle stick figure with stringy hair next to a mutant-looking animal with four legs and Monkey himself.
Gazing back over the decade-plus that I've been a solo parent to a son who is now firmly in his teens, there are certain things that have kept me sane. They've also allowed me to revel in this intense, fierce, often exhausting yet completely rewarding, relationship.
1. Use your alone time for something that feeds your soul.
When it's just you on duty, life can quickly get two-dimensional: an endless game of tag between parenting duties and work. And you'll likely feel that you're not doing either particularly well.
It goes without saying that alone time is rare and precious, and just as important is what you do with that time. Is there something you used to love to do pre-parenthood? Comedy, art, surfing, exercise, even reading? Schedule time for it. Better yet, find a class or group to join. You are much more likely to make it happen when the commitment is to others, not just yourself.
When you satisfy your soul, you'll find the other two dimensions (work and parenting) become a lot more enjoyable and you'll be modeling something great for your offspring.
2. Enlist your child to find help with child care.
When you're a solo parent, there is no truer adage than "It takes a village." Most of us don't live with our extended family under one roof or have neighbors with an always-open front door.
When my son was about 5 years old, he came home from a summer camp raving about "Deanna." He begged me to invite her to come babysit for him. So I asked her. I figured she had been approved as a camp counselor, and he had picked her himself, so why not? She gladly accepted and became a beloved part of our family until she graduated college.
Over the years, his favorite babysitters have been high-schoolers, college kids, even interns from my work. Turns out children love young people. And I've always gotten his input on who he wants to be with when I'm gone. Seeing him happily wave goodbye as I head out the door has made my precious moments of freedom all the more sweet.
3. Find shared passions for you and your child.
It can be hard—and expensive—to pay for help each time you want to do something you love...and I'm not talking grocery shopping here. I developed a passion for surfing when my son was about 5 and was initially stumped by what to do with him when I wanted to take to the waves. I dismissed the idea of leaving him on the beach with our Lab after about 10 seconds.
Instead, I got him a wetsuit and hired an instructor for us both. Over the years, he has been the main subject of my photography passion and joined me on numerous yoga retreats. We've taken guitar lessons together, ridden horses, and now have a wonderful tradition of taking a cooking class whenever we travel together.
While being a solo parent inevitably means making some sacrifices, you can lead a truly three-dimensional life if you look for harmony across each dimension and involve your child or children. I guarantee this will bring you joy alongside the daily trials and tribulations of parenting alone.