3 Ways To Keep Exercising Even When It's Uncomfortably Cold Outside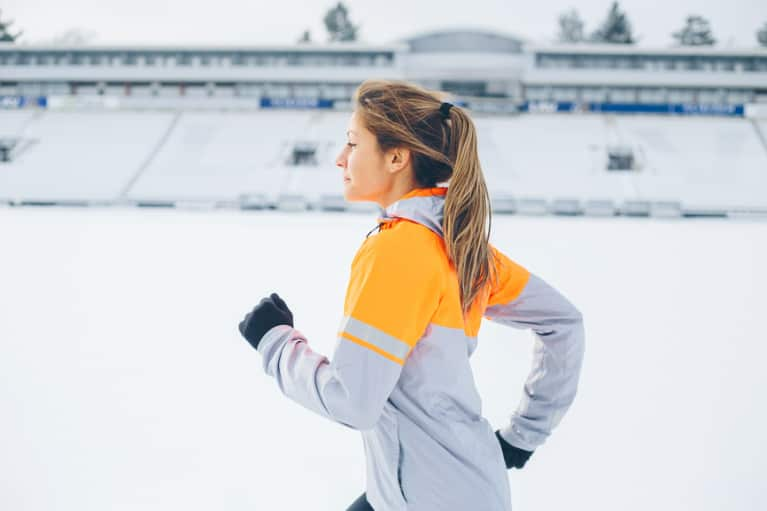 Seasonal affective disorder (SAD) is a very real, very common disorder that affects more than 3 million people each year. The symptoms of SAD can range from mild anxiety to severe depression. I myself experience a faint sadness from the moment the leaves begin to change from green to varying hues of orange, red, and brown, and I remain feeling slightly down until spring reawakens in late April.
As a result of this feeling, my inclination as the temperature drops and summer fades into winter leans toward staying indoors, nestled in warmth and protected from the changing elements. I have learned to fight this urge to hibernate and to keep my body moving, regardless of the cold and ever-darkening days. Why? Because I need those endorphins and dopamine that exercise provides throughout the cold months.
Exercise has been shown time and again to be hugely effective in alleviating the symptoms of depression and anxiety and is being prescribed more and more frequently by psychiatrists before turning to pharmacological resources.
So, what are some strategies to keep your fitness routine up through the fall and winter months when you'd rather just be inside, seeking comfort in heavy foods and Netflix? The following three tips have worked wonders for me:
1. Make exercise dates instead of happy hour plans.
Sure, at the end of a long day, the temptation to let loose and have some post-work drinks with friends can be very strong. But ask yourself this: How good do you really feel after you've had a few drinks versus how you feel after a great workout?
I'm not saying you should forgo the drinks entirely—you do you, friend—but if happy hour is a regular occurrence for you, try rallying a pal or two to accompany you to a yoga or spin class a few nights a week instead. I promise you you'll feel better and gain a sense of accomplishment.
2. Invest in proper clothing.
This is a big (and fun) one. If you don't have the proper gear for the elements, especially if you're a runner or outdoor workout enthusiast, you won't want to work out when temperatures drop. Period. As an added bonus, buying new fitness gear tends to make you more excited about actually using it.
3. Set a goal, write it down, and reward yourself in a healthy way when you accomplish that goal.
Working out three to four times a week is enough to improve mood and overall fitness. But many times, our best-laid plans fall by the wayside simply because we don't take the mindful action of truly envisioning what we want. And writing things down keeps you accountable to the person your goals matter the most to: YOU.
Once you've hit your goal, reward yourself with something that will help you continue your progression toward total wellness—maybe you've had your eye on a new yoga mat or a new pair of sneakers. Or maybe you've been wanting to try out a new fitness class. Whatever your chosen reward, make sure it's attainable and in line with your vision of your healthiest self.
These tips can help to keep you going whether you are one of the millions affected by SAD or simply someone who struggles to maintain their workout plan through the colder months. It can be a challenge to keep going, but if you plan ahead and make the necessary lifestyle adjustments to support your ongoing fitness plan, those feel-good chemicals can help carry you through the winter into the warm and welcoming arms of spring.