The Classic Stuffing Recipe That's Already Gluten-Free
mbg Contributor
By Carolina Santos-Neves
mbg Contributor
Carolina Santos-Neves is a graduate of the Chef Training Program at the Natural Gourmet Institute for Health and Culinary Arts and is presently the chef of Hungry Beast, (CDMX) a kitchen & Juice Bar that focuses on flavors from all over the world with a focus on using organic and local products.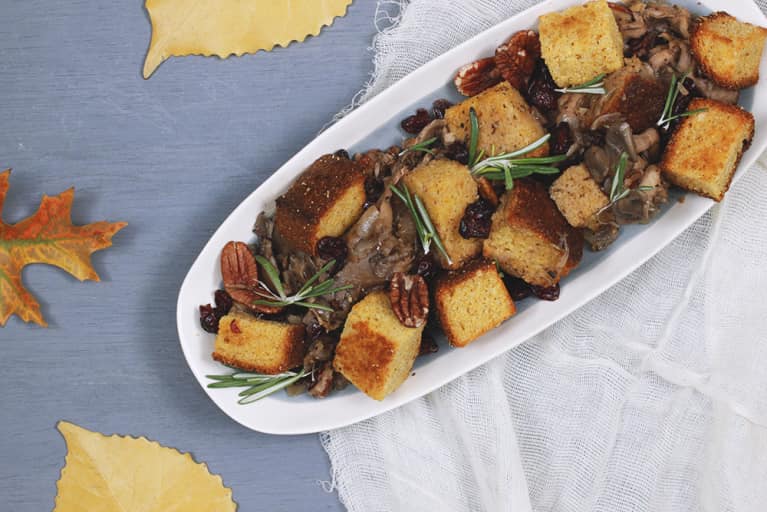 In the lead-up to Thanksgiving, we're sharing a mix of original recipes, entertaining advice, and seasonal dishes from our favorite bloggers to help you approach the holiday with a little more mindfulness and a lot of extra-delicious vegetables and fruits.
We're focusing on whole-food, plant-driven dishes to make your holiday table not only beautiful but more healthful, too—while still keeping the integral flavors of the season front and center.
Gluten-Free Cornbread Oyster-Mushroom Stuffing
2 cups buttermilk
1 teaspoon baking soda
1 cup melted butter (2 sticks)
1 cup sugar
4 eggs
2 cups gluten-free cornmeal
2 cups all-purpose gluten-free flour
1 teaspoon xanthan gum
1 teaspoon salt
1 cup corn kernels (fresh or frozen)
Preparation
1. Preheat oven to 375°F. Grease a 13-by-9-inch pan.
2. In a bowl combine buttermilk and baking soda. Mix and set aside.
3. In a large mixing bowl mix butter, sugar, and eggs with a wooden spoon or with a whisk. Then add the buttermilk mixture; mix until thoroughly combined.
4. In another bowl mix the remaining dry ingredients. Add the wet ingredients to the dry ingredients and stir until incorporated. Lastly, add 1 cup of defrosted corn kernels.
5. Pour batter into greased pan, bake on the middle rack for 15 minutes, then turn down temperature to 350°F and bake for 30 additional minutes.
6. Take out of oven, set aside on a baking rack, and let cool.
7. Once cooled, slice bread and then cut into ½-inch pieces. Place on a baking sheet and toast for 10 minutes on one side, then 10 minutes on the other side.
Olive oil
5 shallots, minced
1 large white onion, chopped
2 cloves of garlic, minced
1 teaspoon salt
1 tablespoon dried rosemary
1 tablespoon celery seeds
1 lb. oyster mushrooms
3 cups low-sodium vegetable stock
1 cup dry white wine
1 cup dried cranberries
1 cup pecans, toasted
Preparation
1. In a large pot, over low-medium heat, sauté shallots and onions; add a dash of salt. Saute until translucent, about 4 to 5 minutes. Then add garlic, rosemary, and celery seeds.
2. Add the mushrooms, and cook for about 3 minutes, then add 2 cups of veggie stock and wine, and let reduce. Toss in the cornbread pieces; mix around enough to coat with liquid and mushrooms.
3. Then add cranberries, pecans, and remaining stock. Let liquid reduce for 1 to 2 minutes and serve.
For more delicious Thanksgiving recipes, click here.